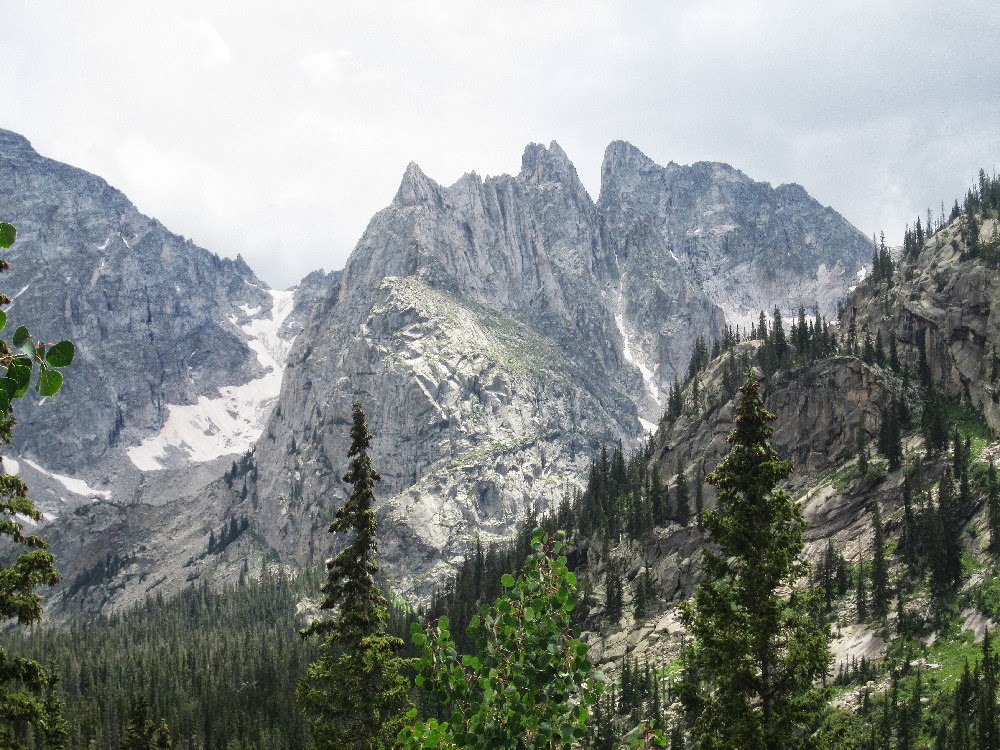 Lone Eagle Cirque, Indian Peaks Wilderness
After tweeting about my most recent big training runs, someone replied with a complimentary tweet:
"As a celiac fitness buff who hates people to assume we're all sickly, you're doing a lot for our image. Bravo and thanks!"
It caused me to stop and think, not because I disagreed with the sentiment, but rather because it hadn't really been a part of my thinking up to that point. If I have publicly aspired to anything, it has not been to change what others think of those of us with celiac disease and other conditions; it has been to change how we think about ourselves.

That person on Twitter is right: many times we can be sickly. Oftentimes that sickness is profound. Many of us spend literally years searching for answers and a diagnosis that can prove elusive. That frustrating search can induce a kind of depression, far worse—in my opinion—than any temporary depression a person may go through when they switch to a gluten-free diet and lament the foods they can't eat, instead of embracing the ones they can. When you're in a bad place, when your health is failing you, when your quality of life is in the dumps, your outlook can be pretty bleak.
We're constantly reminded of the potential severity of the situation, such as the study that came out within the last two weeks in which researchers identified a link between poorly controlled celiac disease and lymphoma cancers.
Eight years ago, I was one of those sickly people. A former varsity athlete, my strength and endurance were gone, replaced by fatigue, chronic diarrhea, acute abdominal pain, and other symptoms so familiar to many in this community.
And that's where I hope my story can serve as an inspiration, not for the outside world, but for the gluten-free community itself. I am a testament—to borrow a phrase from the movement to give support and hope to LGBT youth—that "it gets better." In fact, it can get much better.
In my case, I went from struggling to run around my neighborhood streets to in just over two weeks running in one of the most competitive and demanding ultramarathons in the world. I have no illusions that I'll be legitimately competitive in such a race, but I earned my spot on the starting line, and barring any major catastrophes, I'm going to finish that race. I'm doing so for me, but I'm also doing so for everyone out there who doesn't yet see a light at the end of their tunnel.
I don't know that I'd call myself a role model, but I do hope I can be an inspiration.
That's also why I believe so strongly in the importance of the new scholarships I'm working hard to establish with the National Foundation for Celiac Awareness. For one, they directly support student-athletes making the difficult transition from high school to being gluten-free in college. They support that all-important transition from a place of sickness to one of a thriving, healthy, active lifestyle.
But the scholarships are about more than supporting individual students. They are also about finding and upholding inspiring examples of the future of the gluten-free community. Sure, these gluten-free student-athletes may help to change perceptions about our community in the outside world, but much more importantly, they'll help to change the gluten-free community's perception of itself.
With just over two weeks to go until my big race day, and just 10% of the way toward our initial fundraising goal, I hope you'll consider making a donation today. Thank you in advance for your support, not of me, but of our gluten-free student-athletes and this community.
–Pete