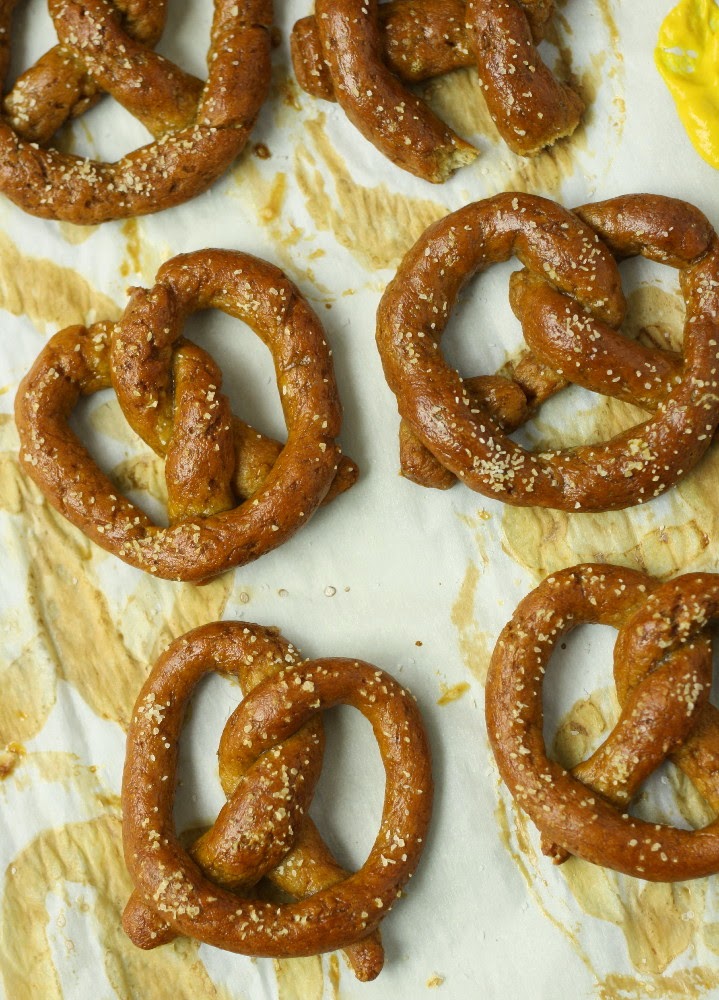 Two days ago Major League Baseball hosted its annual All-Star Game, this year's edition played at Citi Field in Flushing, home of the New York Mets. As a Long Island native, the big question was whether you were a Mets fan or a Yankees fan. For sure, there were plenty of both, though I found myself somewhat caught between the two worlds.
Many of my closest friends and their families were Yankees fans (one even had the Yankees logo in their living room carpet and a seat from the original Yankees stadium literally enshrined behind glass in their entertainment room). On the other hand, the first baseball game I ever attended (and the next few that followed) was the Mets at their old Shea Stadium.
One of my childhood memories from those Mets games at Shea was the pretzels. Mind you, not the pretzels they sold in the stadium. These were large, soft, still-hot pretzels sold from wire-frame-shopping-cart vendors waiting outside the stadium. That may sound crazy to some of you, but those were some of the best darned pretzels you could get.
These days it's been a good long while since I've had a genuine, hot, soft pretzel. At least seven years, probably longer. What better time to unveil our gluten-free version than MLB All-Star week? One bite of these brought me right back to my childhood, and I'm willing to bet these pretzels will please your palate, too.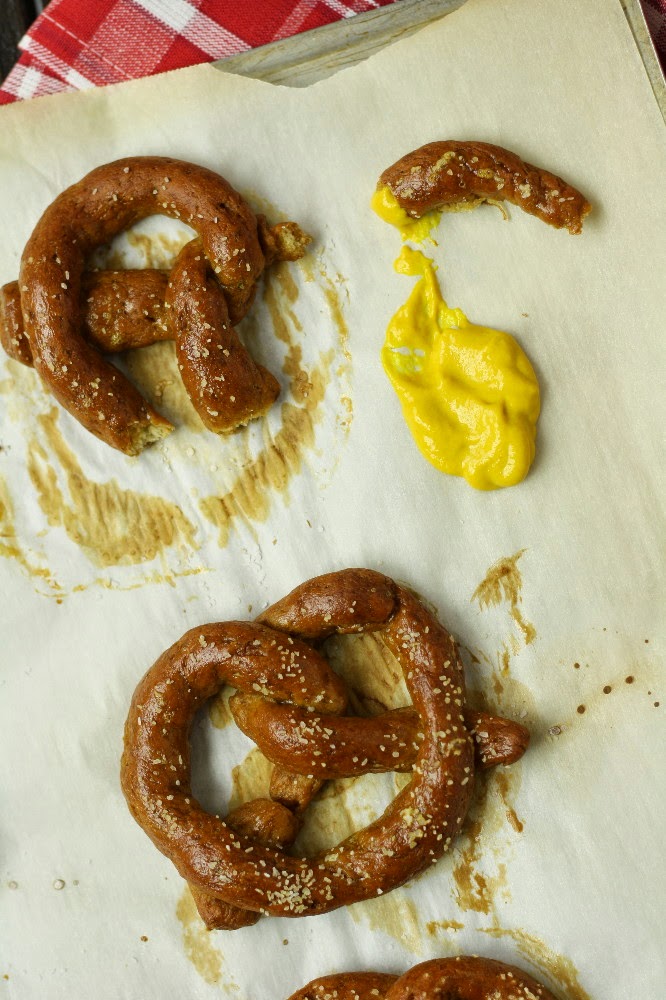 Soft Pretzels
Makes 16 pretzels
Ingredients
1 1/2 cups warm water
1 tbsp sugar
2 1/4 tsp active dry yeast (1 packet)
1/4 cup (1/2 stick, 4 tbsp) melted butter, warm
4 eggs yolks (optional)
3 1/2 cups (438 g) Artisan Gluten-Free Flour Blend
1 1/2 tsp salt
2 tsp xanthan gum
8 cups (~2 liters) water
1/2 cup sodium carbonate (*see note #1 below)
1 egg
Kosher salt
Steps
1. Combine the water, sugar, and yeast in a bowl and let sit for five minutes, until the yeast is activated and bubbly.
2. Add the melted butter and egg yolks, and whisk to combine.
3. In a separate bowl, whisk together the flour, salt, and xanthan gum.
4. Add the liquids to the dry, and stir to form a slightly sticky dough.
5. Line two baking sheets with parchment paper.
6. Divide the dough into 16 equal pieces. (Divide the dough in half, then in half again, and so on until you have 16 pieces.)
7. Roll each piece into a smooth snake about 18 inches long.
8. Form the snake into a big upside-down letter "U." Cross the tails twice, then flip the loop down over the tails.
9. Place the pretzels on the prepared baking sheets and set in a warm location to let rise for about 1 hour.
10. Toward the end of the rise, preheat your oven to 400 deg F. Combine the water and sodium carbonate in a wide saucepot and bring to a boil.
11. Par-bake the pretzels for 4 minutes, then remove from the oven.
12. Whisk the egg in a small bowl
13. Boil the pretzels for 45 seconds per side (1:30 total) in batches as the size of your pot allows.
14. Return the boiled pretzels to the baking sheets.
15. Use a pastry brush to brush the pretzels with the egg wash and sprinkle with the Kosher salt.
16. Bake for an additional 18 minutes, rotating the pans halfway through the bake time to ensure even browning.
Notes
1. The secret to truly great soft pretzels that have their characteristic taste and signature browning is the use of food-grade lye in the water during the boil. Lye is seriously caustic stuff—it's used in drain cleaner and you need to handle it with gloves and eye protection. It's also something we can guarantee 99.9% of home cooks don't have in their pantry. What makes lye so great is that it's a strong alkali. Well, there is a weak alkali that pretty much everyone has in their pantry: baking soda, also known as sodium bicarbonate. But because it's significantly weaker than lye, it doesn't do nearly as good a job at making pretzels (though it's a decent stand in). You can boost its properties, however, with this simple "trick." Take 1 cup of baking soda, spread it out in a thin layer on a baking sheet, and bake it in a 300 deg F oven for one hour. Through a little magic, your sodium bicarbonate will become sodium carbonate, a stronger alkali that'll make better pretzels. 1 cup of baking soda weighs about 250 g, and after baking to convert it to sodium carbonate, you'll have about 160 g.
2. Authentic pretzel recipes don't use any eggs. In this recipe, we give you the option. The dough is easier to work with without adding the eggs, but we think the texture of the finished pretzel is better when including the egg yolks called for in the recipe.
Degrees of Free-dom
This recipe is: gluten/wheat-free, peanut-free, tree-nut-free, fish-free, shellfish-free, soy-free, vegetarian.
This recipe can easily be made egg-free by omitting the egg yolks and wash. It can easily be made dairy/lactose/casein-free by substituting Spectrum vegan shortening or similar for the butter.
Enjoy!
–Pete and Kelli