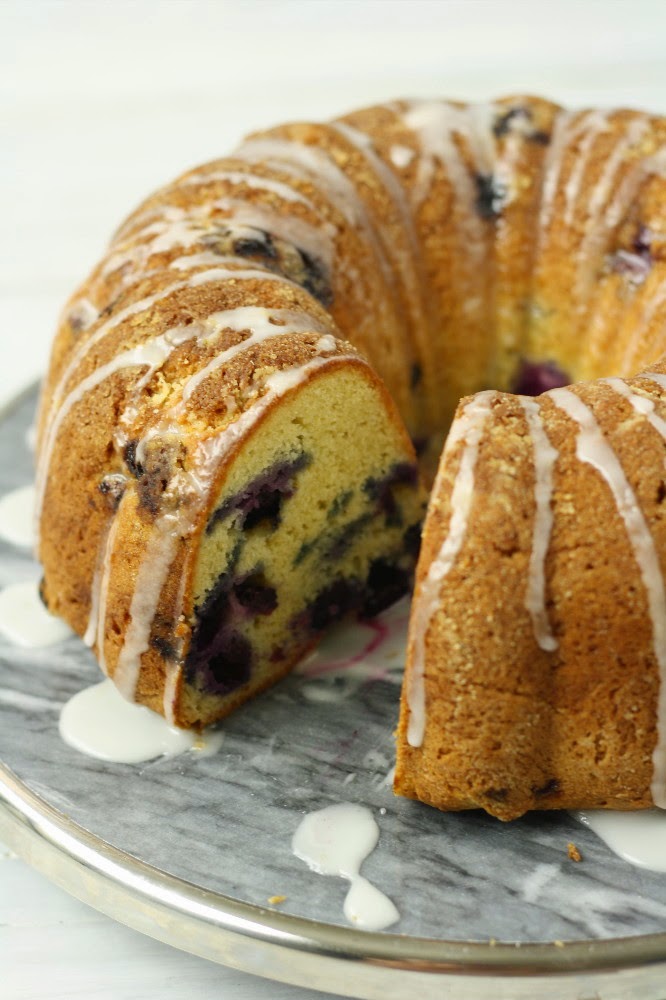 Meet the BBC. No, not that BBC, the British Broadcasting Corporation. I'm talking about this blueberry bundt cake. You know, the other BBC.
We may have bucked the season with last week's recipe for caramel apples, but this week we're diving back into seasonally inspired recipes. We're at the outset of summer, when blueberries are on their way to their peak.
This past weekend our neighbors hosted a summer kickoff barbeque. Most guests brought a dish to contribute. We made a large batch of this delicious vinegar slaw. Someone else brought a bundt cake. It was of the "standard" gluten variety, and so off limits. But that's never stopped us from running home (in this case, literally around the block) to make our own gluten-free version.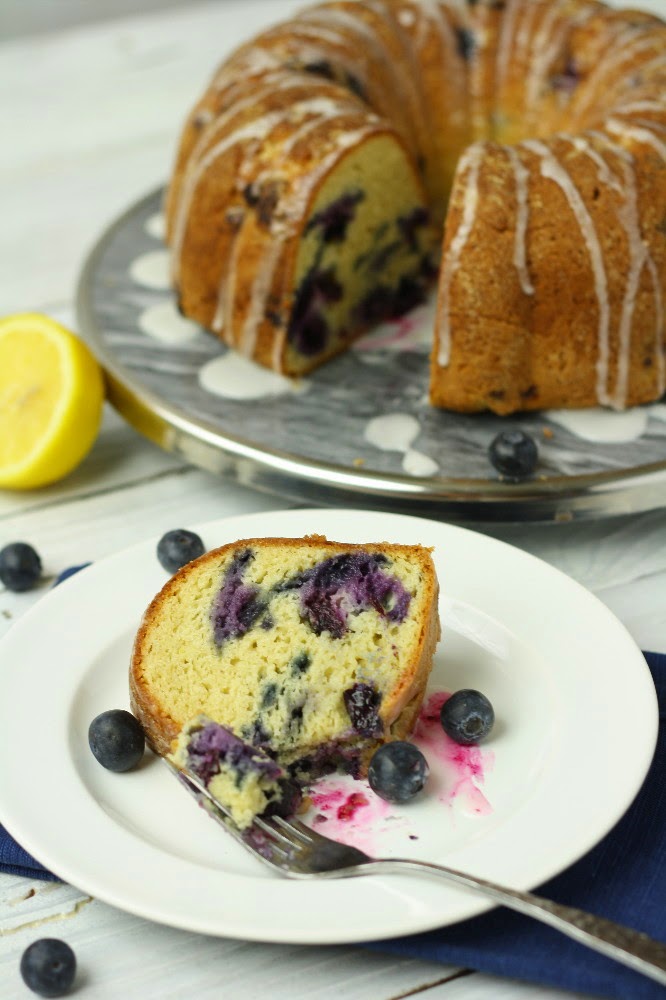 Blueberry Bundt Cake
Makes 1 cake
Ingredients
3 cups (375g) Artisan Gluten-Free Flour Blend (3 1/4 cups (406g) at high altitude)
1 tbsp GF baking powder
1 tsp baking soda
1/2 tsp salt
2 tsp xanthan gum
1 1/2 sticks (3/4 cup) butter, room temperature
1 2/3 cups sugar
4 eggs
1 tsp pure vanilla extract
8 oz sour cream
zest of 1 lemon
1 lemon juiced (about 1/4 cup)
1 pint fresh blueberries
For the Glaze
1/2 cup powdered sugar
1 tbsp lemon juice
Steps
1. Grease a 10-inch bundt pan. Preheat the oven to 350 deg F.
2. Combine the flour, baking powder, baking soda, salt, and xanthan gum in a bowl. Mix to combine and set aside.
3. In the bowl of an electric mixer, cream together the butter and sugar until fluffy.
4. Add the eggs, one at a time, mixing to incorporate after each addition.
5. Scrape down the sides of the bowl. Add the vanilla, sour cream, lemon zest, and lemon juice. Mix to combine.
6. Scrape down the sides of the bowl again. Add the dry ingredients. Mix on medium-low until just combined, about 10 seconds. Then, mix at high speed for 5 seconds.
7. Fold in the blueberries.
8. Spread in the pan and use a spatula dipped in water to smooth the top surface of the cake.
9. Bake for 50 minutes, until a toothpick inserted in the center comes out clean.
10. Cool completely in the pan. Flip out when cool.
11. To make the glaze: mix together the powdered sugar and lemon juice in a small bowl.
12. Drizzle the cooled cake with the glaze.
Degrees of Free-dom
This recipe is: gluten/wheat-free, peanut-free, tree-nut-free, soy-free, fish-free, shellfish-free, vegetarian.
Enjoy!
–Pete and Kelli