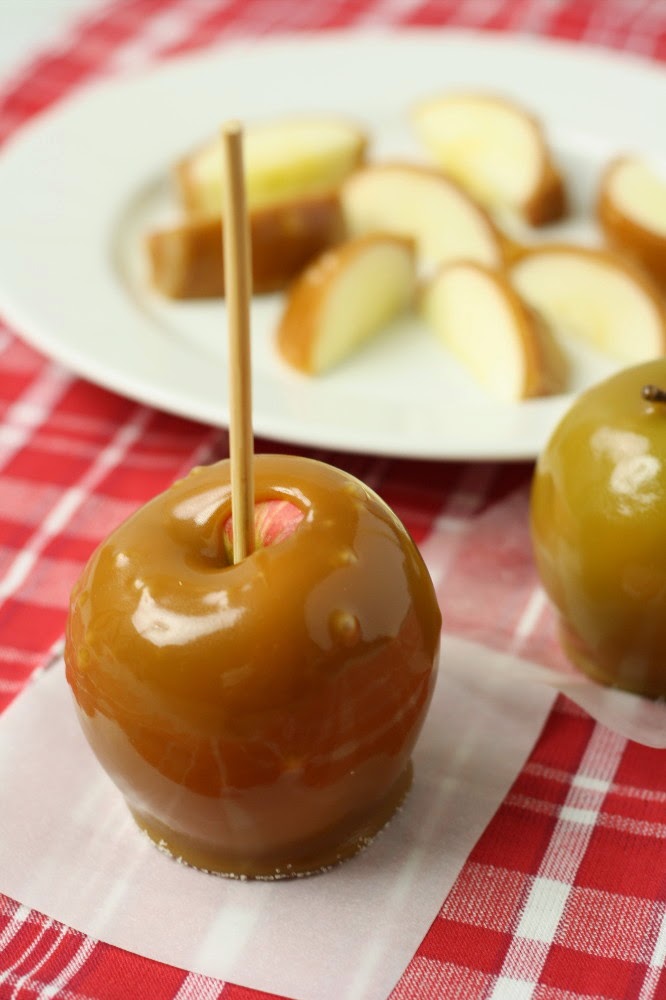 Before you say anything, we admit: it's not exactly apple season. But such is the joy of cravings. This past Memorial Day Weekend we went camping at Steamboat Lake State Park in northern Colorado. On Sunday we attempted to climb Hahns Peak, an almost-11,000-foot peak just north of the lake. The girls did great, doing much of the hiking under their own power. But we turned back shy of the summit because of deep snow still in the trees.
On our way down the mountain and back to the car—with the girls now on our backs in kid-carrier backpacks—our older daughter Marin expressed a craving for caramel apples. The nearby Columbine General Store didn't have any caramel apples, unfortunately. But as you've probably experienced, once a craving sets in, it's hard to ignore until it's been satisfied. And so this week we set to work delivering on that craving. This is the result!

Caramel Apples
Makes 6 apples
Ingredients
1/4 cup butter (or coconut oil)
1 cup packed brown sugar
1/2 cup agave nectar
Pinch salt
1 cup heavy cream (or coconut cream*)
1 tsp GF pure vanilla extract
6 whole, room-temperature apples
Steps
1. In a saucepan, combine the butter, brown sugar, agave nectar, and salt, and bring to a boil.
2. Add the cream and stir. Then bring it to 250–252 deg F.
3. Meanwhile, prepare an ice water bath large enough for the pan to fit.
4. When the caramel reaches temperature, add the vanilla, and place the pan in the ice water until the bubbling stops.
5. Remove from the ice water bath, and stir slowly until the caramel is very smooth.
6. Allow the caramel to cool for about two minutes.
7. Meanwhile, place a layer of parchment paper on a baking sheet and sprinkle lightly with granulated sugar.
8. Skewer your apples, then prepare to dip! Slowly roll each apple in the caramel to evenly coat. Hold out of the caramel and let drip for 20 seconds. Then invert and hold for another 20 seconds. Place the apples on the prepared parchment paper.
Notes
Caramel can be a fickle beast. Many recipes recommend bringing the caramel to 248–250 deg F. This results in a lighter and very smooth caramel, but in our experience it's too "loose"—the caramel remains soft and eventually oozes off your apple over time. Meanwhile, bringing the caramel up to 255 deg F results in a darker, richer caramel, but one that is prone to developing air bubbles as it cools on the apples and is a touch too firm. The sweet spot—metaphorically and literally speaking—is 252 deg F. Store finished apples at room temp; do not refrigerate.
*For the coconut cream, your goal is to separate the coconut cream from the coconut milk in a 14-ounce can of full fat coconut milk. Place the can in the refrigerator for at least 4 hours. Use a puncture can opener to pour the milk out of the bottom of the can. Then use the remaining coconut cream to prepare the recipe. (The coconut milk can be reserved for another use.)
Degrees of Free-dom
This recipe is: gluten/wheat-free, peanut-free, tree-nut-free, soy-free, fish-free, shellfish-free, vegetarian, and corn-syrup-free (most caramel includes some corn syrup).
This recipe is also easily made dairy/lactose/casein-free and vegan by substituting coconut oil and coconut cream for the butter and heavy cream. In fact, the photo above is of the dairy-free version!
Enjoy!
–Pete and Kelli