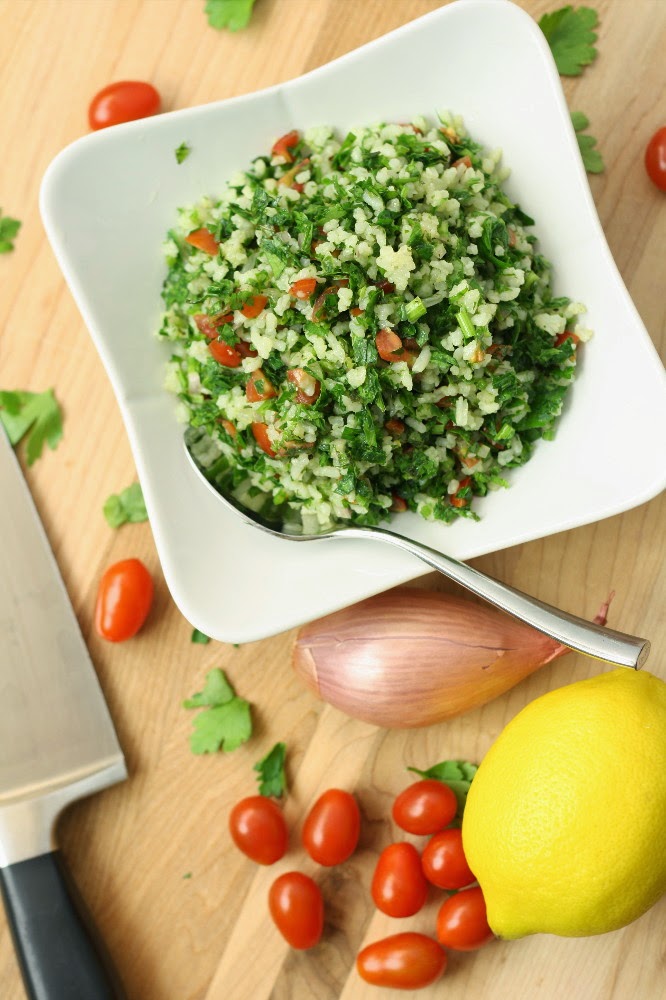 Tabbouleh is a classic Middle Eastern salad traditionally made with bulgar (wheat!), tomatoes, finely chopped parsley, mint, onion, garlic, lemon juice, olive oil, and salt. There are, of course, many variations on that theme, including versions that sub couscous (more wheat!) for the bulgar, as well as gluten-free versions that use quinoa in place of bulgar. For our version, we've gone with brown rice that we ground in a food processor to give a shape and texture closer to what you'd expect if you made this dish with bulgar.
Tabbouleh
Makes 4 servings
Ingredients
1/3 cup brown rice
2/3 cup water
1 bunch parsley, finely chopped (about 1 cup)
2 tbsp chopped mint
1/4 cup grape tomatoes, diced small
1/2 shallot, minced
2 tbsp olive oil
1/2 lemon, juiced (about 2 tbsp)
Salt and pepper to taste
Steps
1. Grind the brown rice in a food processor until you have small pieces. This takes a few minutes. Use a fine mesh strainer to remove any "rice powder" and retain only the broken rice grains.
2. Add to a saucepan with 2/3 cup of water, bring to a boil, then reduce to a simmer, cover, and cook for about 35 minutes. Remove from the heat, fluff the rice, then spread out (such as on a cookie sheet) to cool.
3. Combine the cooked rice with all remaining ingredients in a bowl. Toss to mix well. Refrigerate and serve cool.
Degrees of Free-dom
This recipe is: gluten-free/wheat-free, dairy/lactose/casein-free, fish-free, shellfish-free, peanut-free, tree-nut-free, soy-free, vegetarian, vegan.
Enjoy!
–Pete and Kelli