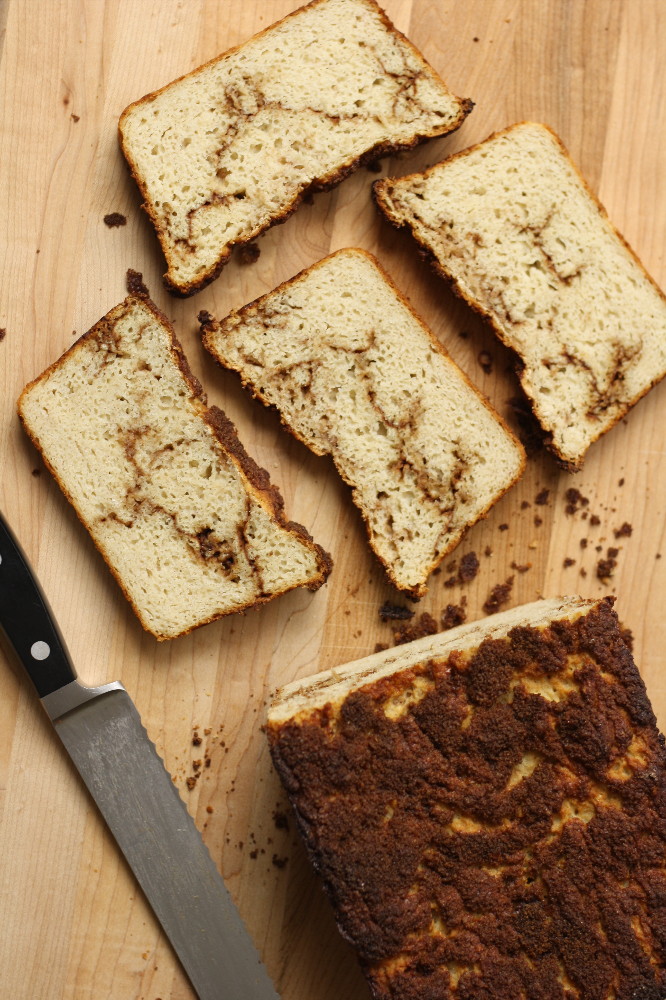 Two months ago we posted a recipe for oatmeal raisin cookies. As you may recall, there was some debate in our household about whether to include the raisins. I won that "battle." This time around, Kelli's preference won the day, I must say the recipe is better for it.
As you can see, the recipe is cinnamon swirl bread, and as you might easily surmise, the debate in this instance was whether to make it cinnamon raisin bread. We've gone for a straightforward cinnamon bread, and the result is a moist yeast bread packed with cinnamon sugar goodness.
The bread doesn't have the nice domed top we'd like (perhaps we'll continue tweaking to get that result), but in the meantime, this version is too good not to share. There's not much more to be said. Get baking!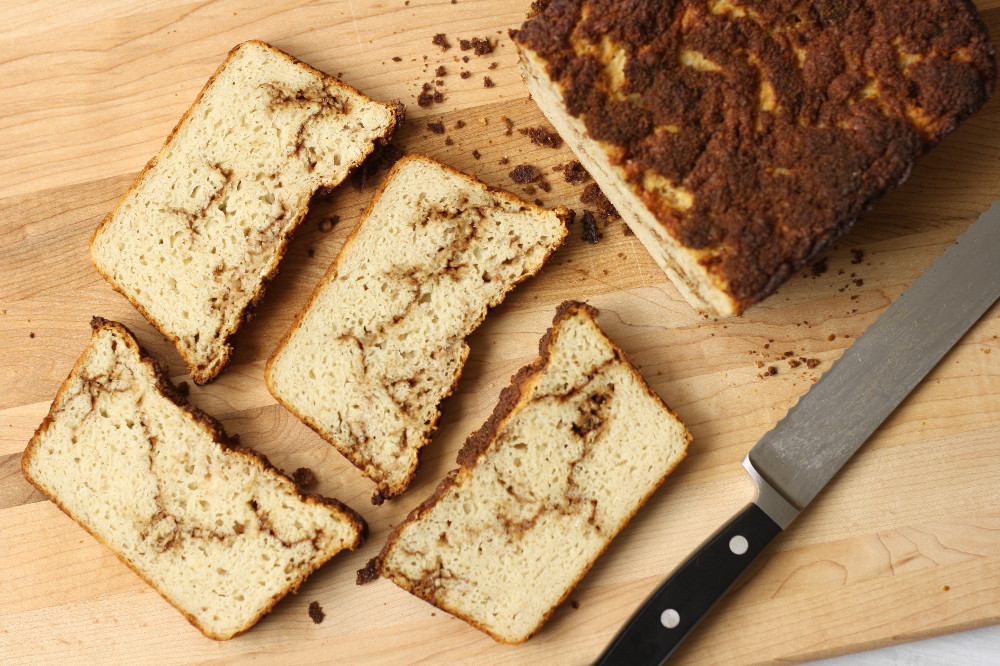 Cinnamon Swirl Bread
Makes 1 loaf
Ingredients
1 3/4 cups milk
2 tbsp honey
1 tbsp butter
1 1/2 tsp salt
2 1/4 tsp active dry yeast
3 egg whites
1 tsp GF pure vanilla extract
3 cups Artisan Gluten-Free Flour Blend*
1/2 tsp xanthan gum
1/4 cup packed brown sugar
1 tbsp ground cinnamon
Steps
1. In a medium saucepan over medium heat, heat the milk with the honey, butter, and salt, stirring occasionally until the butter melts. Remove from heat and allow to cool to about 120 degrees. (You don't want to scramble the eggs in step 2, or kill the yeast in step 3.)
2. Add the egg whites and vanilla and whisk to combine. Add the yeast and let set for about 5 minutes until the mixture is bubbly.
3. In a separate bowl, whisk together the flour and xanthan gum. Add to the saucepan, and stir until well-mixed.
4. In another small bowl, stir together the brown sugar and cinnamon.
5. Transfer half of the bread batter/dough into a greased loaf pan, add 2/3 of the cinnamon mixture and top with the remaining bread batter/dough. Use a knife to swirl the bread. Pat down the top of the bread with a spatula and sprinkle the remaining cinnamon mixture on top. Cover, and let rise for 40 minutes. 5. Meanwhile, preheat your oven to 375 deg F.
6. Bake for 40 minutes. (When done baking, allow to cool for about 10 minutes in the loaf pan before transferring to a wire rack to finish cooling.)
Notes
* Living here at altitude in Colorado, we made this recipe with 1/4 cup more flour than we're calling for in this recipe to account for the elevation. This is a fairly standard altitude adjustment in our recipes, but we haven't had an opportunity to "down-test" the recipe as written at sea level.
Degrees of Free-dom
This recipe is: gluten-free, peanut-free, tree-nut-free, fish-free, shellfish-free, soy-free, vegetarian.
To make this recipe corn-free, substitute another starch for the cornstarch in our flour blend.
Enjoy!
–Pete and Kelli