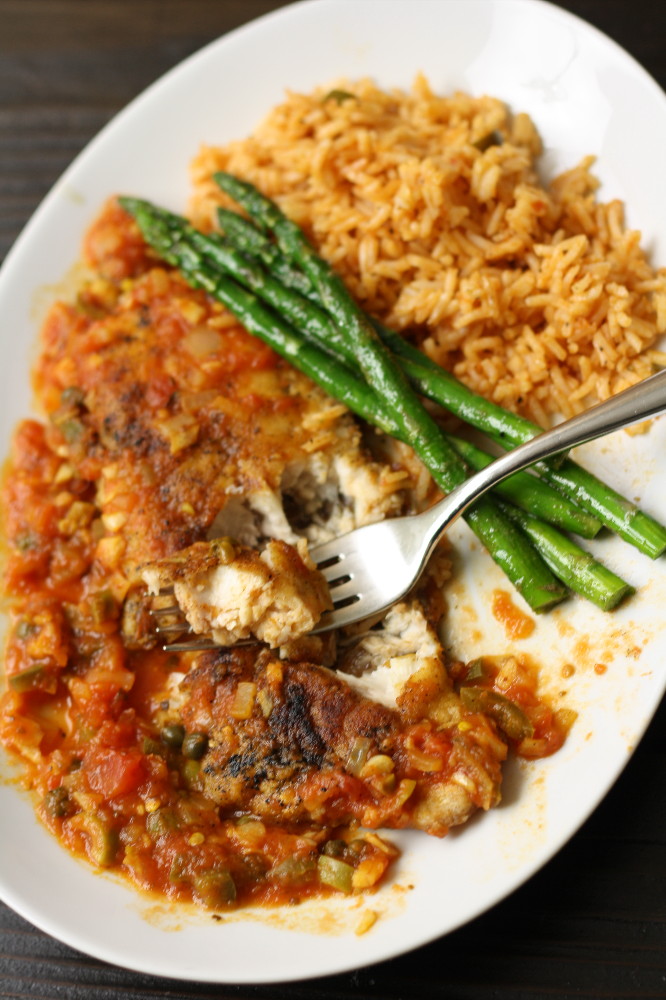 Sometimes life delivers unexpected surprises. Case in point: discovering a fabulous seafood dish 1,000 miles from the nearest ocean.
I was having dinner at a new restaurant in the town of Basalt, not far from Aspen in Colorado's Roaring Fork Valley. The menu included a dish called tilapia Veracruz. I normally steer clear of ordering tilapia in restaurants, but our server—after consulting with the chef—confirmed the dish could be prepared gluten-free, and the description of Veracruz flavors was enough that I decided to take the plunge.
I'm sure glad I did. It was perhaps the best piece of tilapia I've had. Ever. The Veracruz flavors in particular were vibrant and complex. I just had to know more about it, so I could try to create our own version here at home. I implored our server: "I don't expect your chef to give up any secrets to his recipe, but please send my compliments, and if he'd be willing to share any insight into the dish, that'd be very much appreciated." The server obliged and disappeared into the back kitchen.
He returned a short time later, carrying the chef's immigration card (or something along those lines). A sly grin broke across his face. "The chef says that it's a Veracruz sauce because he's from Veracruz," pointing to the chef's Mexican hometown on the card. In other words, I wasn't walking away with any insider info.
Left to my own devices, I scoured the Internet searching for a variety of authentic (or seemingly so) Veracruz recipes, off of which I'd create my own interpretation. Soon a number of consistencies bubbled to the surface: the dish was most often made with red snapper, and included ingredients such as tomato, onion, garlic, pickled jalapenos, capers, and green olives. I added some white wine and lime juice to brighten the flavors, plus a few other ingredients to round out the flavors.
And what luck: our local fish monger—who sources fresh seafood from seven or so markets around the country—frequently carries red snapper! A couple of iterations later, and this recipe is ready for public consumption.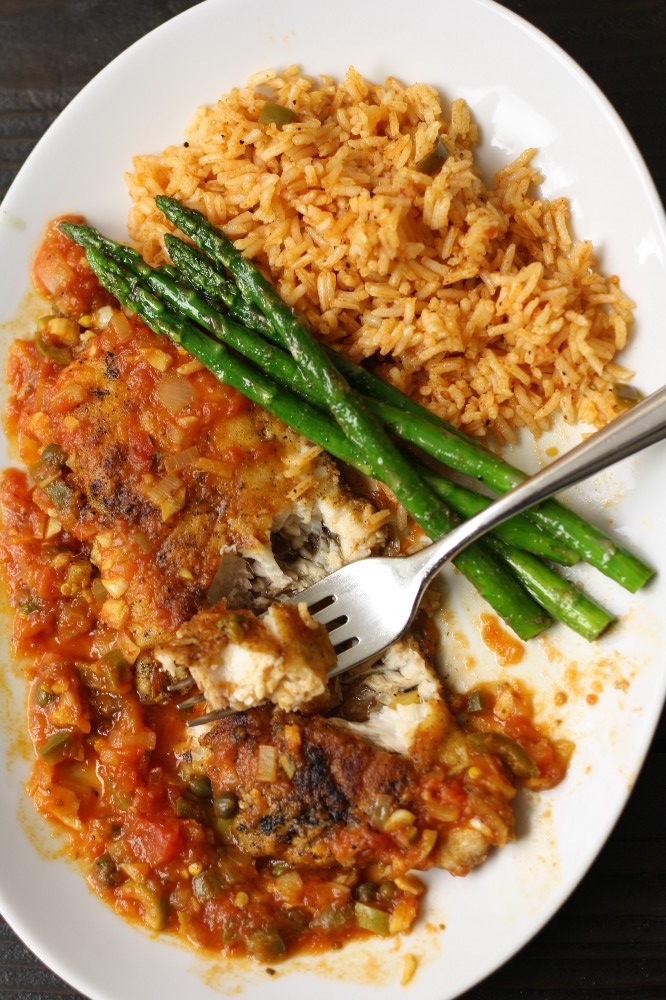 Red Snapper Veracruz
Makes 4–6 servings
Ingredients

For the rice:
1 cup uncooked rice
1–2 tbsp olive oil
1/2 tsp ground black pepper
1/2 tsp chili powder
1/2 tsp paprika
1/2 tsp garlic powder
1 small ladle (about 1/3 cup) Veracruz sauce
For the Veracruz sauce:
1/2 white onion, chopped
4–5 large garlic cloves, minced
2 tbsp olive oil
2 cups (one 14.5-oz can) tomatoes with juice, pureed until smooth
1 cup white wine
Juice of 1 lime
10 green olives, pitted and chopped
2 heaping tbsp non-pareil capers
4 tbsp chopped pickled jalapenos plus 2 tbsp pickling juice
1–2 bay leaf
2–4 sprigs marjoram
1 tsp dried oregano
For the fish:
1 pound red snapper (about 3 fillets)
1/4 cup Artisan Gluten-Free Flour Blend (or similar)
1/2 tsp salt
1/4 tsp garlic powder
1/4 tsp ground black pepper
1/4 tsp paprika
olive oil
Steps

To make the rice:
1. Cook the 1 cup rice in 1.5 cups water (bring to a boil, cover, reduce heat, and let cook 15 minutes. Remove from heat and leave covered for an additional 10 minutes.) Then fluff the rice, transfer to a bowl, and let cool on your kitchen counter or in your fridge.
2. In large skillet, heat the olive oil, then add the spices and cook for 1–2 minutes to remove the "raw" flavors.
3. Add the rice to the skillet, toss to coat in the spices, and saute for 2–3 minutes.
4. Transfer the rice back to the bowl and set aside. Then make the sauce.
To make the Veracruz sauce:
5. In a saucepan over medium heat, sweat the onion and garlic in the olive oil until soft, translucent, and aromatic.
6. Then add all remaining ingredients, bring to a boil, reduce the heat to a simmer and let cook uncovered for 20 minutes, until reduced by about 50%.
7. Remove the bay leaf and marjoram sprigs. Then ladle about 1/3 cup of the sauce into the rice and toss to mix well. Next cook the fish.
To make the fish:
8. Mix the flour and seasonings together in a shallow bowl.
9. Rinse and pat dry the fish. The lightly coat with flour on both sides.
10. Pan sear over medium-high heat, about 3–5 minutes per side, until the fish is opaque throughout and flakes easily.
To finish the dish:
11. Plate a piece of the fish and a serving of rice. Ladle a generous portion of sauce over the fish.
Degrees of Free-dom
This recipe is: gluten-free, dairy/lactose/casein-free, egg-free, shellfish-free, peanut-free, tree-nut-free, soy-free, pescetarian.
Enjoy!
–Pete and Kelli