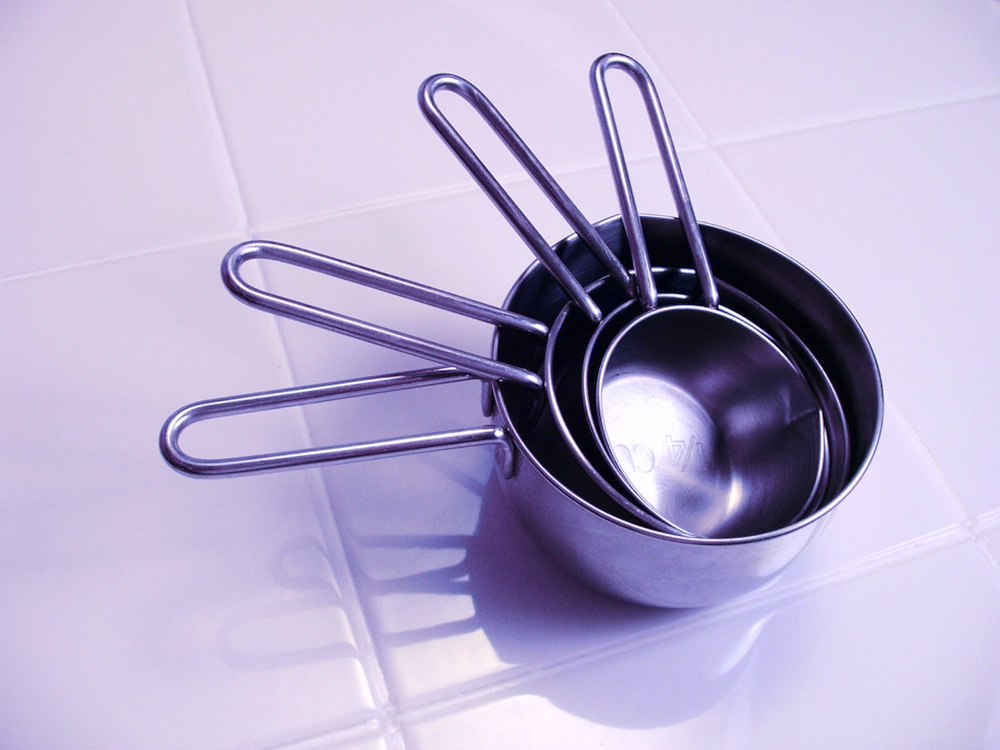 In recent weeks I've taken a detailed look at how the United States and other countries have implemented various structures—ranging from tax deductions to stipends—to help offset the financial premium often paid for gluten-free foods, including a hypothetical example for the average American family.
As I've said several times, that premium is most prevalent with specialty foods, particularly gluten-free baked goods. And so this week I'm shifting gears only slightly and looking at the gluten-free premium question from a different angle: How does the cost of gluten-free baked goods differ if you buy store-bought versions versus making them yourself from scratch at home?

For a long time our intuition has told us it's cheaper to make food from scratch at home, but would that actually be true? It was time to run some numbers…

Analytical Methods

First I had to decide what foods to compare. Kelli and I sat down and came up with a potential list: sandwich bread, chocolate chip cookies, pizza crust, frozen waffles, bagels, pancakes, brownies, yellow cake, frozen pizza. Ultimately, I decided to focus the analysis on three common items you might frequently purchase as the store: sandwich bread, chocolate chip cookies, and pizza crust.
For store-bought versions of the foods, prices came primarily from the companies themselves (such as Pamela's, Udi's, etc.), which appeared consistent with the prices we've seen for those same products in NY and CO.
For the from scratch versions of the foods, I used the recipes from the 2nd edition of our cookbook Artisanal Gluten-Free Cooking, including our Artisan Gluten-Free Flour Blend.
Finally, in order to calculate the cost of ingredients for our recipes, I used a variety of sources. For staple ingredients such as milk, butter, and sugar, values came from nationwide consumer price index averages from the Bureau of Labor and Statistics. Other ingredient prices came from Walmart, ShopRite, Bob's Red Mill, and a handful of other sources.
Flour Blends

When I ran the numbers on our Artisan Gluten-Free Flour Blend, we found that it costs an average $2.27 per pound. With the exception of Bob's Red Mill's All-Purpose Gluten-Free Baking Flour, which came in at a very comparable $2.29 per pound, most all-purpose gluten-free flour blends were significantly more expensive. Looking at Pamela's Artisan Flour Blend, King Arthur's gluten-free blend, Better Batter, and Cup 4 Cup, per pound prices ranged from $4.13 to $6.67 per pound, roughly double to triple the cost of our from-scratch flour blend.
Bread, Cookies, and Pizza, Oh My!

The story was much the same when we switched gears from the flour blend to the actual foods.
To make a full-size loaf of our sandwich bread costs $3.32. By comparison, a loaf of gluten-free bread from the likes of Udi's or Rudi's typically costs $5 to $6.
To make a batch of our chocolate chip cookies, which yields 36+ average-size cookies, costs $6.39. By comparison, a box of a scant 9 Pamela's chocolate chunk cookies costs about $4, which means that to purchase a similar quantity of cookies as the yield of our from-scratch recipe would cost you roughly $16, about 150% more for the same quantity.

Finally, to make one of our 12-inch thin crust pizza crusts costs just $1.52. By comparison, a smaller 9-inch Udi's gluten-free pizza crust costs about $2.50. You're paying a dollar more (66% more than the base price of our recipe) to get a smaller pizza crust.
Conclusions

As with any analysis of prices based on averages, there is room for significant variability. Ingredients and store-bought gluten-free foods will cost different in different parts of the country. The quality of ingredients you buy will impact prices as well—Do you purchase high-end chocolate or store brand? Conventional eggs, or cage free, or free range, or pastured eggs?
Then there's the time cost of from-scratch cooking. For some people, the convenience of ready-to-eat store-bought gluten-free foods may be worth the higher price.
But if you're looking to reduce the amount you spend on gluten-free baked goods, the numbers are compelling: get into the kitchen and start baking from scratch!
–Pete
P.S. If anyone's curious about the particulars of the numbers and calculations, I have a detailed Excel spreadsheet, but it's way too much data to include in this blog post.
Image courtesy lynnc / SXC.hu