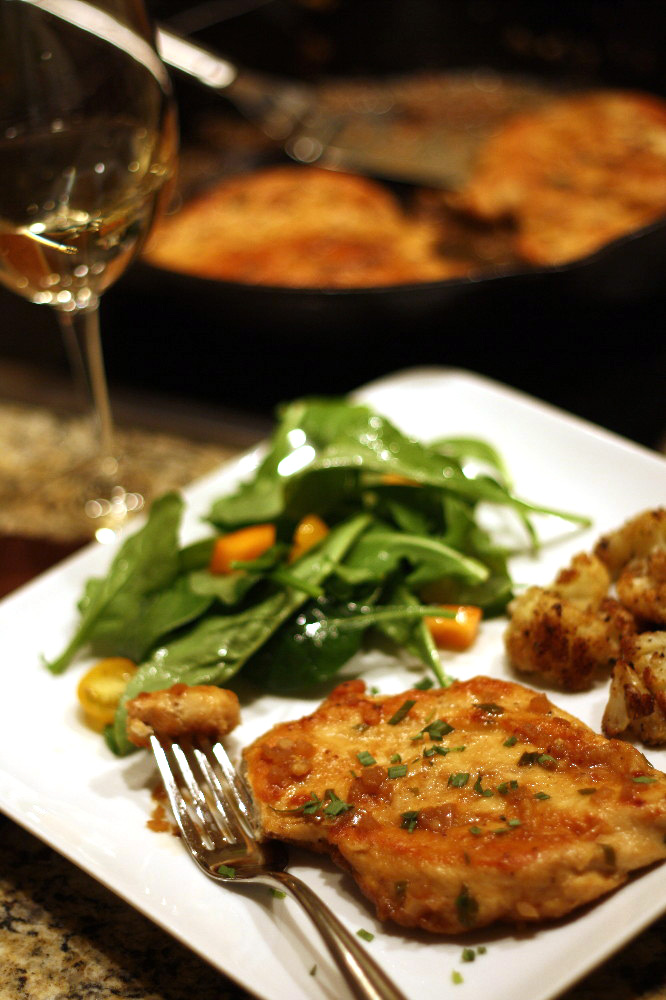 Our streak of using our new cast iron skillet nearly every day continues. We seriously love the thing; we're more excited about it than any other addition to our kitchen implements in recent memory.
It was only an inevitable matter of time before we used the skillet to make chicken in a pan sauce, along the lines of our Chicken Vesuvio and Orange-Herb Chicken recipes. This time, the flavor combo was white wine and tarragon.
It's richly flavorful and straightforward to make, and aside from dredging the chicken in a bit of GF flour, it's naturally gluten-free. We paired it with some fresh salad and oven-roasted cauliflower (plus some white wine, of course!), but it would work well with all sorts of combinations for sides.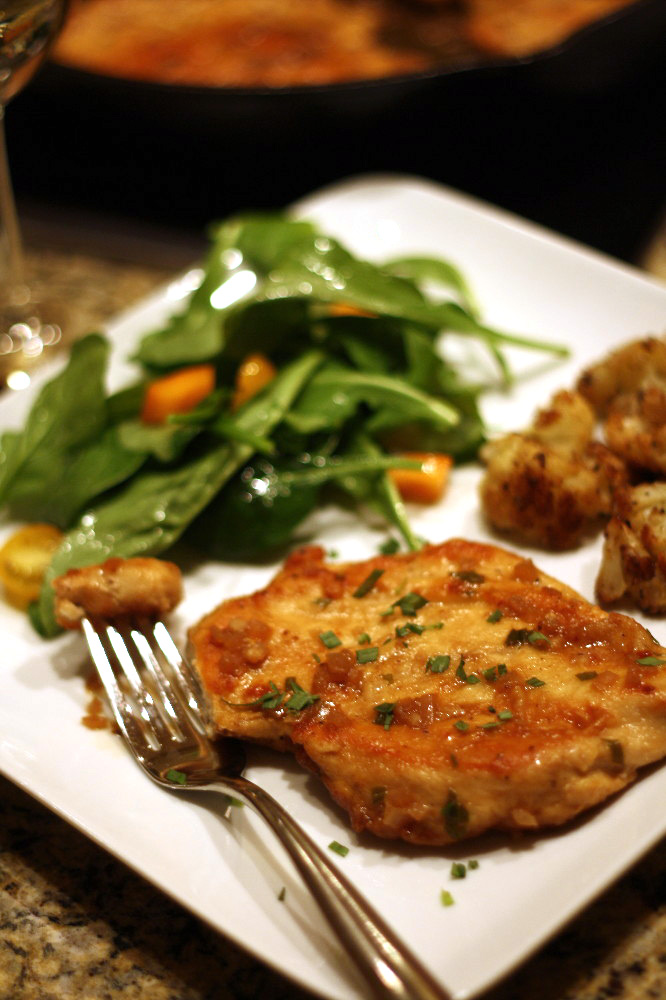 White Wine Tarragon Chicken
Makes 3 breasts
Ingredients
3 boneless, skinless chicken breasts, flattened
2 tbsp Artisan Gluten-Free Flour Blend
Salt and pepper
3 tbsp butter
1 tbsp olive oil
1 shallot, minced (~ 1/2 cup)
2 garlic cloves, minced
1 cup white wine
1 cup GF chicken broth
2 tbsp chopped fresh tarragon
Steps
1. Season the flour with the salt and pepper. Then dredge the chicken.
2. Cook the chicken in 1 tbsp butter and the olive oil over medium heat, about 5 minutes per side. Remove and set aside.
3. Add the shallots and garlic to the pan and cook over medium heat, about 3 minutes, until soft.
4. Add the wine and broth and bring to a boil over high heat.
5. Add 1 tbsp tarragon, reduce the heat, and simmer for 10 minutes.
6. Add the remaining 2 tbsp butter, return the chicken to the pan, and cook over medium-low heat for an additional 5 minutes.
7. Garnish with the remaining 1 tbsp tarragon.
Degrees of Free-dom
This recipe is: gluten-free, peanut-free, tree-nut-free, fish-free, shellfish-free, soy-free.
This recipe is easily made dairy/casein/lactose-free by omitting the butter (and using additional olive oil as needed) or by substituting your favorite non-dairy butter alternative.
This recipe is easily made corn-free by dredging the chicken in a GF flour blend that doesn't use cornstarch.
Enjoy!
–Pete