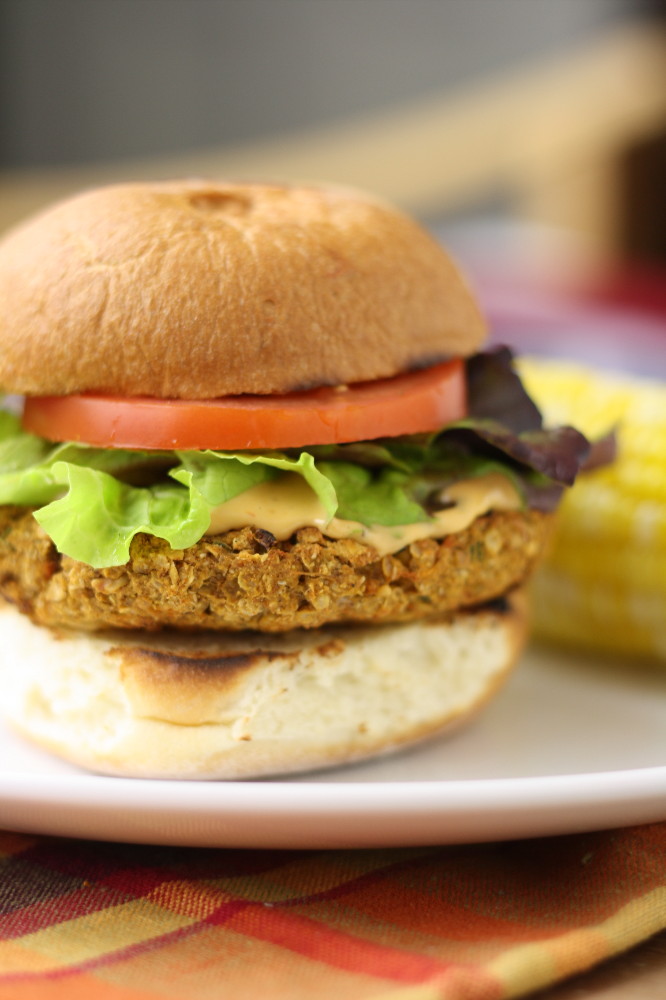 Though fall has officially been here for several weeks, it's only more recently that I've noticed a change in the air. It gets colder at night. Mornings are crisp. I've been wearing a long-sleeve shirt on my early trail runs, and I can feel that running tights for my legs—as opposed to shorts—are not far off, either.
I notice it when we're grilling, too. I have to turn the burners up just a little more than usual for the grill to hold a given temperature. Which brings me to one of our latest grilled dinners: from-scratch veggie burgers with their own signature sauce.
We've been working on a veggie burger recipe for a while now. We tried putting the ingredients in a food processor for a smooth consistency—that was never too successful. We tried a number of versions that simply turned out too wet, and would never hold up on the grill. Instead, they got pan-seared on the stovetop in our kitchen … not exactly the intended method of cooking.
And then we came up with this version. At last, success! You can mold the patties in your hands, and cook them directly on the grill grate, just like traditional beef burgers. Plus, taking a lesson from Colorado's Larkburger and their secret burger sauce, we've developed a companion sauce that gives these veggie burgers extra moisture and flavor.
Add some of your favorite toppings—say, lettuce, tomato, and a gluten-free bun toasted over the grill—and dare I say you have a recipe for one tasty, vegetarian, gluten-free dinner!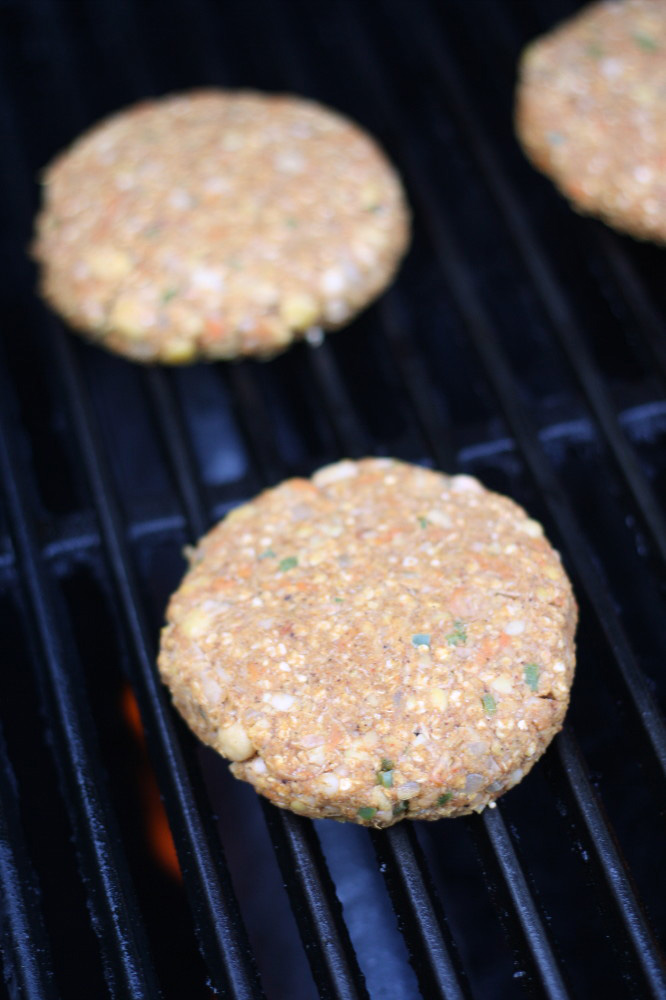 Veggie Burgers
Makes 4 burgers
Ingredients
Olive oil
4 cloves garlic, minced
~1/4 medium onion, minced (~3 tbsp)
~1/4 green bell pepper, minced (~3 tbsp)
1 carrot, grated (~3 tbsp)
170g (1 cup) navy beans*
170g (1 cup) chick peas (garbanzo beans)*
2 tsp ground cumin
2 tsp paprika
1 tsp ancho chili powder
1 tsp ground coriander
1 tsp salt
1/2 tsp ground black pepper
75g (3/4 cup) quinoa flakes
2 eggs
Steps
1. Saute the garlic, onion, pepper, and carrot in a splash of olive oil over medium-high heat until soft, about 3 minutes.
2. Roughly mash the beans. (We used a potato masher to do the job…)
3. Mix all ingredients together.
4. Form the burger patties.
5. Grill as you would any other burger.
Notes
* For the navy and garbanzo beans, you could work directly with canned beans, or—as in our case—start with dried beans, which you'd then soak, boil, and strain before beginning this recipe.
Degrees of Free-dom
This recipe is: gluten-free, dairy/lactose/casein-free, fish-free, shellfish-free, peanut-free, tree-nut-free, soy-free, corn-free, vegetarian.
Veggie Burger Sauce

Ingredients
1/4 cup mayonnaise
1/4 cup ketchup
1 tbsp yellow mustard
2 tsp GF Worcestershire sauce
1 tsp GF hot sauce
1/4 tsp garlic powder
Dash salt
Dash pepper
Steps
1. Mix all ingredients together until smooth.
Degrees of Free-dom
This recipe is: gluten-free, dairy/lactose/casein-free, shellfish-free, peanut-free, tree-nut-free, corn-free, vegetarian.
Confirm the ingredients in your Worcestershire sauce and hot sauce to determine if the recipe is also soy-free and fish-free (since either sauce may contain a soy sauce, and Worcestershire sauce commonly includes anchovies).
Enjoy!
–Pete