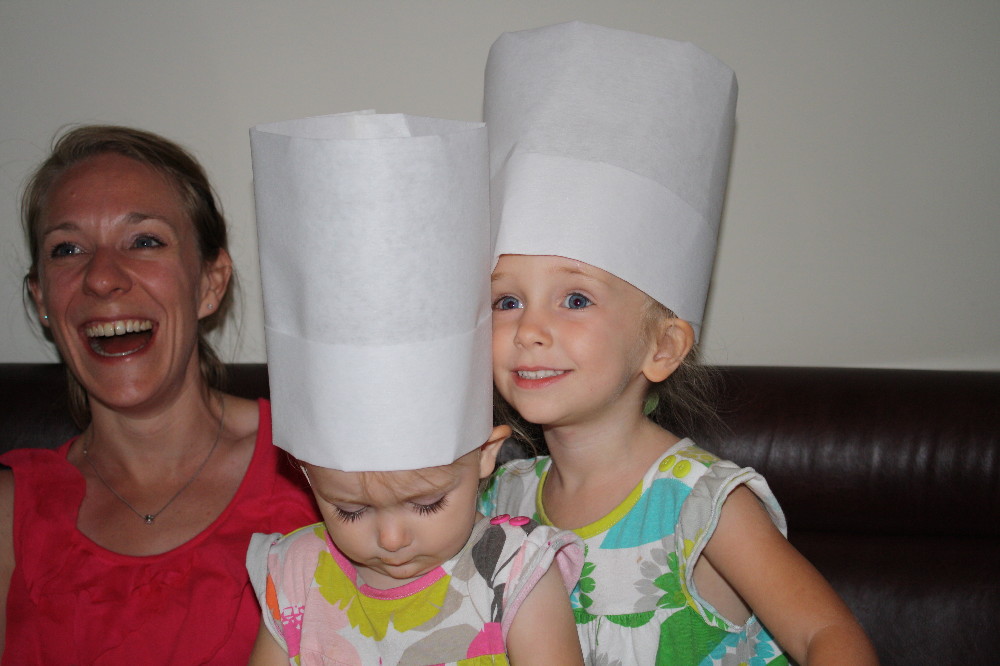 Our little ladies, sporting their very own chef hats, after a tour of Frasca's incredible kitchen
We lived in Boulder, Colorado for more than six years. We moved there in 2004, right about the time a new restaurant opened on Boulder's bustling Pearl Street: Frasca Food and Wine.
From the restaurant's earliest days, it garnered rave reviews. After all, its founders—master sommelier Bobby Stuckey and chef Lachlan Mackinnon-Patterson—boast an impressive pedigree. Both have a long line of top-tier restaurant experiences under their belt, including working at Thomas Keller's The French Laundry. Since launching Frasca, they've since added a number of James Beard Foundation nominations and awards to their belts.
Frasca's food is based on the cuisine of Friuli, Italy. But while the inspiration may be Italian, the food is decidedly local: Frasca heavily features the harvest of regional farms in a menu that changes weekly. Their signature menu is the Quattro Piatti, a four-course prix fixe meal that features antipasti, primi, secondi, and dolci (antipasta, first course, main course, and dessert).
For those wonderful years that we lived in Boulder, we kept saying "We're going to go to Frasca at least once." And then, on quite short notice, we moved to New York … having never eaten at Frasca.
When we returned to Boulder earlier this summer to close on the bittersweet sale of our house—our first home—we resolved to celebrate the surprisingly melancholy occasion with a long-overdue dinner at Frasca.
We knew ahead of time that they were well-versed in handling gluten-free dietary needs, but I went ahead and let them know about our family's dietary restrictions when making our reservation. When the appointed evening arrived, we were excited but also, in some sense, nervous. After many years of building up expectations in our minds, could Frasca possibly live up to its billing?
Before I go on, a disclaimer-cum-apology: save for the one photo of "the ladies" up above, this is a restaurant review without a single photo of the restaurant or its food. Sometimes, it's nice to leave the camera in the booth next to you and just be in the moment with good company and a good meal. You know? At any rate…
Frasca is without doubt a fine-dining restaurant, but they catered to our young girls without batting an eyelash. Since we couldn't have the standard bread sticks, they sent out a small bowl of freshly fried (no cross contamination) potato chips for the girls, and a cauliflower amuse bouche for Kelli and me. The servers were well-versed in the menu, knowledgeably guiding us through the gluten-free (and the "can be modified to be made gluten-free") menu items that week.
For the week of our visit, Frasca was doing a "celebration of the beet."
Kelli's antipasti was a vibrant deconstructed beet salad. It featured a variety of roasted beets as well as beet purees, plus a small serving of cheese. It was beautiful to look at—art on a plate. But while delicious, the serving size was tiny, akin to a small plates experience. My beet soup was like a Frasca take on borscht: eye-catching pink-purple in color, with rich flavors and a touch of licorice flavor from fennel. Overall, an excellent start to the meal.
Unfortunately, our second course left us wanting. We each ordered a different pasta dish, for which Frasca used a corn-based fusilli gluten-free pasta. The trout that topped my dish was superb, but for both us, the pasta was mediocre at best. I suppose everyone has a favorite style of gluten-free pasta, and for us, corn is not it. We'll take a brown rice or quinoa pasta over corn-based pasta any day. Frasca's corn fusilli was bland and undercooked, with poor texture. Our server explained that Frasca had extensively tested a variety of gluten-free pastas before settling on this particular one. Knowing what other options exist, we were surprised that this one won out.
On the plus side, our dinner quickly rebounded with the main course. We both ordered a beef entree that was rich, flavorful, and succulent. It was everything a good steak dish should be. It featured a beet chutney, as well as a divine beet sauce that I can only describe as "what a red wine and beef stock reduction would taste like if it were made with beets instead." Heavenly.
To conclude, Kelli enjoyed (correction: was over the moon for) a plate of cheeses, each paired with "sauces" such as whipped honey and marmalade. I opted for a trio of flavorful gelatos: chocolate, raspberry, and passionfruit. They were equally good.
In the end, we walked away from Frasca with a very good, but not great, experience. Service was excellent, and the meal featured several highlights. But the lackluster gluten-free pasta was disappointing. When you factor in the prix fixe cost, plus a nice bottle of wine and tax and tip, it turned out to be one of the more expensive meals we've had in recent years. As a gluten-free customer, I'm not sure you get full value for the cost. But if your thing is fresh, local ingredients artfully prepared in the kitchen, and paired with a wine to match, Frasca in Boulder is certainly worth a visit as a special occasion spot.
–Pete