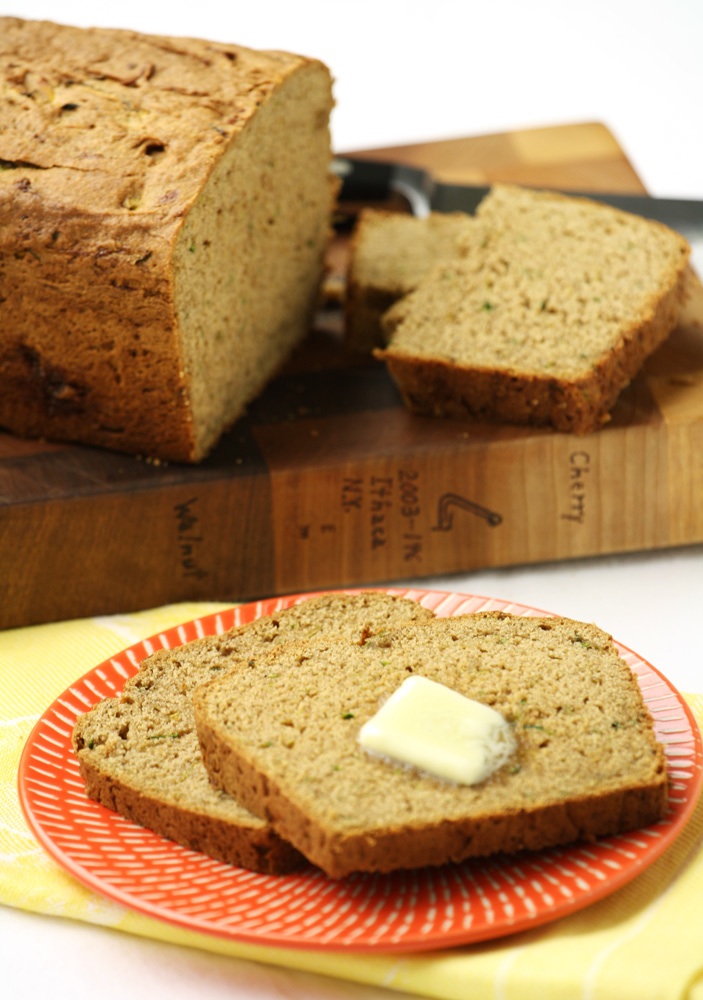 Gardening, at times, can be a feast or famine enterprise. I'm thinking specifically of zucchini. When zucchini plants are producing, it can be hard to eat them quickly enough to keep up with the prodigious supply. At least not without either a) getting tired of eating zucchini, or b) desperately trying to think of yet another way to prepare zucchini you haven't already tried that week.
But true to their feast or famine nature, zucchini are surprisingly delicate, susceptible to the attacks of both bugs and disease. A zucchini plant can go from robust to six feet under in a startlingly short period of time. When we found plentiful numbers of striped cucumber beetles in our organic garden plot, we knew it was just a matter of time for our zucchini plants. We hoped for a stay of execution, but it was not to be. Earlier this week we ripped out the pitiful remains of what were once five beautiful plants.
It was good while they lasted, though, and late last week we baked a loaf of delectable bread using our largest zucchini. The result was modestly sweet, moist, with a balanced blend of spices (cinnamon and nutmeg). Hopefully, zucchini are still going strong in your garden, or at your market. And if they are, you really ought to give this recipe a try!
Zucchini Bread
Makes 1 loaf
Ingredients
3 cups (375g) Artisan Gluten-Free Flour Blend
2 tsp xanthan gum
2 tsp ground cinnamon
1/2 tsp ground nutmeg
1 tsp baking soda
1/2 tsp GF baking powder
1/2 tsp salt
1/3 cup sugar
1 cup packed brown sugar
2 cups finely grated zucchini
1/2 cup melted butter
2 eggs
Steps
1. Preheat your oven to 350 deg F.
2. In a bowl, combine the flour through the salt and mix.
3. In a separate mixing bowl, combine the brown sugar, zucchini, butter, and eggs and mix.
4. Combine the two bowls of ingredients and mix to incorporate.
5. Grease a standard 9×5 loaf pan (or similar size). Add the batter. Baked for 50 to 55 minutes, until a toothpick inserted comes out clean.
6. Let cool in the pan for 10 minutes. Then flip out onto a wire rack to let cool completely.
Degrees of Free-dom
This recipe is: gluten-free, peanut-free, tree-nut-free, fish-free, shellfish-free, vegetarian.
Notes
If you're looking for more zucchini recipes, you might also try:
Enjoy!
–Pete