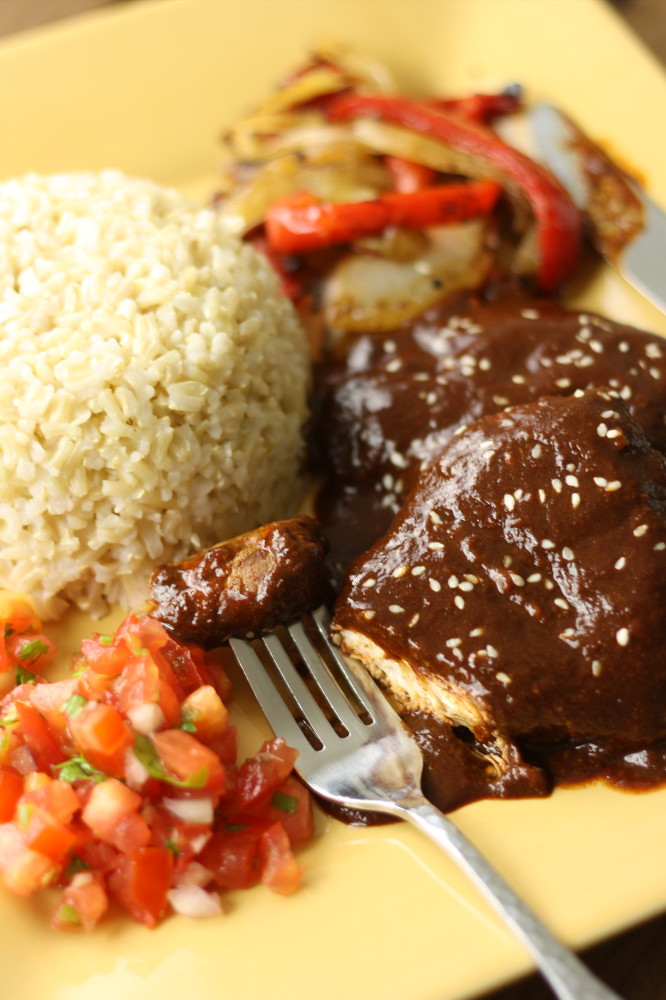 I'm a firm believer that time spent in the kitchen crafting a meal is time well spent. Sure, now and again it can turn into hot, sweaty drudgery. But the majority of the time it's pure enjoyment. Every so often, though, if you're lucky you have a transcendent experience … an epiphany that sets a recipe or a meal apart as something truly special. Today's recipe for 90-Minute Mole is just such a recipe, and its story began some three years ago.
I've long been a fan of Mexican mole, a notoriously complicated sauce—often associated with chocolate, though it need not be an ingredient—that comes a wondrous variety … black, red, green, etc. Some of the most esteemed mole comes from the Mexican state of Oaxaca. It has incredible depth of flavor, thanks to an impressive array of ingredients: various chiles, spices, dried fruit, and much more, including (potentially) Mexican chocolate. Average, run of the mill mole can be ho-hum, but great mole is a heavenly experience.
I can probably count on one hand the number of times I've had truly exceptional mole that has made me sit back in my chair and go, "Wow." One of those times was in fall 2009, deep in the heart—not of Mexico, but—of Arizona.
I was in the Phoenix area on a press trip, and my itinerary included a stay at the Four Seasons Scottsdale. It's a stunning property with an enviable view of nearby Pinnacle Peak. One night included a theme dinner at Crescent Moon, where every course of the meal incorporated chocolate (as an aside, the restaurant's seamless attention to my gluten-free dietary needs was superb). Executive Chef Meliton Mecinas—who hails from Oaxaca—prepared a masterful meal, but the highlight for me was his Oaxacan mole, based on his grandmother's version. This was the real deal. Best of all, I walked away with a version of his recipe.
That recipe has lived tucked away in a filing cabinet, waiting for the right moment for us to attempt it. One month ago, we decided it was time. After a handful of false starts, Kelli and I crafted our own version of Mecinas' sauce, with similar overall complexity and depth of flavor, but simplified process, ingredients list, and shorter preparation time, while still staying true to authentic Oaxacan mole. We call it our 90-Minute Mole, but in this case, it really is built upon the shoulders of giants.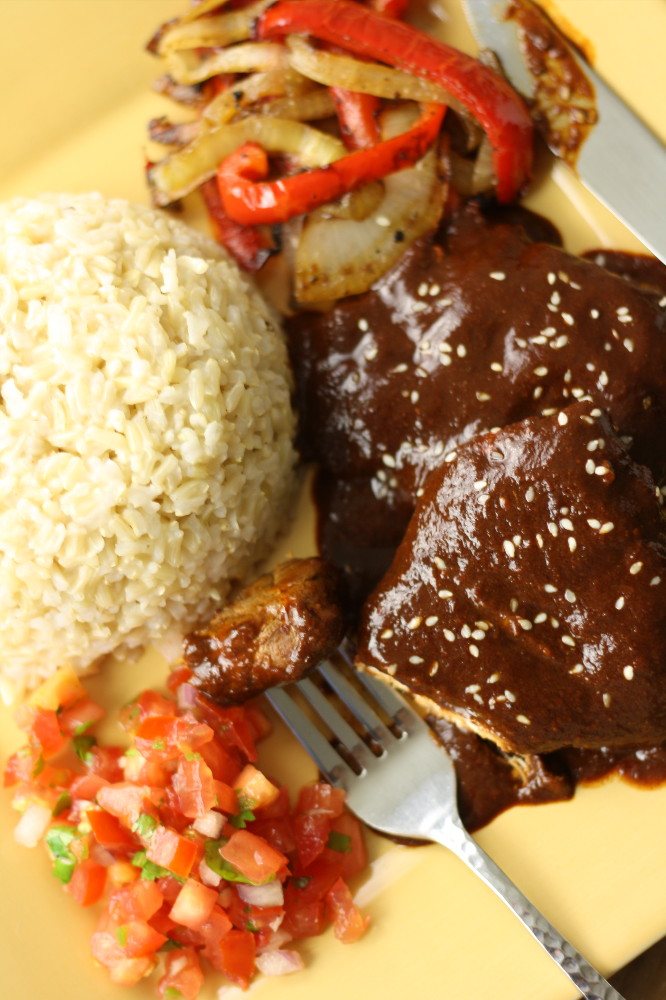 90-Minute Mole
Makes 3 pints
Ingredients
Chiles:
3 oz pasilla chiles (about 15)
1/2 oz gaujillo chiles (about 2)
1/2 oz ancho chiles (about 2)
1 quart GF chicken broth
Spices:
1/8 tsp ground cloves
1/4 tsp black pepper
1/2 tsp ground cinnamon
1 tsp dried oregano
Dried Fruits:
1/4 cup dried apricots
2 tbsp golden raisins
1 cup very hot water
Vegetables:
1 tbsp olive oil
1 Roma tomato, chopped
1/4 yellow onion, diced
2 garlic cloves, minced
Nuts and Seeds:
2 tbsp raw cashews
2 tbsp blanched almonds
2 tbsp sesame seeds
Sweet Stuff:
1 tbsp packed dark brown sugar
2 1/2 oz Mexican chocolate
Steps
1. Under running water, wash and de-seed the chiles.
2. Spread them in a single layer on a pan and roast for 20 minutes at 250 deg F, until dry.
3. Place the dried chiles in a pot, add the chicken broth, bring to a boil, then simmer for 15 minutes.
Meanwhile, do everything else:
4. Toast the spices in a dry pan over medium-low heat for 5 minutes. Remove from the pan and set aside.
5. Soak the dried fruits in the hot water for 20 minutes.
6. Using the saute pan from the spices, heat the pan over high heat with the olive oil, then add the vegetables and saute until caramelized, about 5 minutes.
7. Toast the nuts and seeds on a cookie sheet in the oven at 275 deg F for 10 minutes.
8. Put the soaked fruit and soaking liquid in a food processor. Puree until smooth.
9. Add the toasted spices and caramelized vegetables, and puree until smooth.
10. Add the toasted nuts and seeds, and puree until smooth.
11. Pour off excess chicken broth from the chiles and reserve. Add the chiles to the food processor, along with the brown sugar, and puree until very smooth, about 5 minutes.
12. Return the pureed mixture to the saute pan, along with the reserved chicken broth. Simmer for 20 minutes, then turn off the heat.
13. Add the Mexican chocolate, and stir until melted.
Notes
1. Despite the seemingly long list of ingredients and steps, this is a super-easy recipe with a great pay-off.
2. The sauce stores well and can be used in a variety of ways. Portion into glass containers, seal, and freeze for later use.
3. To make chicken mole as photographed in this post: brown one pound chicken (skinless breast and/or thighs) in a hot skillet with 1/2 tbsp olive oil, about 4 minutes per side. Put the chicken in a slow cooker, cover with about 2 cups mole sauce, and cook on low for 2 hours.
4. Mexican chocolate is a coarse, sweet chocolate usually flavored with cinnamon. (Brands include Ibarra and Abuelita.)
5. We call this 90-minute mole because it should take about 1.5 hours for one person to prepare the sauce from start to finish. Cooking time for any meal with which you'll use the sauce is extra.
Degrees of Free-dom
This recipe is: gluten-free, dairy/lactose/casein-free, fish-free, shellfish-free, peanut-free, soy-free, egg-free, corn-free.
Enjoy!
–Pete