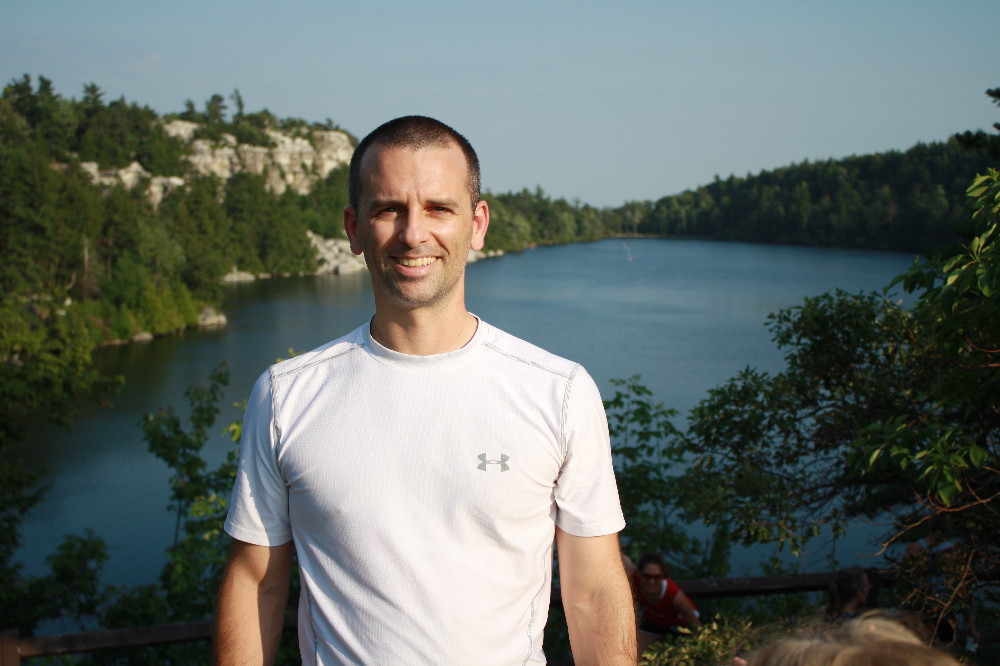 On an overlook above Lake Minnewaska, with the Gunks' white cliffs behind.
When you're sweating profusely just standing around, you know it's hot. To fix the problem, you could pretty much do one of two things: 1) find some air conditioning (and quick!), or 2) dunk your body into a lake or ocean or swimming pool. Or—if you're me—you can compete in a trail running race.
Like most of the country, this week we've suffered a major hot spell. Here in the Hudson Valley, the heat peaked on Wednesday and Thursday, with temperatures in the high 90s and heat indexes into the 100s. As lucky timing would have it, the annual Minnewaska Summer Solstice 14k trail race was scheduled for Wednesday at 6:30pm, right in the heart of it.
Longtime readers of this blog may remember that I ran this race last year. It was—unexpectedly—my first race of the season, after recovering from two hospitalizations due to illness earlier in the spring. The 2011 edition of the race featured cool temps, with clouds, fog, and heavy rain. Even so, more than 200 runners turned out for the event.
This year's event couldn't have been more different weather-wise. As the race start loomed, the heat index was still 97 degrees F, according to the race director. That's not just hot; that's downright dangerous. People can—and sadly, do—die pushing their bodies too hard in heat like that.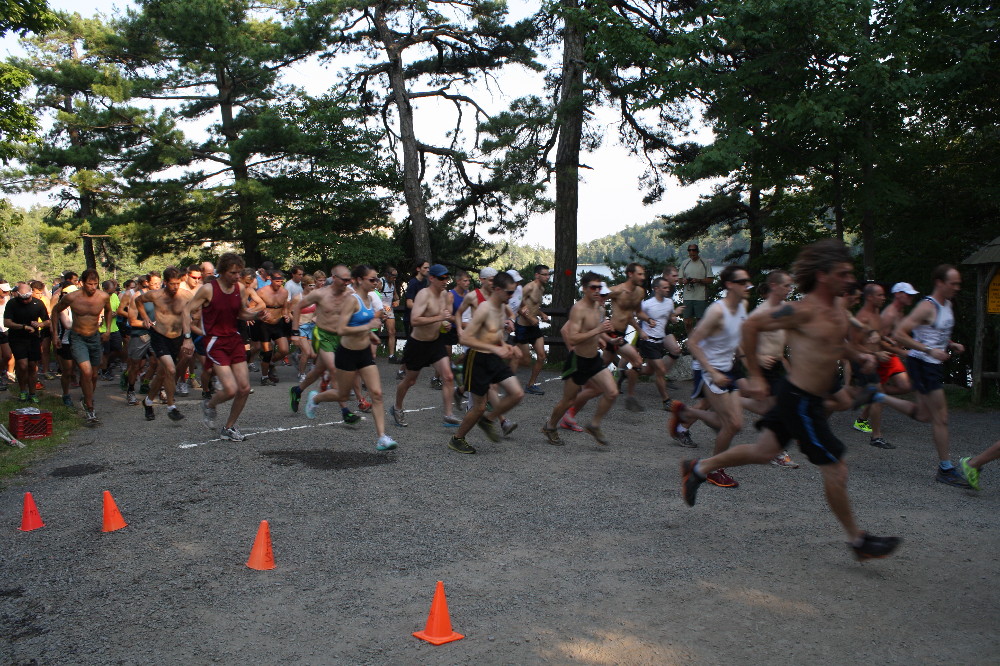 And they're off! 200+ runners brave the heat.
The race is 14 kilometers—about 8.6 miles—through some of the most gorgeous terrain you could imagine for running. Last year the views were obscured by cloud and fog. This year all was clear for me to see. The race began on a bluff overlooking Lake Minnewaska, then followed gravel carriage roads through forests and along clifftops. Across a green valley, the white and golden cliffs of the Shawangunk Mountains were bathed in warm, late-day light.
Despite the sweltering heat, this was a fun race for me on many levels. Mostly, it boils down to the fact that the race is easy. I don't mean that it's not challenging; I push myself hard no matter what the distance. I mean it's "easy" in other ways: Kelli and the girls don't have to shuttle from aid station to aid station. They can just hang out at the finish line. I also don't have to train specifically for a race of this distance. I can pretty much sign up and go race at any time. It's a great way to push my body in different ways (running a shorter distance for speed, versus a much longer distance for endurance). And races like this don't take much time. Compared to the all-day commitment of running an ultramarathon, shorter trail races of 5k to 15k will be over in 20 minutes to just over 1 hour. Bada bing, bada boom.
Normally, I wouldn't bother worrying about hydration for a run of less than 10 miles. But with the dangerous heat, I knew I needed to be careful. I wore my 20-ounce bottle, filled with First Endurance EFS Drink, and sipped from that about every 7 minutes. The course also featured three aid stations with water—at each aid station, I took two cups. One splashed my face and got dumped over my head; the other splashed my chest and got dumped down my back.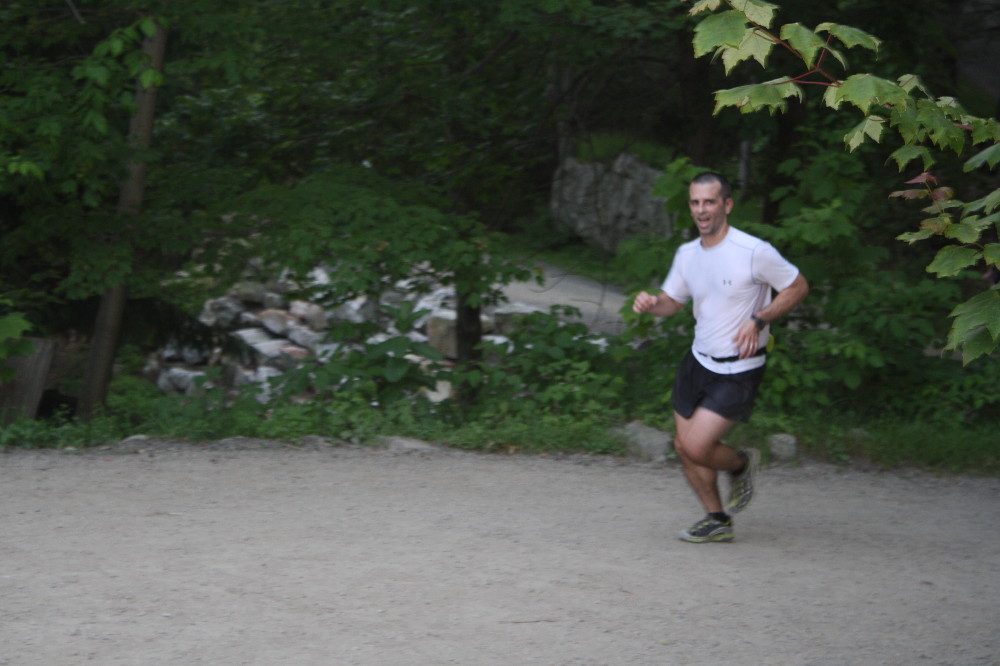 Coming up a short but steep final climb to the finish.
The race began with a brief downhill before beginning a long, sustained climb out to mile 3.75. The next two miles or so the course leveled off a bit, leading to the third aid station at mile 5.5. From there, it was basically a 5k (3.1 miles) trending downhill (though not always) back toward the finish, where you had to re-climb the brief but steep hill at the start/finish line.
In a word, the heat was brutal. I tried to walk a fine line between pushing myself to run well, but remain conservative considering the temperatures. I finished the race in 1 hour 4 minutes 19 seconds. That bests my time from last year by three minutes, and was good enough for me to place 25th out of 212 finishers, just outside the top 10%.
Chatting with Kelli after the race, I was explaining how I was basically red-lined the whole time. But then it occurred to me that for any runner, there can be multiple red lines. I'll explain. If you imagine that your body has an invisible dashboard like that on a car, there are many dials: one for speed, one for endurance/stamina, one for temperature. If you're running for long enough, you might add additional dials for hydration and nutrition, too. If you red-line any one of those dials, then that's going to be the limiting factor for your race. In shorter races, speed tends to be my limiting factor. In ultras, I keep the speed slower, so that endurance becomes the limiting factor. But in yesterday's race, there's no question which dial was red-lined as my limiting factor: my thermostat.
By the end of the race, temperatures up on the ridge were finally beginning to relent (at least a little). Kelli had spread a blanket in the shade of a pine tree, where a picnic dinner was laid out for us all to share. I gulped down an ice cold First Endurance Ultragen (my gluten-free recovery drink of choice … packed with simple carbs for glycogen replenishment, amino acids for muscle repair, and l-glutamine to promote gut health). Dinner was delicious: homemade chicken tenders (coated in gluten-free bread crumbs and pan-fried in olive oil), plus roasted sweet potatoes and cauliflower. It's always a pleasure to enjoy that time with Kelli and the girls—they may not run the actual course with me, but they're an integral part of the racing regardless. I mean it sincerely when I refer to us as Team Bronski.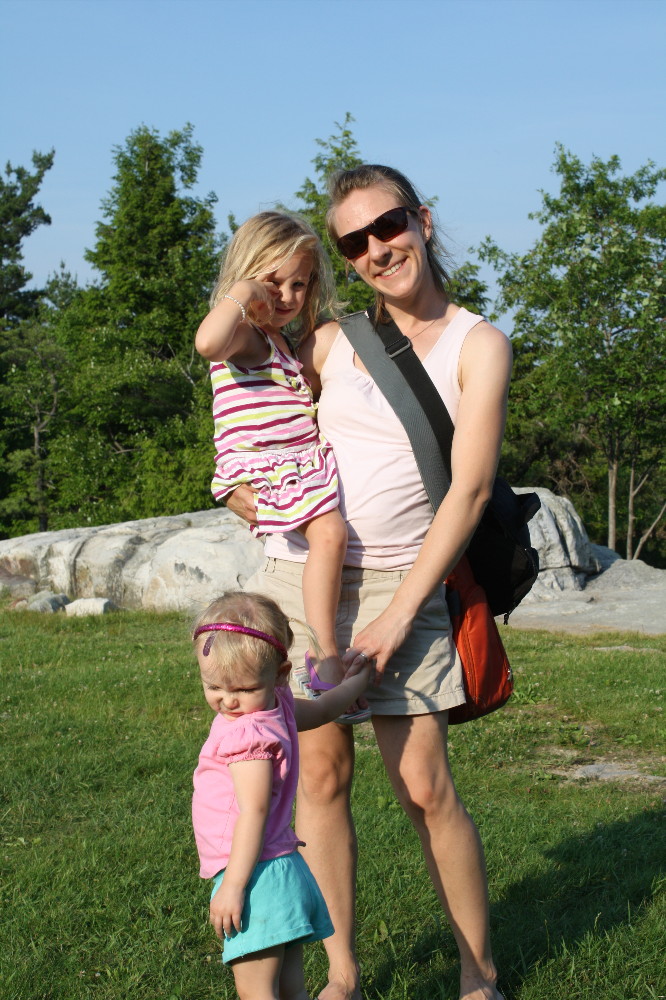 Team Bronski.
The day after the race I logged an easy 4.3-mile run to aid my leg recovery, and today banked 11.25 miles, which brings my trail running tally for 2012 to just under 700 miles. I'm now beginning my taper in advance of the next race: the Finger Lakes 50-miler on June 30 (which is one week from tomorrow!).
Speaking of races, I want to remind everyone—since I haven't said much about it lately here on the blog—that the 3rd Annual Gluten-Free Ultramarathon Challenge is in full swing! My season of racing is all geared toward a very challenging 50-miler—the Virgil Crest Ultra—at the end of September, and my fundraising directly supports the National Foundation for Celiac Awareness. As an added incentive to get y'all to donate, I'm giving away signed books to donors at the end of each month.
But here's the terrible irony. You know what? I didn't give away any books at the beginning of this month. Why? Because in the month of May, the Challenge received no donations. And May was National Celiac Awareness Month!
I've not wanted to constantly talk about the Challenge here on the blog, because No Gluten, No Problem is not about me constantly having my hand out, asking for your donations to the NFCA. But I suppose I've been saying too little about the Challenge. I hope you'll help me get the fundraising back on track this month. There's just over one week left in June, and I'm finishing off the month with a big ultra. Won't you join me vicariously through the Challenge?
–Pete