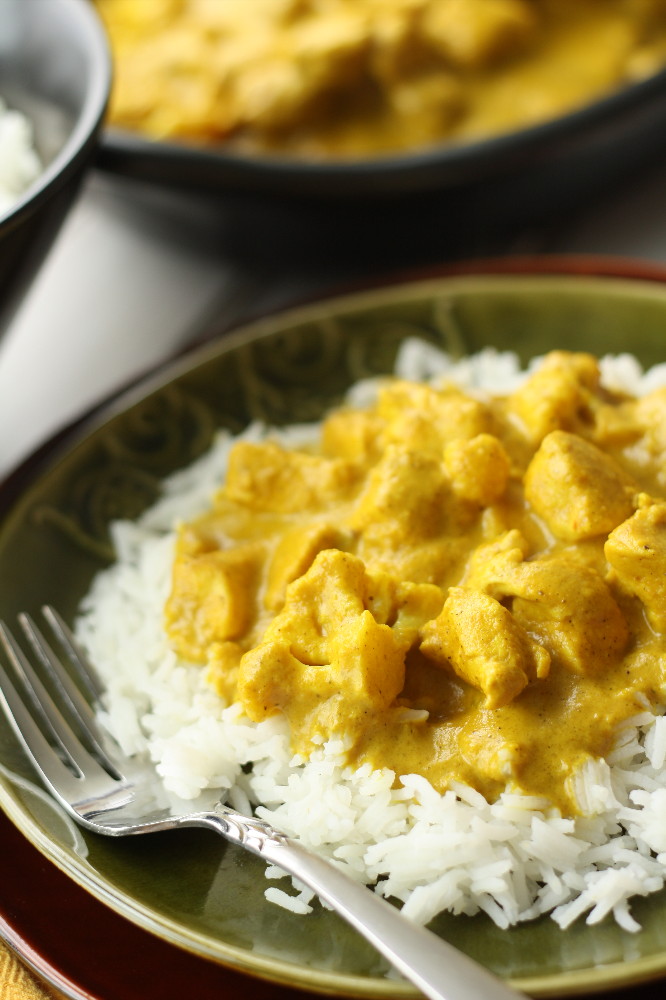 Today is a big day in the life of the No Gluten, No Problem blog. It's our 500th blog post! We're also two scant months away from our four-year anniversary as gluten-free bloggers.
We're celebrating the best way we know how … with food. Today we're revisiting our recipe for chicken korma with a new and improved version 2.0. (We posted the original version back on Leap Day on February 29…)
This version is what we were aiming for originally—a smoother texture to the sauce, with a better and more complex depth of flavor. We've made it several times recently, both with chicken breast meat and chicken thighs, and it's always a hit. It's restaurant-quality Indian cuisine. But to quote LeVar Burton in Reading Rainbow, "you don't have to take my word for it."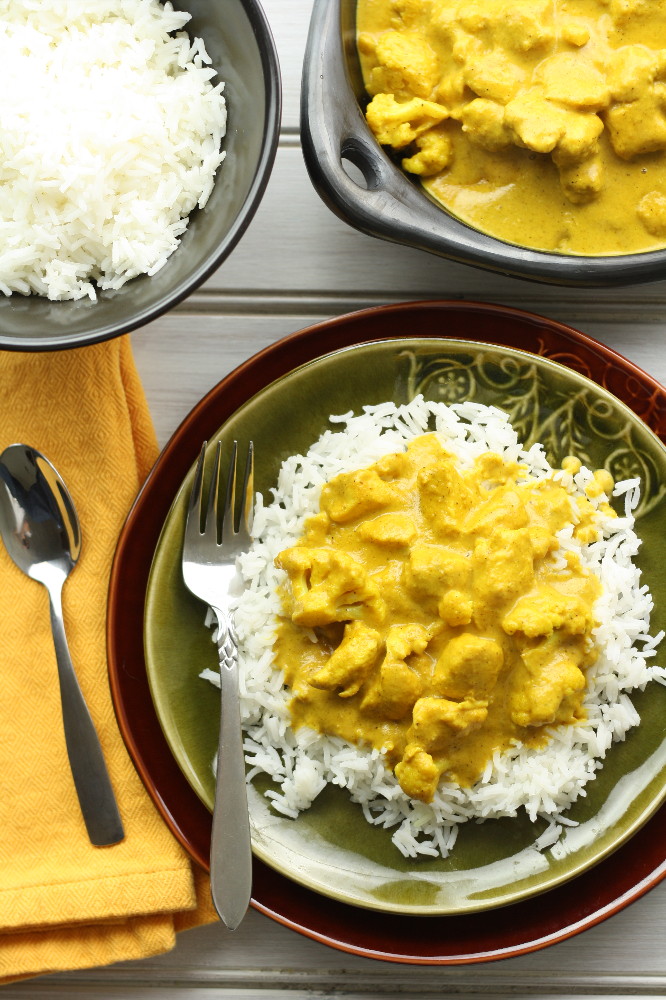 Chicken Korma v2.0
Makes 4-6 servings
Ingredients
1 1/2 lbs diced chicken, boneless, skinless (breast or thigh meat)
Salt
Olive oil
1/4 cup raw cashews
2 tbsp blanched almonds
1/2 cup hot water
1 medium onion, sliced thin
1 tbsp olive oil
1 tbsp butter
2 cloves garlic, minced
1 tbsp ginger, minced
1 1/2 tsp ground coriander
1 1/2 tsp ground cumin
1 1/2 tsp turmeric
1 tsp garam masala
1/2 tsp cayenne (optional)
3/4 cup diced tomato (or one 14.5-oz can no-salt-added tomatoes with juice)
1 head cauliflower, cut into small pieces (about 3 cups)
1 tbsp olive oil
1 cup GF chicken broth
1 cup heavy cream
Steps
1. Lightly season the chicken with salt. Saute the chicken in a tbsp or so of olive oil until cooked through, about 5 to 10 minutes, depending on the size of your cubes. Remove from the pan.
2. In a small bowl, soak the cashews and almonds in the 1/2 cup of hot water for at least 15 minutes and up to 1 hour.
3. Melt the 1 tbsp each butter and olive oil in a pan over medium to medium-high heat. Saute the sliced onions, about 10 minutes, until very soft.
4. Add the garlic and ginger, and cook for one minute.
5. Add the spices, and cook for an additional minute.
6. In a blender, add the nuts, water, and diced tomatoes, and puree until smooth.
7. Add the onion-spice mix to the blender and puree again, until very smooth.
8. Meanwhile, in your pan add the last 1 tbsp olive oil and saute the cauliflower, about 4 minutes.
9. Pour the blender contents into the pan with the cauliflower. Add the chicken broth and heavy cream, and bring to a simmer. Let simmer for 10 minutes.
10. Add the cooked chicken back in, simmering for 10 to 15 minutes more, until the cauliflower is tender.
11. Serve with Basmati rice.
Degrees of Free-dom
This recipe is: gluten-free, peanut-free, fish-free, shellfish-free, refined-sugar-free, corn-free, soy-free.
To make the recipe dairy/lactose/casein-free: 1) omit the butter and saute in an additional tbsp of olive oil, and 2) substitute coconut for the heavy cream.
Enjoy!
–Pete