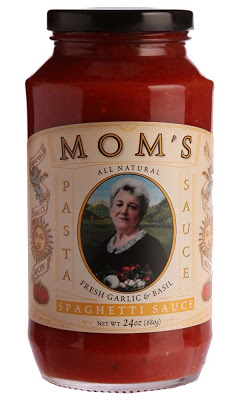 It's an exciting time of year for us. We've prepared our community garden plot, and our tomato plants—which have already been transferred once from seed starter trays into larger containers—are ready to go out into the field. Sadly, though, we've already exhausted the final tomatoes from last year's harvest. So what do you do when you're craving a marinara sauce to toss with your favorite gluten-free pasta?
Answer: go with a quality sauce you can get in a jar, the kind with ingredients you'd use to make the sauce yourself (if you hadn't already run out of your own garden-fresh pasta sauce, as we did…).
Back in September, we blogged about how we'd found just such a sauce in La Famiglia Del Grosso. Today, we're happy to report that we've found another: Mom's Spaghetti Sauce.
Mom's is made by parent company Fischer & Wieser, which offers an extensive line of gluten-free sauces. The company sent us a complimentary jar of the Garlic & Basil Pasta Sauce to try. This is our assessment.
The sauce is made with ingredients we like: tomatoes, fresh garlic, extra virgin olive oil, fresh basil, sea salt, lemon juice, black pepper, citric acid, and vitamin E. That's it. They're simple, fresh ingredients, with no added sugar like you find in many tomato/marinara sauces. Our jar contained whole basil leaves and whole garlic cloves. No mistaking the authentic ingredients there.
One observation—and this is neither a positive nor a negative—is that the sauce is chunky. Really chunky. In fact, if it were any chunkier, you might be better off buying the whole vegetables in the produce section at your local supermarket. We took an immersion blender to our jar of sauce to make it into a smooth marinara. Easy enough.
The label includes advisory information noting that the sauce is made in a facility that also handles multiple allergens: wheat, peanuts, tree nuts, milk, fish, soy, and eggs. However, to the company's credit, they sent—in response to my inquiry—a detailed breakdown of their allergen handling procedures to minimize the potential for cross-contamination.
One curiosity: the label also included a declaration that the sauce contains soy. Nothing obvious jumped out at me from reading the ingredients. Follow up with the company revealed that the vitamin E, the final ingredient in the sauce, is derived from soy. If you're gluten-free and soy-free, take note.
As for the flavor, it was excellent. The garlic & basil pasta sauce makes for a great plain marinara on its own, with bright, fresh flavors and bold tomato. We also noted that it would work very well as a base. Add a splash of red wine, a dash of balsamic vinegar, a pinch of red pepper flakes, whatever you like to jazz it up.
At around $8 for a 24-ounce jar, it's toward the pricier end, comparable to Famiglia Del Grosso. But arguably, it's worth it. Wait for Mom's to go on sale, then stock up.
–Pete
Image courtesy Christie Communications