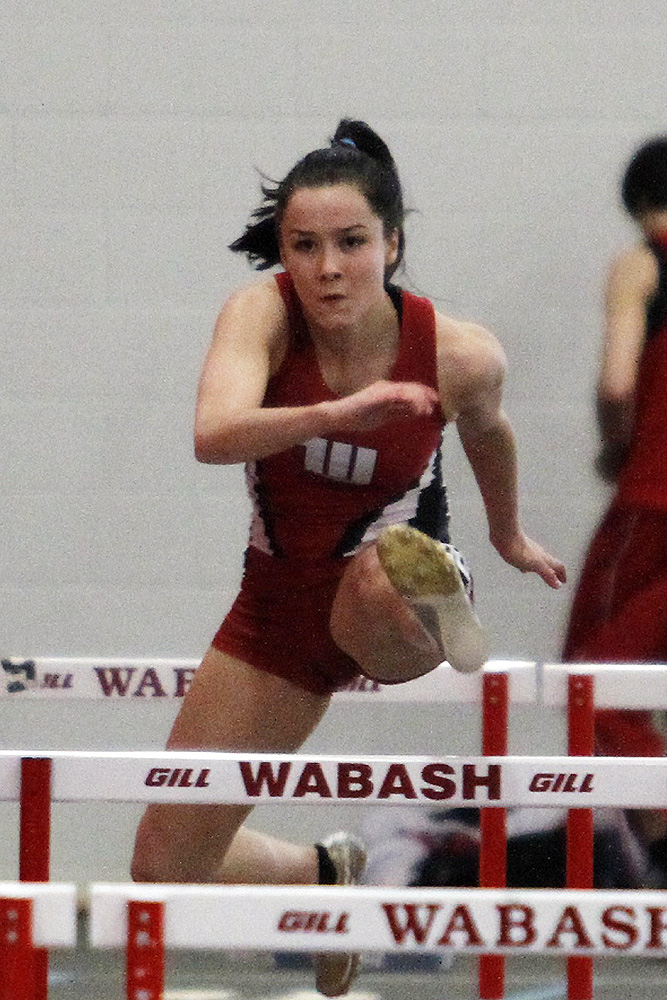 In The Gluten-Free Edge, Melissa (Gluten Free for Good) and I interview and profile dozens of amazing gluten-free athletes. One of the wonderful challenges of writing the book was that we discovered many more gluten-free athletes than we could ever hope to fit within the book's pages. And so, we're featuring more athletes here on No Gluten, No Problem in "Athlete Insight," a recurring series. Learn from them. Be inspired by them. And see that—whether you're gluten-free for medical reasons or voluntarily to gain a performance edge—gluten-free athletes are out there, living an active gluten-free life to the fullest.
Shelby Anne
Collegiate hurdler
Born: 1993
Lives: Ohio
Gluten-free since: 2005/2006
If you're familiar with Wendy of Celiacs in the House, then you already know one member of the family. Today, meet her daughter, Shelby.
Shelby was home schooled until the 7th grade, when she switched into public school in order to play sports. "In middle school, I tried everything: basketball, volleyball, track," she says. "Track was just it. It came naturally to me. I was always fast and could jump high." As she transitioned into high school, track remained her athletic focus.
By then, however, Wendy, Shelby, and family had been uncovering their long-standing but as yet undiagnosed problem with gluten. Shelby's brother had been hospitalized with severe anemia. That eventually led to a celiac disease diagnosis. Shelby, meanwhile, had been having her own health challenges. "I'd been diagnosed with IBS, gastric reflux," she says. "I had a weak immune system, bad allergies, fatigue. And I had stomach problems—there was something at least every day … cramps, nausea." Testing revealed that she, too, had celiac disease. (As it turned out, their mom Wendy had celiac as well, and genealogy research has revealed a number of ancestors who likely had it, though they didn't know it.)
For Shelby, some symptoms resolved quickly on the gluten-free diet. Calcium and vitamin D deficiencies resulted in shin splints that bordered on stress fractures (a situation common to many athletes with undiagnosed celiac disease). Once gluten-free, her bone density rebounded and she had a major growth spurt.
Others symptoms took more time to resolve. "This year, after being gluten-free for more than five years, is the first time my immune system feels a lot better," she explains. "I'm the healthiest I've been; I'm a lot stronger."
Stronger is definitely the operative word. Shelby, a freshman at Ohio's Wittenberg University, earned a spot on the track and field team as a walk-on. She runs the 60- and 100-m dash, though the 60-m hurdles is her true specialty. Earlier this month, she won the 60-m hurdle individual championship at the North Coast Athletic Conference Indoor Track & Field Championships.
Staying safely gluten-free while a college athlete has involved a multi-pronged strategy. Her teammates are supportive. "Everyone is great about it; they look out for me," Shelby says. She travels to meets with a cooler full of gluten-free foods. The team stays at accommodations with mini-fridges and microwaves in the rooms. Back on campus, she's been working with the executive chef and the manager of dining services to ensure that she has good options. And her dorm room is always stocked with plenty of tasty gluten-free fare.
The effort is paying off … for her health and her athletics. "I'm continuing to improve and get stronger," Shelby says. Gluten—once a major health hurdle—is now in her rear view mirror, and looking to the future, it's full speed ahead.
Favorite gluten-free foods: Steak. Gluten-free pizzas on Udi's crust. Rice for carbs, though sometimes potatoes. Lots of fruits and vegetables.
P.S. Shelby blogs about her experience as a gluten-free college athlete over at One Hurdle at a Time.
–Pete
Photos courtesy Wittenberg Athletics, by Kim Johnson and Drew Casey / Wabash Sports Information.