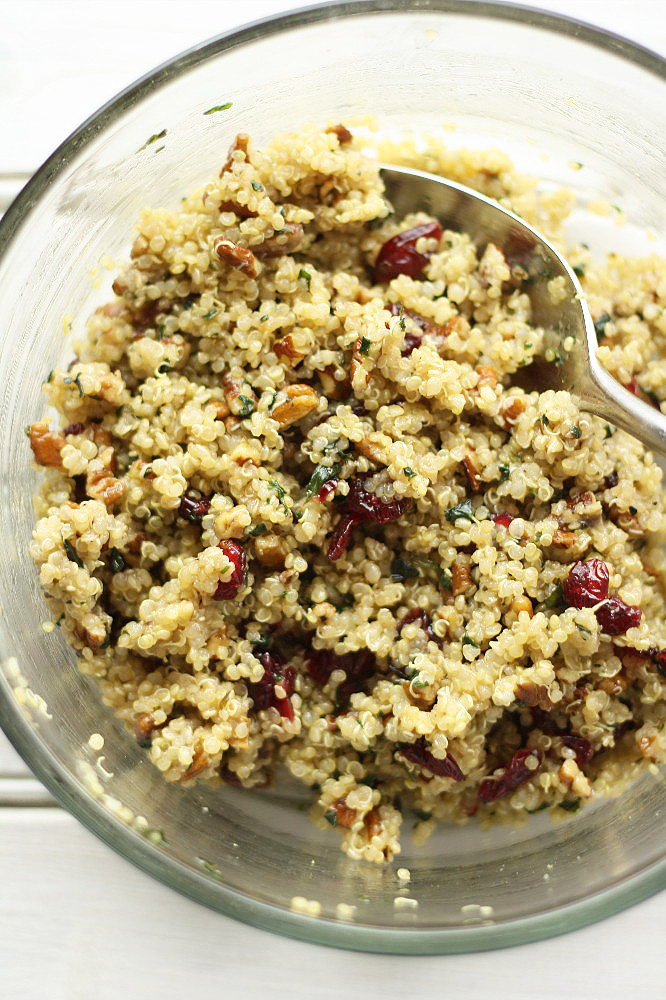 Quinoa is a versatile pseudo-grain that's naturally gluten-free and packed with nutrition. It's been a part of our cooking regularly ever since a 2007 mountaineering expedition to Bolivia. (Quinoa is native to South America's Andes.) We often make a cold quinoa salad with green onions, red bell pepper, and a red wine vinaigrette. We've also been known to use quinoa in lieu of bread crumbs in a turkey meatloaf.
But we're always looking to incorporate quinoa into our diet in new ways, and today's recipe—Cranberry-Pecan Quinoa Salad—absolutely fits the bill. It's simple to make, yet rich in flavor. It could easily be the star of a lunch or dinner meal, or serve equally well as a side to an entree.
Cranberry-Pecan Quinoa Salad
Makes 4 side servings, 2 as a main dish
Ingredients
1/2 cup quinoa, rinsed
3/4 cup water
1/4 cup Craisins
1/4 cup chopped pecans
1 tbsp minced fresh basil
1 tbsp balsamic vinegar
2 tbsp olive oil
Salt
Pepper
Garlic powder
Steps
1. Combine the quinoa and water in a pot, bring to a boil, reduce heat to a simmer, cover, and cook for 15 minutes. Then remove from heat, remove the lid, and fluff.
2. Add the chopped pecans, Craisins, and basil.
3. In a separate bowl, combine the balsamic vinegar and olive oil. Add a dash each of salt, pepper, and garlic powder. Mix well.
4. Add the vinaigrette to the quinoa salad and toss to mix. Serve warm or cold.
Notes
To make a cold version of the salad, you could cook the quinoa ahead of time and chill it in the fridge, then proceed with the remaining steps of the recipe.
Degrees of Free-dom
This recipe is: gluten-free, dairy/casein/lactose-free, peanut-free, fish-free, shellfish-free, soy-free, corn-free, vegetarian.
To make the recipe refined-sugar-free, substitute raisins or similar for the Craisins (dried cranberries sweetened with sugar).
Nutrition Info
Per side serving: 224 calories, 14g fat, 24g carbs, 4g protein, 41mg sodium, 7g sugars, plus at least 40% RDA riboflavin, at least 20% RDA phosphorous, and at least 10% RDA iron and manganese.
Enjoy!
–Pete
Recipe nutrition info approximate, calculated using SparkRecipes.