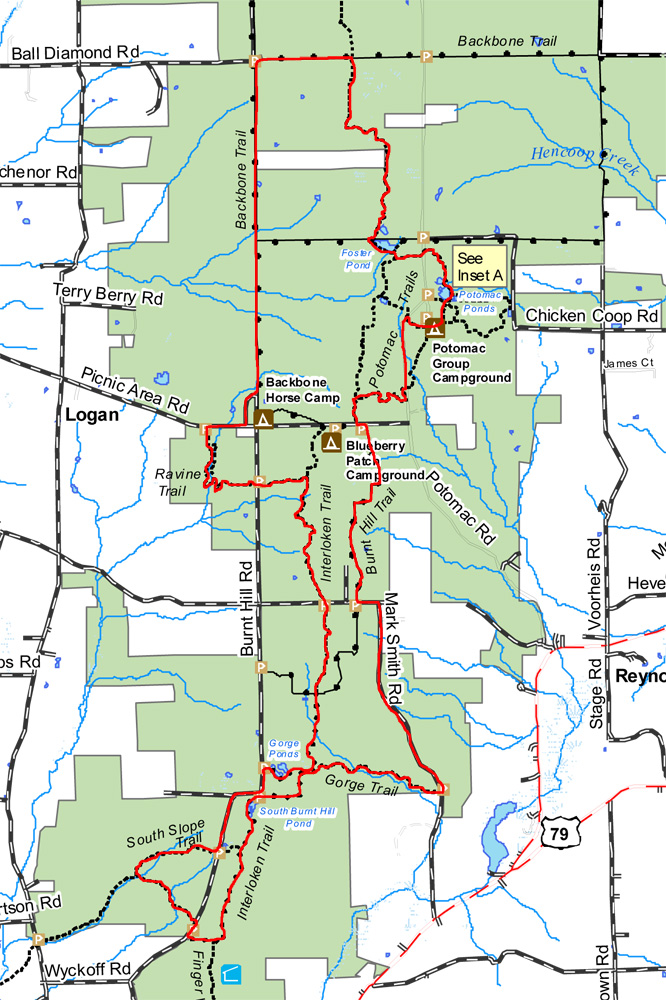 Highlighted in red, the course route for the Finger Lakes Fifties trail 50k.
I absolutely love trail maps. They are on the one hand deterministic and defined, and on the other filled with unknown opportunity and adventure.
Looking over the trail map for a place I've never been, a trail system offers a discrete set of options of where to go and what you'll see. The details contained with the map—contour lines, rivers and streams, summits and valleys—help to set expectations.
At the same time, those expectations can run wild, if you let them. What will you see along the trail? What kind of forest will it be? What wildlife might you see? What's in the blank spots on a map in between the trails?
The result is a beautiful tension between the known and the unknown, the what's possible and the what will actually be, between what's stored in memory and what the imagination is allowed to concoct.
Such was my experience this past Saturday. Kelli, the girls, and I were in Ithaca, New York visiting family. I took the opportunity to do my long Saturday morning trail run over at Finger Lakes National Forest, between Cayuga and Seneca Lakes. FLNF is the site of the Finger Lakes Fifties ultramarathons, in which I'm competing at the end of June. I've never been to FLNF, and I figured it would pay off to preview the race course by running the trails now.
There was just one problem: the weather handed out rain the night before and the morning of my trail run and air temps hovering right around freezing, which would make for interesting trail and running conditions. I knew things would be pretty nasty, but I was determined to do my run regardless. What I discovered was even worse:
Half an inch of slushy snow on the ground. Shoe-sucking mud. 32-degree standing water ankle- to calf-deep. Fog. Light rain and mist with air temps of 35 to 40 degrees F. It wasn't exactly what I would call ideal conditions. Pretty much the exact opposite.
My plan was to run a single clockwise loop of the course (highlighted in red in the map above). Each lap is 16.5 miles. (And so, for the 50k, I'll be running two laps, totaling 32.9 miles.)
I ended up running just over 19 miles.
As you might imagine, the extra mileage was the result of a wrong turn or two. I was running south along the Burnt Hill Trail when the trail took me out of the forest, through a Forest Service gate, and into a meadow that turned into a cow pasture. Surrounded by thick fog, and in the absence of subsequent trail markers, I couldn't tell which way to go.
I took to following a barbed wire fence line. The fence line made a hard right turn, and so I did, too. Eventually, I came to another Forest Service gate, and another marked trail, so I started running that way. At last I came to a signed trail junction, at which point I was able to reconcile my new position with a basic map I'd brought with me tucked in my lumbar water bottle pack. I planned a re-route to get back on track and finish the intended loop, but by then the extra miles had been added. No problem… just a diversion to Destination Unknown.
Ultra distance trail running, especially in a racing context, is another good example of this tension between the determined and undetermined. When I'm running a trail I've never run before, every stride is a step into the unknown, a step into new territory. Where will the trail go next? What's around the next bend? (On a handful of occasions, the answer to that question has literally been a bear…) Even when I've run a trail before, there are still subtle surprises, chance wildlife encounters, a forgotten vista.
When racing on a difficult course, this lack of knowledge of what lies ahead can be both a blessing and a curse. For example, if don't know that a major climb is coming up, you won't fear it. Then again, since you don't know it's coming up, you also may not judiciously reserve the energy that's about to be needed…
That's one reason why I wanted to pre-run the Finger Lakes Fifties course. I wanted to become familiar with it. I wanted to learn it.
Now I know that after the Burnt Hill Trail there's a section of sustained downhill that offers a chance to open up the stride and make good time. And that the downhill section is immediately followed by the Gorge Trail, which has a few short but steep uphill sections that will offer an opportunity to get some nutrition in.
And what does any of this have to do with the gluten-free lifestyle? In my eyes, plenty. Because for many, standing on the precipice of going gluten-free is like embarking on a journey to Destination Unknown. And maybe you don't have a map to consult for reference. And maybe even if you do, you'll still make a wrong turn here or there and need to navigate your way back on track.
Fear and uncertainty may creep in. Can I still eat my favorite foods? What foods can I no longer eat? What foods can I eat? How am I going to do this?
But uncertainty can also give rise to joyous discovery. Maybe you'll "discover" quinoa for the first time. Or try your hand at baking with gluten-free flours. Or overhaul your diet to eliminate many processed foods.
Eventually the strange and unknown will become familiar. You'll put some miles behind you, find your flow, get into your groove. You'll remember where you've been, and you'll also know where you're going. In short, you'll be empowered. The gluten-free lifestyle will be familiar, not foreign. Embrace it, and enjoy the journey … for the long haul. It's a great ride.
Giveaway winners!
But enough of me waxing philosophical about the intersection of trail running and the gluten-free lifestyle. It's time to announce some giveaway winners!
First, back on March 22 we reviewed Halfpops. The winner of our Halfpops giveaway is Lori-Ann! Lori-ann, please email us with your mailing address and we'll get your bags of Halfpops mailed to you ASAP.
Second, we've just concluded the first month of fundraising for the National Foundation of Celiac Awareness via the 3rd Annual Gluten-Free Ultramarathon Challenge. Thank you to everyone who donated this past month. We're already almost 10% of the way toward our goal, thanks to you! Special congrats to the giveaway winner: Lisa Simon. Lisa, please email us and we'll get in touch about your choice of book for the giveaway.
Plus, our next giveaway!
We're now launching the second month of fundraising for the Challenge. As with last month, anyone who donates at least $20 to the NFCA through our fundraising page is eligible to win a signed copy of one of our books (and you get to choose which book you want!).
And for April, I'm sweetening the pot. My next race—The North Face Bear Mountain Endurance Challenge 50 miler—is less than five weeks away, the first weekend in May. As such, April is a pretty big month of focused training for me. In honor of this next race coming up on the calendar, this month we're going to give away one book as usual, a second book in honor of the race, and we'll give out a third book if I finish the race in the top 10% overall.
That means that you have at least two chances to win a book this month, and possibly a third chance for a book if I race well. And remember … these giveaways are all incentives to entice you to help support the great work of the National Foundation for Celiac Awareness, which benefits the entire gluten-free community. Donate today!
Thanks again for your support.
–Pete
Image courtesy United States Forest Service, amended by Peter Bronski.