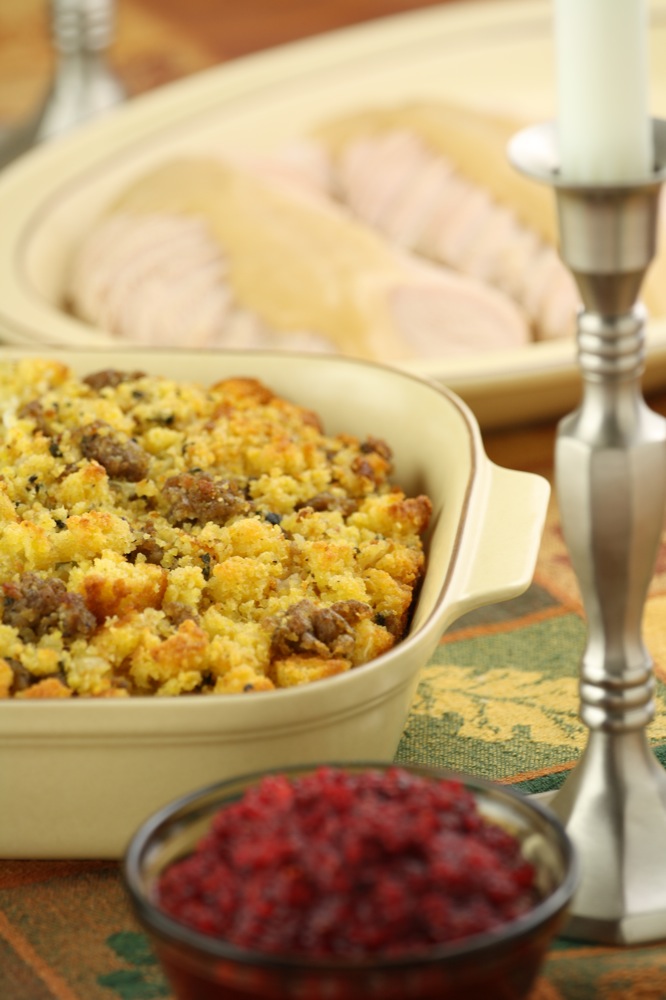 Thanksgiving is one week away. Let the countdown begin! We're hosting again this year, and as usual many traditional foods are on the menu: roasted turkey with gravy, mashed potatoes, cranberry relish, apple pie. And of course, no classic Thanksgiving spread is complete without stuffing.
We've been making this version for years – a corn bread stuffing with onion, sage, and pork sausage. The recipe first appeared in Artisanal Gluten-Free Cooking, and then here on blog back on November 2009. For the forthcoming 2nd edition of the cookbook, we've tweaked the recipe slightly (mostly to reduce the salt and butter). Those subtle changes sacrifice none of the flavor.
When we made this recipe earlier this month to re-test it for the cookbook re-release, it succeeded in putting us in the mood for the Thanksgiving holiday. Since then we've been looking forward to making it again, and now we're just one week away. I can hardly wait!
Is your Thanksgiving menu planned yet? What dishes are you most looking forward to?
Corn Bread Stuffing
Makes 8 servings
Ingredients
1 pound GF pork sausage (caseless, or with casings removed)
6 tbsp (3/4 stick) salted butter
1 medium onion, diced
2 tbsp chopped fresh sage
1 tsp salt
1 tsp ground black pepper
GF corn bread (9×9 pan size), cut into 1/2-inch pieces
2 cups GF chicken broth
Steps
1. Preheat your oven to 350 deg F. Grease a 2-quart baking dish.
2. Cook the sausage in a skillet over medium-high heat until browned. Remove and set aside.
3. Melt the butter in the same skillet. Add the onion and saute until translucent.
4. Return the sausage to the skillet, plus the sage, salt and pepper. Stir to mix.
5. Combine the sausage mix and the corn bread in the baking dish. Toss to mix, and pour the chicken broth over the stuffing.
6. Cover the dish with foil and bake for 30-40 minutes, until the stuffing is heated through. In the last minutes, remove the foil to allow the top to get nice and browned and crispy.
Enjoy!
This recipe is: gluten-free, peanut-free, tree-nut-free, fish-free, shellfish-free.
Depending on your corn bread, this recipe can also be made dairy-free, egg-free, and refined-sugar-free.
– Pete