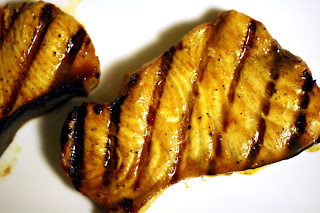 No matter how busy life gets, it's hard for me to stay away from certain activities for long. Trail running is one of those activities. So is mountain climbing. And now that we're back living on the East Coast, surfing has once again entered the queue of options that help to define my active gluten-free lifestyle. Lately I've been especially chomping at the surfing bit, because Kelli and the girls got me a new wetsuit, so that the surf season can extend well beyond the summer months. As of last weekend, the suit was still waiting for its maiden voyage. But on Sunday morning, that changed.
The morning dawned cold. At 7:00am the air temperature was just 32 degrees. A layer of frost covered the windshield and roof rack of our car. I wore jeans and a hat and a down "sweater" as I strapped my surfboard—a board I bought more than 16 years ago used from a surf shop on Long Island—to the roof of the car. I drove south from my mom's house where we were staying for the weekend to the barrier beaches of Long Island's Atlantic shore. There's something about that drive… early in the morning… few other cars on the road… the sun low in the eastern sky, glistening off the water…
The water temperature was in the high 50s, maybe 60 degrees F at best. Only a handful of other cars were in the parking lot. Surfers, every last one of them. I pulled on my wetsuit—a full body 3/2. I had no booties, no gloves, no hood. (Though those will be mandatory items if I'm to surf straight through the winter.) The hardest part was walking across the freezing parking lot and then the cold sand with my bare feet before the sun warmed things up. Once I made it into the water, though, I was in heaven.
The waves were modest but rideable. The ocean surface was clean. Fewer than 10 other guys were in the water. The beach was otherwise deserted. It was the kind of morning I live for.
When I had had my fill of the waves, having caught some fun rides, I paddled to shore and traded my wetsuit for jeans and a long sleeve T-shirt. Then, as has become routine when on the Island, I stopped by a local fish market on the way back to my mom's to see what the fresh catch was. To my delight, they had some of the most beautiful mako shark steaks I've seen. And for the rock bottom price of $6.99 per pound to boot.
I've only had mako two, maybe three other times in my life. Once at a restaurant on Long Island's North Fork; once caught fresh and grilled at home. Each time it had been superb. This was an opportunity I couldn't pass up. It's a hearty fish that stands up well to grilling, with a firm texture similar to swordfish.
I whipped up a marinade/glaze, following the principles in our "tips for making successful sauces and marinades" post: a little salt, a little sweet (from brown rice syrup), a little spice (from chipotle power and paprika), and a little acid (from fresh squeezed lemon juice). Later that evening, we feasted.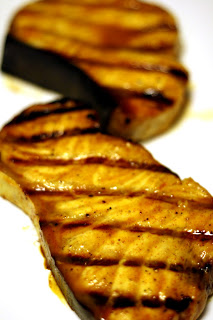 Grilled Mako Shark
Makes 4 servings
Ingredients
1.5 pounds mako shark steaks
3 tbsp olive oil
2 tbsp brown rice syrup
1/2 tsp GF Worcestershire sauce
1/2 tsp garlic powder
1/4 tsp chipotle powder
1/4 tsp paprika
1/4 tsp turmeric
1/4 tsp salt
1/4 tsp ground black pepper
Juice from 1/2 a lemon
Steps
1. Rinse and pat dry the fish.
2. In a bowl, combine all other ingredients and whisk well to make a marinade/glaze.
3. Pour the marinade over the fish and let marinate for at least 20 minutes.
4. Meanwhile, preheat your grill to 400 deg F.
5. Place the mako steaks on the grill. Grill on the first side for 7 minutes. Halfway through, pour and/or brush half the remaining marinade onto the fish.
6. After the 7 minutes, flip the steaks, pour/brush any remaining marinade onto the fish, and grill for 7 more minutes, or until done. (The fish done when opaque throughout and flakes well.)
Enjoy!
This recipe is: gluten-free, egg-free, dairy-free, peanut-free, tree-nut-free, shellfish-free, refined-sugar-free.


Note: If you don't have brown rice syrup, you can substitute similar quantities of honey or agave nectar.
– Pete