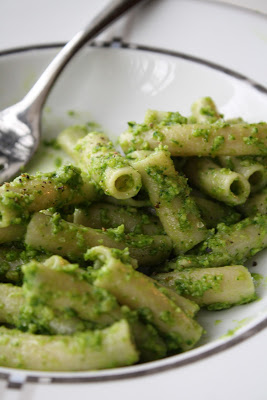 After talking about it for weeks, I can finally say it – spring is definitively here! We're beyond the threat of frosts, the daily temperature's been climbing, and there's been no shortage of rain. Our garden is off to a great start…tomatillos, 3 types of tomatoes, 2 types of peppers, walla walla onions, and more are all vigorously germinating and growing from seedlings into full-fledged plants.
Of course, we have basil. Lots of it. Just in the last week, the plants have undergone changes. The two tiny leaves present when the basil germinated have given way to the first larger, shiny, fragrant leaves that we all think of with basil. If you gently rub your fingers on them and take a whiff, there's the unmistakeable scent that can only be basil.
These developments have me thinking of later this summer, when I expect we'll be making plenty of pesto (usually made with basil and pine nuts). For today's pesto, though, we're bucking the traditional version and sharing an alternative pesto of Kelli's creation made with spinach and almonds. We both remarked how much like pesto it still tasted. (We'd probably need to taste the two pestos side by side to really note the differences.) Regardless, it's a fresh, healthy and flavorful way to dress up your gluten-free pasta.
Spinach Almond Pesto
Makes about 6 servings
Ingredients
5 ounces fresh baby spinach
3/4 cup whole blanched almonds, lightly toasted (400 deg F for 6 minutes)
1 garlic clove
1/3 cup extra light olive oil
Salt and pepper to taste
1 lb cooked gluten-free pasta
Pecorino Romano cheese (optional)
Steps
1. If you haven't done so already, lightly toast your whole blanched almonds by roasting them in the oven at 400 deg F for about 6 minutes.
2. Add the spinach, almonds, and garlic and pulse to combine and form a paste.
3. With the food processor running, drizzle in about 1/3 cup olive oil (using slightly more or less as necessary) to achieve the desired consistency.
4. Season to taste with salt and pepper.
5. Add to your favorite cooked gluten-free pasta and toss to coat.
6. Serve, optionally topping with a little bit of grated Pecorino Romano cheese.
Enjoy!
This recipe is: gluten-free, egg-free, dairy-free, peanut-free, fish-free, shellfish-free, refined-sugar-free, vegetarian, vegan


– Pete
P.S. In the interest of bloggerly love, we've also posted this recipe over at Simply Sugar and Gluten-Free's Slightly Indulgent Tuesday post.