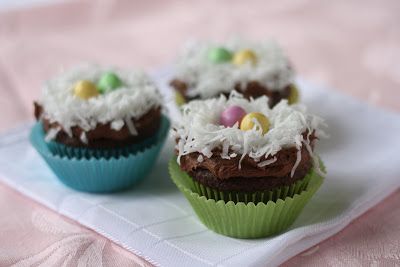 Passover is in full swing, and Easter is now just three days away. It's a festive time that for me brings back many fond memories from my childhood…and ushers in continued traditions that I look forward to each year. Like mock cake, a Polish sweet bread with poppy seed filling that we bake each Christmas and Easter.
This Easter is different for us than ones in years past. When we lived in Colorado, we celebrated Easter with our "Colorado family." It was a wonderful, warm gathering of friends who are as close to us as our blood relatives are. Now that we live in the New York's Hudson Valley, our Colorado family is far off, but our blood family is in our own backyard. On Sunday, we'll head to Kelli's sister and brother-in-law's house in northern New Jersey.
We offered to bring dessert, and they happily accepted. Our plan is to bring fruit tart cupcakes (upon request), but we couldn't resist the opportunity to make an extra batch of Easter-themed cupcakes. As many of you know, our second cookbook – Artisanal Gluten-Free Cupcakes – comes out in just five weeks! So, we repurposed the chocolate cupcake recipe from the book, paired it with a chocolate American buttercream (powdered sugar frosting) also from the book, and topped it with sweetened flaked coconut and pastel colored candy to create these cute bird's nest cupcakes.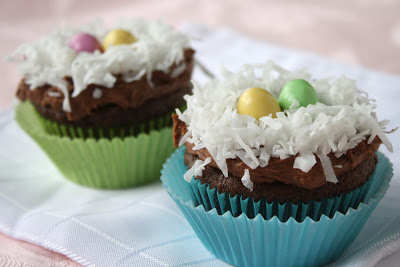 Chocolate Cupcakes
Makes 12 cupcakes
Ingredients
1/2 cup salted butter (1 stick)
1/2 cup water
1/4 cup unsweetened cocoa powder
1 cup sugar
1 large egg
1/2 cup sour cream
1/2 tsp GF pure vanilla extract
1 1/4 cups Artisan Gluten-Free Flour Blend
1 tsp xanthan gum
3/4 tsp GF baking powder
3/4 tsp GF baking soda
1/4 tsp salt
Steps
1. Preheat the oven to 350 deg F. Line a standard cupcake tin with paper liners.
2. Heat the butter, water and cocoa in a saucepan over medium heat until the butter is melted.
3. Meanwhile, put the sugar in a mixing bowl. Add the butter-cocoa mixture and mix at low speed for about 5 minutes, until cool.
4. Add the egg and mix to incorporate.
5. Add the sour cream and vanilla, mix to incorporate, and scrape down the sides of the bowl.
6. In a separate bowl, mix the dry ingredients – the flour through the salt – and whisk to mix.
7. Add the dry ingredients to the mixing bowl and mix for about 10 seconds at medium-low speed to incorporate with the wet ingredients.
8. Scrape down the sides of the bowl and mix for an additional 5 seconds at high speed, just until everything is mixed and smooth.
9. Divide the batter evenly among the paper-lined cups. Make the top of the batter as smooth as you can.
10. Bake for 25 minutes.
11. Allow the cupcakes to cool in the tin for 10 minutes, then remove from the tins and let cool completely on a wire rack.
12. While the cupcakes are cooling, make the chocolate frosting.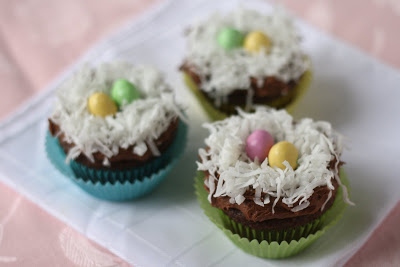 Chocolate Frosting
Makes enough for 12+ cupcakes
Ingredients
1/2 cup salted butter (1 stick), room temperature
2 cups confectioners' sugar
1/4 cup unsweetened cocoa powder
3 tbsp heavy cream
1 tsp GF pure vanilla extract
1/4 cup GF semi-sweet chocolate chips or pieces, melted
Steps
1. Cream together all ingredients except the melted chocolate, until light and fluffy.
2. Mix in the melted chocolate. If the frosting is too thick, mix in additional heavy cream 1 tsp at a time, until the desired consistency is reached.
To finish the cupcakes:
1. Use a small palette knife (or whatever works) to spread each cupcake with a layer of chocolate frosting. Leave the frosting higher around the edges, so you have a depression in the middle.
2. Sprinkle the perimeter of the cupcake with sweetened flaked coconut.
3. Place 2-3 candies in the center of each coconut "nest."
Enjoy!
This recipe is: gluten-free, peanut-free, fish-free, shellfish-free.
A couple of notes:
1. To make this recipe egg-free, dairy-free, refined-sugar-free, and/or vegan, follow these recommendations for allergen-free baking.
2. We used pastel-colored peanut M&Ms for our "eggs" in the nests, but you could also use gluten-free jelly beans, chocolate eggs, candied almonds, or any other GF candy of your preference.
– Pete
P.S. In the interest of bloggerly love, we've also posted this recipe over at Simply Sugar & Gluten-Free's Slightly Indulgent Tuesday post.