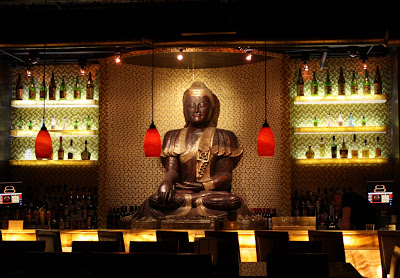 The 2-ton behind-the-bar Thai Buddha at Bull and Buddha
Ever since it opened in September 2010, it seems that Poughkeepsie's hip new Bull and Buddha – an Asian fusion restaurant on a slowly re-energizing stretch of Main Street – has been the subject of mostly rave reviews in the likes of publications such as Hudson Valley Magazine and the Poughkeepsie Journal. Plenty of people have been singing B&B's praises.
The response on community-supported websites such as Yelp, Urban Spoon, and Trip Advisor has been decidedly more mixed. There's been plenty of glowing praise there, too, but also some strong criticism, pointed mostly toward slow service and disappointing entrees.
We drive by B&B pretty regularly, and so when an intense craving for sushi hit, we knew exactly where we were headed. We ended up visiting twice (so far), about one month apart – once in January and once in February; once on a midweek night and once on a Friday night at about 6:30pm.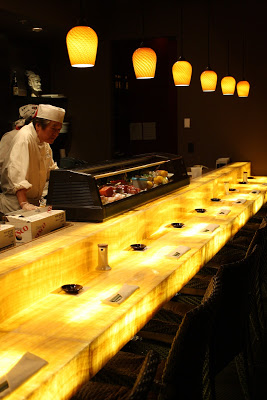 The luminescent sushi bar
Before ever setting foot inside B&B, I called ahead to make sure they'd be able to accommodate our gluten-free dietary needs. While they didn't have a gluten-free menu, the hostess on the phone assured me they'd be able to offer options. And although B&B didn't have any GF soy sauce in-house, they were totally fine with us bringing our own tamari wheat-free soy sauce from home.
The decor – though not centrally important to a GF restaurant review – was hip. As its Asian fusion status implies, B&B combines authentic Thai and other Asian elements with modern swanky sensibilities. An outer bar/lounge area – home of the giant Buddha pictured above – leads to the sushi bar, which in turn leads to a large, dimly lit dining area.
Our server was invaluable in helping us navigate the menu. When we explained our dietary restrictions, she disappeared into the kitchen to consult with the chef, and returned with a handwritten list of naturally GF menu items, as well as other menu items that could be prepared GF, along with instructions for how to order (e.g. order the House Cured Salmon, minus the wonton chips).
With this information in hand, we commenced to order the Tuna Tataki Small Plates appetizer (served with black rice and passion fruit-ginger syrup…divine), and an assorted spread of sushi, including the Bull and Buddha California Roll (made with whole snow crab leg meat…also divine). As we waited for our appetizer and then sushi to come out, we received a complimentary bowl of edamame hummus (brought out by the secondary wait staff that supports the primary servers). It was delicious – silky smooth, with pureed edamame taking the place of chick peas and tahini. We ate it (happily) by the forkful, for lack of a rice cracker (it is normally served with wonton crisps).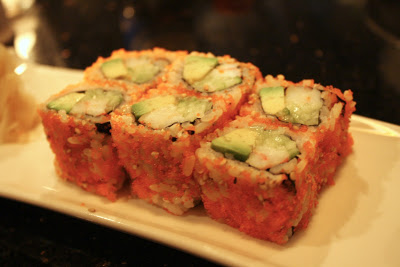 Bull and Buddha California Roll
On our return visit to B&B, we placed a small bottle of tamari wheat-free soy sauce in the bottle holder pocket of the diaper bag and headed over to the restaurant sans reservation. Though we were probably there a little early for the Friday night crowd, we were seated immediately at 6:30pm. By coincidence, we were seated in the same section as last time, and the same server was working. Now granted, a couple in their thirties dining at a swanky sushi place with a 2-year-old and 7-month-old probably sticks out a bit. But we were impressed…the server not only recognized us, but also remembered that we were gluten-free. That attention to detail spoke volumes to us.
This time around, we skipped the apps and went straight to the sushi: multiple Bull and Buddha California Rolls, a Christmas Roll (tuna, avocado, cucumber, caviar), a Fusion Roll (tuna, yellowtail, salmon, avocado, caviar), and the Spicy Hamachi (yellowtail with scallions and spicy sauce). (Prices seem reasonable to us: standard rolls cost $4.50-$6.50 each, and include 8 pieces, while specialty rolls cost $8-$13.50 each, and include 6 large pieces.) All the sushi was unilaterally excellent. Fresh fish. Clean flavors. Well balanced. Our sushi craving was highly satisfied.
And to our pleasant surprise, our server brought out a bottle of Kikkoman's new Gluten-Free Soy Sauce, made with water, soybeans, rice and alcohol. Bonus. It seemed that B&B was getting up to speed on "the gluten-free thing."
The one disappointment was the edamame hummus. We had to request it, whereas it was automatically brought out on our previous visit. (Perhaps an oversight on the part of the secondary wait staff?) This time, instead of being silky smooth, it was grainy. And the hummus was effervescent. Our first reaction was that maybe it had gone bad. Or that a different chef had made it that night, with a different recipe or balance of ingredients. That inconsistency has been one of the few critiques we can level upon Bull and Buddha.
We'll definitely return for more. If we can resist the call of the sushi menu, we might even manage to branch out and try some entrees. Hopefully next time, they'll have a printed GF menu. That seems a logical next step for them. In the meantime, here's a sampling of GF menu items from the handwritten note from our server:
Small Plates
Edamame
Tuna Tataki (served with black rice and passion fruit-ginger syrup)
House Cured Salmon (served with lemon-white pepper goat cheese and chive oil; order without wonton chips)
Salads
Mixed Greens (served with shredded carrots, bean sprouts, and sesame-ginger dressing)
Emperor Salad (served with crisp romaine, creamy sesame-caesar dressing, and tofu "croutons")
Asian Pear, Frisee, and Shredded Endive (served with plum wine-balsamic vinaigrette, crumbled goat cheese and toasted hazelnuts)
Noodle Dishes
Pad Thai (served with a house sauce)

Entrees
Wasabi Pea Crusted Salmon (served with chinese black rice, sake braised bok choy, cucumber coulis and basil oil)

There are many more options, but the ordering – what to keep and what to omit from a dish – gets a bit more intricate. In the interest of your safety, I've left them out here so you can discuss specifics with your server. Even for the dishes listed above, please double check to ensure that recipes haven't changed and that they can still be prepared safely gluten-free!
– Pete
P.S. Please forgive the one lousy photo of sushi. On our first visit, we didn't bring a camera. On our second visit, we devoured our entire order of sushi so quickly that it wasn't until we were finished that I realized – Shoot! I didn't take a photo! So we hastily ordered one more roll, which I tried to photograph in the very dim light of the restaurant. =)