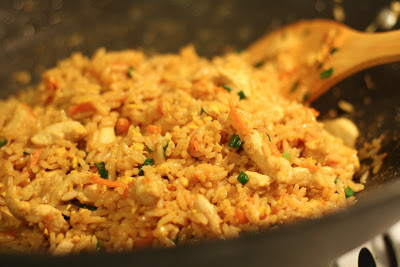 Marin is quite the little eater. We're proud of the wide variety of foods she eats – from pad thai to tacos, sushi to meatballs, she enjoys it all. The trouble, we've found, is consistency. What she loves and devours one day, she'll have no interest in another. There's never a question, though, with chicken fried rice. She's always in the mood for it (and so, seemingly, are we!). It's a home run. What's more, rice, vegetables, chicken and egg make it a delicious and well-rounded one wok wonder.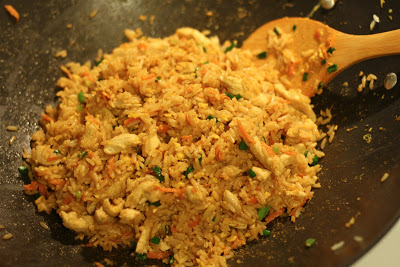 Chicken Fried Rice
Makes 3-4 servings
Ingredients
4 tbsp extra light olive oil, divided
1 tbsp grated ginger
2 garlic cloves, grated
1 large chicken breast, "julienned" (cut into small, thin strips)
1 large carrot, shredded
2 eggs
3 cups cooled cooked rice
5 tbsp tamari wheat-free soy sauce
2 tsp sesame oil
5 scallions, chopped
Steps
1. Heat 2 tbsp olive oil in a hot wok or large skillet.
2. Add the ginger and garlic, and cook until fragrant, about 30 seconds.
3. Add the chicken and cook for 1 minute.
4. Add the carrots, and cook until the chicken is done and the carrots are soft.
5. Move the chicken and carrots to the perimeter, add the eggs to the center, and stir fry until the eggs reach a soft scramble.
6. Move the eggs to the perimeter, add the remaining 2 tbsp olive oil to the center, and heat for 1 minute.
7. Add the rice and stir fry for a few minutes, until warm and separated.
8. Add the soy sauce, sesame oil, and scallions, toss all ingredients together, and stir fry for an additional few minutes until the flavors have melded.
Enjoy!
* If you don't have a microplane grater for the ginger and garlic, you can also simply mince those ingredients.
This recipe is: gluten-free, dairy-free, peanut-free, tree-nut-free, fish-free, shellfish-free, refined-sugar-free, corn-free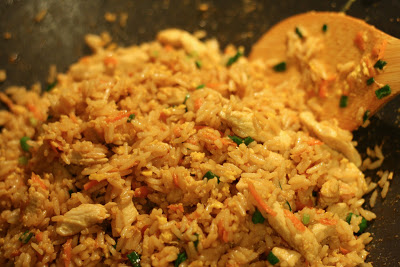 Happy Friday!
– Pete
P.S. In the interest of bloggerly love, we've also posted this recipe over at Simply Sugar and Gluten-Free's Slightly Indulgent Tuesdays post.