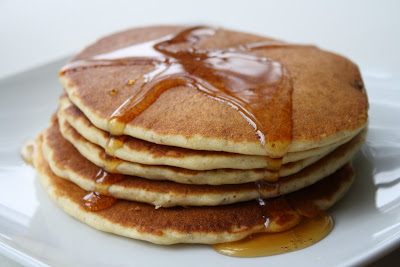 If you caught our Great Gluten-Free All-Purpose Flour Blend Comparison two months ago, you know that it was a round-up of the nutritional profiles of many of the most prominent, widely available all-purpose gluten-free flour blends in the United States. Starting today – and continuing in the future – we'll look at them individually and evaluate how well they perform in gluten-free baking. First up is Pamela's Products, which sent us a gratis sample of the company's Baking & Pancake Mix, which is sold in 24-ounce (1.5 pound) and 4 pound bags.
Pamela's scored well in the nutritional comparison, but in our Versus: Brownies post last month, Pamela's was found to be sorely lacking. How would the Baking & Pancake Mix fare?
First, the mix's ingredients: brown rice flour, white rice flour, cultured buttermilk, natural almond meal, tapioca starch, sweet rice flour, potato starch, baking powder, baking soda, sea salt, and xanthan gum.
Second, some background about how we approached this review (and how we'll approach future reviews of all-purpose blends): In order to truly and fairly put a blend through its paces, we decided to use it to bake three types of foods – pancakes, cookies, and a quick bread (in this case, muffins). Also, because gluten-free flour blends and gluten-free recipes are often optimized to work together as a unit, if a company specified a recipe, we used their recipe. In this case, the packaging for the Pamela's blend contained recipes for pancakes, chocolate chip cookies, and muffins, so we used their recipes in all three instances.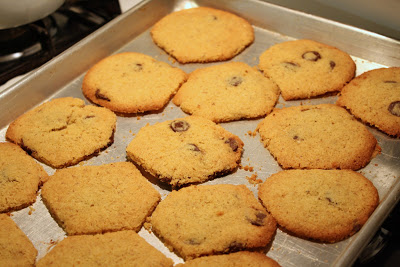 Pancakes
We made two batches of pancakes…one with extra large eggs and oil, and one with large eggs and melted butter. In both batches of wet batter, we could plainly see the coarse almond meal. The batch made with oil was surprisingly loose. The batch made with melted butter had less runny batter and superior taste. Either way, the result was a very good pancake. (For sake of comparison to the photo at the top of this post, you can also check out our review of pancakes made with the Bisquick mix.)
Cookies
We followed Pamela's cookie recipe to the letter, but while the resulting chocolate chip cookies had good flavor, they were a flop. They were super flat, melding into one another on our cookie sheet. They had crispy edges and a crumbly, sandy texture. Blech.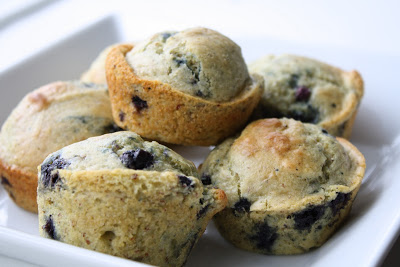 Muffins
Finally, we made blueberry muffins. They largely redeemed the cookie fiasco. They had very nice texture – moist and tender, with good crumb. The flavor did tend to be a little bland, and we thought the muffins could be a touch sweeter, but overall, they were highly successful.
The Bottom Line
Overall, we didn't find the Pamela's mix to be as universally versatile as we expected. The pancakes were good, though there was some variability in their taste and texture, depending on the method of preparation and ingredients. The cookies flopped. The muffins were a star of the show, even if a little bland.
You'll pay about $4 per pound for the Pamela's mix, which is middle of the road (for example, Bob's Red Mill's all-purpose blend comes in less than $3 per pound, while the King Arthur blend comes in at more than $5 per pound…).
At the end of the day, Pamela's is a good, not great, option for an all-purpose gluten-free baking blend.
– Pete