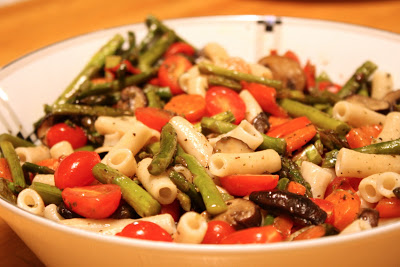 What a wild swing of temperatures we've been having. Yesterday, I went for two runs – one in the morning, and one in the late afternoon. For the first run, I was bundled up as if it were winter; for the second run, I was in nothing but shorts and a long-sleeved shirt. Now, the forecast low temp for tonight (Friday) is expected to dip to a frosty 15 degrees Fahrenheit. Winter is stubbornly clinging to the Hudson Valley.
I'm developing a new perspective on this fickle shift from winter to spring…and back to winter…and hopefully soon, back to spring. As budding gardeners, we can't wait to sink our spades into the 20×20 plot at our community garden. But we can't plant anything outdoors until we're beyond the threat of hard frosts, which we're obviously not. And so spring – at least from a gardener's perspective – waits a bit longer to arrive. Until then, we'll be starting some of our herbs and vegetables indoors in pots and transferring them to the garden weeks – or even a month or more – from now.
And yet, spring is here, at least according to the calendar. That's worth celebrating. With food. With pasta primavera, an Italian-American dish whose name literally translates as "spring." Lots of bright, colorful vegetables. Fresh, clean flavors. A stark contrast to the heavier soups and stews and meat-and-potatoes types of dishes that typified winter meals.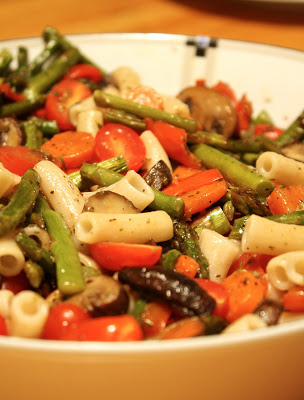 Pasta Primavera
Makes 4 servings
Ingredients
1 lb asparagus, cut into thirds
1 large carrot, sliced
1 red bell pepper, sliced
8 ounces baby bell mushrooms, sliced
1/2 pint grape tomatoes, halved
Olive oil
Salt and pepper
Herbs de Provence
6 ounces GF penne pasta
Steps
1. Preheat oven to 450 deg F.
2. Spread the vegetables on a half sheet pan or in a large roasting pan, generously drizzle with olive oil, and season with salt, pepper, and herbs de Provence.
3. Roast in the oven for 20 minutes.
4. Meanwhile, boil the pasta.
5. Strain the pasta, toss it with the roasted vegetables in a large bowl, and serve.
Enjoy!
This recipe is: gluten-free, dairy-free, egg-free, peanut-free, tree-nut-free, shellfish-free, fish-free, refined-sugar-free, vegetarian, vegan.


– Pete
P.S. In the interest of bloggerly love, we've also posted this recipe over at Simply Sugar & Gluten-Free's Slightly Indulgent Tuesdays post.