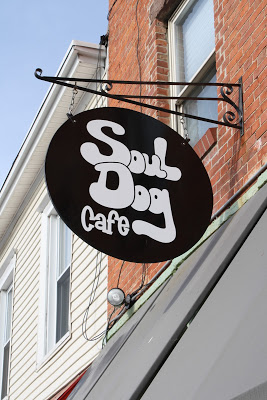 Soul Dog Cafe
Ever since we moved to Poughkeepsie in New York's Hudson Valley nearly four months ago, we've noticed a trend. Every time we meet someone and tell them that we're gluten-free, they invariably ask, "Have you been to Soul Dog?" It apparently was the place to go in town for gluten-free eats. After hearing it mentioned enough times, we decided it was time to check it out for ourselves.

Founded in 2004, Soul Dog Cafe is now in its 7th year. Nearly everything on the menu, including many specialty items (such as bread, hot dog buns, cookies, etc.), is gluten-free. This is not a restaurant with a gluten-free menu. It's a gluten-free restaurant that has a very small number of gluten items as well. (For once, the tables are turned! Insert maniacal laugh here…)

The restaurant bakes all the gluten-free goods itself in-house, and has egg-free and corn-free versions of its bread available upon request. The menu gravitates toward American comfort food meets fast food, all gluten-free: hot dogs (including a veggie option), burgers, chili (including a vegan quinoa chili), sausage, grilled cheese, sloppy joes, fish and chips, fries, pizza, mac and cheese, and salads (and more…).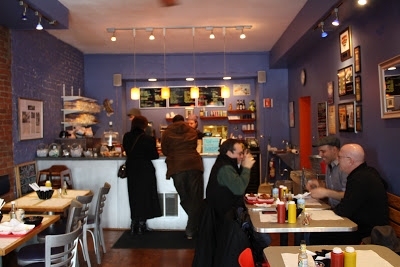 A small but cozy space
The family-friendly space is small, cozy and casual. There are just 10 or 12 tables, a combination of 2- and 4-tops. You order at the counter, take your seat, and the food comes out in paper-lined baskets when it's ready. We visited for lunch on a Saturday, and while the place never packed completely full with every table taken, a steady stream of Poughkeepsie's food allergy community came in and out, many of whom knew co-founder Jenny Teague, who was running the restaurant that day.

For our part, we ordered the fish and chips (for me), a hamburger with full fixin's and a side of standard seasoned fries (for Kelli), and a grilled cheese (for Marin). I'll admit, it was quite the pleasurable novelty to order all of these foods and to a) have them be gluten-free, and b) have gluten-free be the default option. (That said, we still specified "gluten-free" when ordering each one, just to make sure they knew what we needed… Old habits die hard.)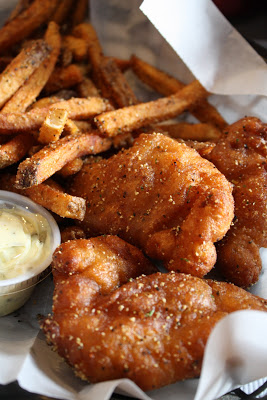 Fish and Chips
The fish and chips featured three generous pieces of fish, accompanied by an even more generous side of seasoned fries. The batter was tasty and slightly crunchy, a little salty, a little peppery. The fish was cooked perfectly – piping hot, moist, flaked easily. My one complaint was that the fish was a little bit greasy as prepared (but fish and chips so often are…). The fries, for their part, were seasoned with salt, pepper, dried herbs, and copious amounts of garlic powder. They were good, but after several bites, the flavor began to get overwhelming.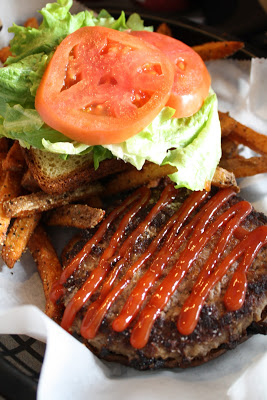 Hamburger
Kelli's hamburger had some pros and cons as well. The burger patty itself was unremarkable. A frozen beef patty, cooked well-done throughout. However, the fixings were fresh and flavorful. The fries were identical to mine. It all came served on two pieces of in-house gluten-free sandwich bread. The flavor of the bread was bland, and in fact leaned a bit toward the corny side of taste. (More on that in a bit.) The texture of the bread, on the other hand, was exceptional. Kelli's word while actually eating the lunch was "amazing." On the basis of texture, the sandwich bread at Soul Dog rivaled the best gluten-free bread we've had. No joking.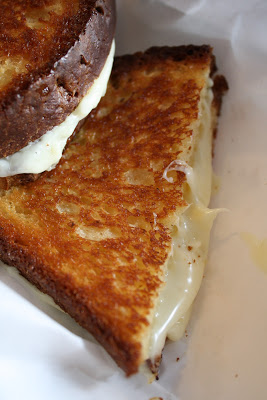 Grilled Cheese
Finally, there was Marin's grilled cheese. Not much to be said about it. It is what it is. Except that it did give us a better chance to evaluate the bread, which is made from Soul Dog's all-purpose gluten-free baking blend. It is made up of chickpea flour, cornstarch, tapioca starch, sugar, xanthan gum, salt, and cream of tartar. The chickpea and cornstarch really come through. Many of the baked goods had a distinct corn tinge to their flavor.

To finish off lunch, we splurged on a house-made cupcake. Overall, it was pretty good. A moist crumb, though a little crumbly, and again, a corny element to the flavor. Even so, it was satisfying.

In the end, Soul Dog was a very different kind of gluten-free restaurant dining experience than we've had elsewhere. While we had some critiques here and there, the positives far outweighed the negatives. It's not the kind of food we eat regularly (after lunch, my biggest craving was for a glass of water and a wedge of iceberg lettuce to cleanse the palate), but when the craving strikes, we'd happily head back for more.

And for those of you who aren't local to Poughkeepsie, you can still sample some of Soul Dog's offerings. They've spun off a sister company, Food For All Gluten-Free Solutions, which sells some its baked goods, such as the all-purpose flour blend and breads at area markets as well as via direct order online.

– Pete

P.S. The winner from last week's Wild Alice Bars giveaway is Joe D. Congratulations!