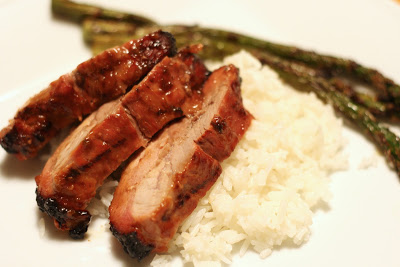 The
Superbowl
is just two days away, on February 6. I have to admit – when Kelli, the girls, and I sit down to watch the Big Game, it will be the first football game I've seen all season. Even so, I'm excited. Not so much for the game itself. Certainly not for the halftime show. And not for the commercials that seem to get less and less spectacular each year. No, I'm excited for the food. The Superbowl is just one more reason to whip up a tasty and indulgent spread of food.
On our menu this year is Chicago-style deep dish pizza, chips and guacamole, sangria, and sesame soy boneless chicken tenders. "But wait, aren't those ribs?" you must be thinking. Yes they are. We made the ribs last week, but we knew from the first bite that the recipe would be perfect for Superbowl chicken tenders.
Sesame Soy Ribs (or Boneless Chicken Tenders)
Ingredients
1 tsp grated ginger
1 tsp grated garlic
1/4 c tamari wheat-free soy sauce
3/4 c water
2 tbsp cornstarch
3 tbsp brown sugar
1 tsp sesame oil
1 tbsp honey
1 lb country-style pork ribs or boneless chicken tenders
Sesame seeds (optional)
Steps
1. Whisk together all ingredients through and including the honey to make a marinade.
2. Reserve 1/2 of the marinade, and use the remainder to marinate the pork or chicken.
3. Grill the meat until done, basting/brushing periodically with the marinade. (I recommend medium-high heat for good grill marks and caramelization of the sugars in the marinade.)
4. Meanwhile, while the meat is grilling, make a glaze by adding the reserved marinade to a small pot and heat over the stove, until the marinade thickens and the cornstarch clears.
5. Toss the grilled meat in the glaze to coat.
6. Optional: sprinkle with sesame seeds.
Enjoy!
This is recipe is: gluten-free, dairy-free, egg-free, peanut-free, tree nut-free, fish-free, shellfish-free
* To make the recipe corn-free, substitute another thickener for the cornstarch, such as arrowroot flour, tapioca starch, or potato starch. To make the recipe refined-sugar-free, omit the brown sugar and use additional honey or another natural sweetener, such as agave nectar, palm sugar, or coconut sugar.
– Pete