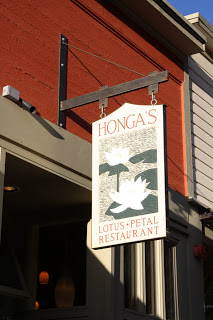 During our recent trip to Telluride, we were working our way through a variety of cuisine at the town's excellent choice of restaurants. We did American/Continental at Cosmo, and local at Allred's, and now it was time for Asian. We narrowed our options down to two: Siam and Honga's Lotus Petal. The recommendations of locals didn't necessarily steer us strongly in one direction or the other (both offer gluten-free options), so largely on the basis of what amounted to a coin toss, we went with Honga's.
As we walked up to the front of the restaurant, the outdoor menu and chalk board proudly declared that Honga's offered gluten-free tempura. This immediately got us excited. Some GF shrimp and vegetable tempura, made with a rice-based tempura batter, sounded like the perfect way to start our meal.
Over the years, we've become accustomed to perusing a restaurant's menu, looking for possible sources of gluten cross-contamination they might not necessarily think about, and one place we always look is if the menu also featured non-gluten-free items that would be cooked in the same fryer oil as gluten-free menu items. If so, we always ask if the GF options have a dedicated or shared fryer. This, of course, could be a concern for something like tempura, which would be deep fried. It wasn't immediately apparent to us whether Honga's menu had any offenders or not. After some back and forth with our server, we found out that one appetizer – the calamari – was breaded with a gluten-ous batter and fried in the same oil as the gluten-free tempura. This was tragic on multiple levels. First, if you're very sensitive to gluten and/or have a zero tolerance policy for cross-contamination, then the gluten-free tempura at Honga's is off-limits to you. Second, Honga's declaration of gluten-free tempura is misleading, and less careful gluten-free diners could be lured into a false sense of security and a menu option that might not in truth be gluten-free. And lastly, this tragic downfall needn't be one. Why have a single menu item not coated with gluten-free batter, when you've gone to lengths to implement and advertise a gluten-free tempura batter for other menu items? Sigh…
That disappointment aside, we otherwise had a pleasant if measured dining experience at Honga's. Kelli's coconut green curry with chicken and vegetables over rice was flavorful and quite good. My chicken pad thai was unconventional, and didn't meet my expectations, because it didn't taste like what I consider to be a "standard" pad thai. (It was sweeter than most pad thai dishes I've had, the sauce was much more a broth/soup in which the rice noodles soaked than it was a thicker sauce, and sunflower sprouts instead of traditional bean sprouts imparted a different flavor. I'd be very curious to compare Honga's pad thai to that at Siam…)
Locals also go to Honga's for its fresh, if pricey, sushi (hey, you're in a land-locked ski town, so high prices go with the territory…). If you go that route, Honga's didn't have tamari wheat-free soy during our visit, so be sure to bring a bit of your own.
All in all, our Honga's experience was average at best. We've certainly had better, but by ordering the right dishes, we had a safe gluten-free meal that was good, if not great.
– Pete