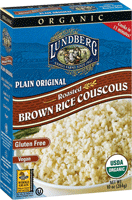 Couscous is a staple of Mediterranean cuisine. I consider it a type of pasta, though it's certainly unique and different from any other pastas we might traditionally think of. It is commonly attributed as having originated among the Berber people of north Africa, and around much of the world today, it is taken as a given that couscous is made from wheat (and thus, NOT gluten-free). However, throughout parts of Africa, there are also long-standing traditions of couscous made from millet, as well as sorghum and rice.
Before companies like Lundberg started making and selling gluten-free versions of couscous, the standard GF work-around was either to a) do without, or b) pulse brown rice in a food processor to make small granules, and then dry roast those granules in the oven before steaming or boiling the rice-based couscous. Now, companies such as Lundberg offer a convenient option for ready-to-cook couscous.
Lundberg Family Farms
has been family owned and operated since 1937, and is big into sustainable farming practices (such as organic farming methods, environmentally-sensitive methods, renewable energy, and has a strong stance against GMOs). We're big fans.
The brown rice couscous itself comes in four flavors: Plain Original, Savory Herb, Roasted Garlic and Olive Oil, and Mediterranean Curry. All are made in a GF facility, are organic, GMO-free, and all but the Roasted Garlic and Olive Oil are also vegan.
The stove top cooking instructions are easy to follow and produce consistent results every time. Kelli and I were immediately impressed with the texture of the brown rice couscous. It was quite similar to my memory of wheat-based couscous, and the flavor wasn't far off, either.
The Plain Original flavor contains nothing but organic roasted brown rice. Beautiful in its simplicity of ingredients. But to our palettes, it also tasted on the bland side.
By contrast, flavors such as Roasted Garlic and Olive Oil, and Savory Herb, were very tasty, complemented by straightforward ingredients such as extra virgin olive oil, dried onions, garlic powder, parsley and other common foods. Good stuff.
However, my one gripe is that the flavored versions of the couscous also contain autolyzed yeast extract. In the food industry, it's known as a "flavor enhancer." For all intents and purposes, it's pretty much interchangeable with MSG, which we're not fans of. (If you want to avoid the autolyzed yeast extract, you can always use the Lundberg Plain Original flavor and add your own seasonings to it… easy enough.)
In the final analysis, we were pleasantly surprised by both the taste and texture of Lundberg's brown rice couscous. The AYE not withstanding, there's a lot to love about this product, and it makes a wonderful pantry addition for rounding out your GF dinner menus with Mediterranean dishes.
[UPDATE: 8/17/10 – Apparently, we weren't the only ones with concerns about the autolyzed yeast extract. In response, Lundberg eliminated the ingredient from their entire line of GF brown rice couscous. The updated product started shipping August 1, 2010. Hooray! Give Lundberg an extra star for good performance.]
– Pete