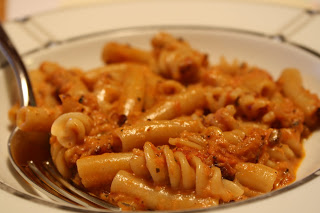 Penne a la vodka is an Italian dish (or Italian-American, depending on who you talk to) with a variety of reported origins. Regardless of how it began, all agree on one thing – it's made with penne pasta, heavy cream, vodka, tomatoes, onions, and sometimes bacon or other meat. My Aunt Connie has made a classic version of this dish for as long as I can remember, but thanks to my decades of lactose intolerance, it was always a bit too creamy for my personal taste. A funny thing happened recently, though…I got a craving for Connie's penne a la vodka. So Kelli and I went into the kitchen and created this version that's both gluten-free and lighter on the cream. It has a nice tomato flavor, subtle vodka notes, a little heat from red pepper flakes, and a little smoke from bacon. The combination is divine.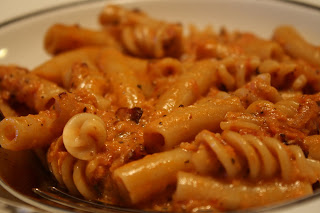 Here's how to make it:
3 strips bacon, diced small, uncooked
1 medium yellow onion, thinly sliced
2 garlic cloves, minced
1 14.5-ounce can diced tomatoes, no salt added
2 tbsp vodka
1/2 cup heavy cream
1/2 tsp dried basil (approximate)
1/2 tsp red pepper flakes (approximate)
Salt and pepper
1/2 pound GF penne pasta (Tinkyada)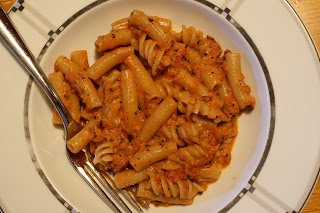 1. Saute the bacon until it's done, but not too crispy.
2. Add the onions and garlic to the bacon and drippings. Saute over medium heat until the onions are soft and translucent, being careful not to burn the garlic.
3. Add the vodka to de-glaze the pan and burn off the alcohol (about 2 minutes).
4. Add the tomatoes, simmer for 5 minutes, then puree the sauce with a handheld immersion blender.
5. Add the cream and spices, simmer for 5 minutes, and season to taste with salt and pepper. If the sauce is too thick, you can thin it out by adding a little bit of reserved pasta water.
6. Toss with GF pasta (boiled until al dente and strained) and serve.
Enjoy!
– Pete
P.S. As you've surely noticed, our photos include more than just penne pasta. We didn't have enough for dinner one night, so we added some rotini as well. Flexibility!