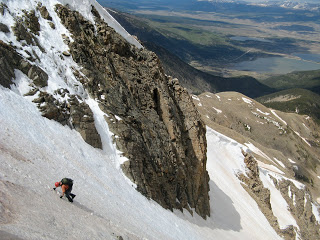 Dave G. in the upper reaches of the Hopeful Couloir on 13,933′ Mount Hope, Colorado
Week 4 is officially in the bank.  That's one consecutive month of training…more weeks than I've managed to string together since the end of 2009, when I started my series of bouts with viral relapses.  Woohoo!  Here's the breakdown:
Training Days: 4     (To Date: 19)
Rest Days: 3     (To Date: 9)
Body Weight: 155     (Net Gain/Loss: -5)
Running Days: 3     (To Date: 13)
Running Miles Logged: 19.9     (To Date: 83)
Average Run: 6.6     (Short = 4.5, Long = 9.2)
Cross-Training: Mountaineering
Happily, I'm continuing to see progress.  I've lost most of the weight I gained over Memorial Day Weekend.  My legs are feeling stronger.  My per mile pace is decreasing, even as my mileage is increasing.
As far as trail running goes, I concluded my week with a 6-plus mile run up to the saddle between Bear Peak and South Boulder Peak.  What really defines the run is the relentless elevation gain.  From trailhead to saddle, the route climbs some 2,500 vertical feet or so.  Nearly 2,000 of those feet are climbed in just 1.1 miles, as the trail ascends Shadow Canyon.  When I reached that point, my thighs were burning, and I just couldn't maintain the leg speed turnover to keep myself jogging uphill.  Instead, I power-hiked the steepest sections.  Just then, a guy – easily 15 years older than me – came bounding up the trail, seemingly unfazed.  I stepped to the side to allow him to pass, and watched as he disappeared among the trees and boulders above me.  Toward the end of last year's race season, I was that guy.  Clearly, I still have some work to do…
As a cap to the week, my buddy, Dave, and I did a mountaineering route up Mount Hope in the Collegiate Peaks, a sub-range of Colorado's Sawatch Mountains.  Our route began at around 9,900 feet in Sheep Gulch, surmounted 12,600′ Hope Pass, and then ascended the Hopeful Couloir, the mountain's premier mountaineering route.  The couloir deposited us a few hundred yards shy of Hope's 13,933′ summit, which we visited before beginning our descent of the East Ridge.  (Hope's elevation makes it one of the 100 highest peaks in the state.)  In all, the route climbed a total of 4,500 vertical feet – half as much as I'll climb over the course of the Virgil Ultra race in September.  It was great to be out for a long day of climbing in the mountains, kicking steps in steep snow, and plunging my ice axe in as I climbed higher and higher.  Climbing the Hopeful Couloir on Mount Hope has been on my mountaineering to-do list for literally years.  Now, I can check it off that list.
But the Mount Hope ascent was significant for another reason.  You see, the last time I climbed in the Collegiate Peaks was April 2007, when Kelli and I planned a winter conditions attempt of Mount Yale, one of Colorado's 14,000-foot peaks.  Three months earlier, I had been diagnosed, and like for so many people, those first weeks and months involved a steep learning curve as I became better and better acquainted with the nuances of the gluten-free diet.  I don't recall specifically whether there was still some hidden source of gluten in my diet of which I wasn't yet aware, or whether I had been exposed to gluten cross-contamination.  But I do remember this: en route to the trailhead, I had to stop at gas stations three times for what I had come to call my "sudden catastrophic diarrhea."  As a result, I was in pain, weak with fatigue, and dehydrated.  
The wiser, prudent thing would have been to abandon our plans for the day.  And in fact, a little voice somewhere deep in the back of my mind implored me to do it.  But the mountaineer in me wanted to climb that peak more.  So, I bought some over-priced anti-diarrheal medicine from the 3rd gas station, and Kelli and I set out from the trailhead up Avalanche Gulch.  Predictably, though, our climb didn't go according to plan.  Somewhere around 12,500 on Yale's East Ridge, I sat down on a rock and knew that was as high as I could go that day.  I'd been defeated, not by the mountain, but by gluten.
Fast forward three years to this past Saturday on Mount Hope.  My diet, my body, and my mind were all working harmoniously together.  I climbed strong, and I felt great.  As Dave and I lounged on the summit for 15 minutes or so eating a snack before beginning our descent, I couldn't help but feel a kind of vindication.  I had returned to the Collegiate Peaks, the "scene of the crime," and this time, I was the victor.
Yesterday and today I'm giving my legs some much-needed rest days, and tomorrow, the trail running resumes with double-digit mile runs.  I can't wait!
– Pete
P.S. Congrats to our Nut Thins giveaway winners!  We've randomly selected four people from among the entrants: Miller P, Lori-Ann K, Claribel S, and Jennifer R.  Each of you will receive two boxes of Nut Thins.  Miller and Lori-Ann, please email me your mailing addresses!