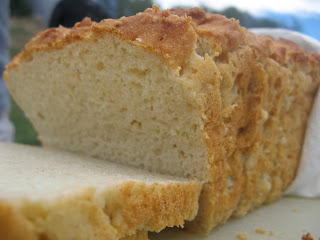 After many attempts to create a gluten-free sandwich bread, including some encouraging results and one disastrous bread bomb, we've finally hit the mark with version 6.0, which we've deemed ready for public consumption!
1 3/4 cups milk (2%)
2 tbsp sugar
1 tbsp salted butter
1 1/2 tsp salt
3 egg whites
1/2 tsp xanthan gum
2 1/4 tsp yeast
1. In a medium saucepan, scald the milk with the sugar, butter and salt.  Whisk occasionally.  (The sugar and salt should dissolve, and the butter should melt.)  Remove from heat and allow to cool just until it's warm, not hot.  (You don't want to scramble the eggs in step 2, or kill the yeast in step 3.)
2. Add the egg whites and whisk to combine.
3. In a separate bowl, whisk together the flour, xanthan gum and yeast.  Add to the saucepan, and stir until well-mixed.
4. Transfer the bread batter/dough into a greased loaf pan, cover, and let rise for 30 minutes.
5. Meanwhile, preheat your oven to 375 degrees Fahrenheit.
6. Bake for 40 minutes.  (When done baking, allow to cool for about 10 minutes in the loaf pan before transferring to a wire rack to finish cooling.)
Enjoy!
Also, a couple of notes:
For those of you who live and bake at or near sea level, you may experiment with using slightly less flour (no more than a 1/4 cup less, max).  Even so, I'd recommend trying to the full amount first, and downward adjusting your flour amount if necessary the next time around.
– Pete