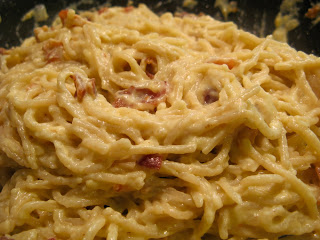 Summer-like weather has finally arrived in Colorado, seemingly for good.  It's fitting enough, given that Memorial Day Weekend is behind us, and the official start of summer on June 21 is less than two weeks away.  Usually, this summery weather would have me grilling dinner almost every night.  What's funny, though, is that I've instead had intense cravings for Italian and Italian-American food.  Meatballs.  Pizza.  Stromboli.  Chicken Parm.  And last, but certainly not least, Spaghetti Carbonara.  Don't ask me why, because I can't explain it.
What I can explain is Carbonara.  For the uninitiated, it's an Italian dish (with many American and international variations) based on four major components: pasta, cheese, cured fatty pork, and black pepper.  Usually, the pasta is spaghetti, though fettuccine or linguine may also be used.  The cheese if often Pecorino Romano or Parmesan.  The cured fatty pork is frequently pancetta or prosciutto, though in the U.S., bacon is also a common option.  The black pepper speaks for itself.
Our version is fairly true to types found in Italy, though we use only half as much cheese as might be considered "normal" and we use bacon for the pork.  It's an easy and quick dish often prepared table-side in restaurants.  (In fact, at my aunt's favorite Long Island Italian restaurant, they toss the pasta in a giant hollowed-out wheel of Pecorino Romano cheese!)  The dish has a little sweet from onion and a little smokiness from bacon.  Generally, it tastes rich (thanks to eggs and cheese), and as such pairs well with salad, which serves to lighten the overall disposition of the meal.
Here's the recipe:  (makes 6-8 servings)
1 lb gluten-free pasta
1/2 lb bacon, diced
1/2 medium onion, diced
2 cloves garlic, minced
1/2 cup dry white wine
4 eggs
1/2 cup grated Parmesan cheese (plus a little extra for garnish)
Fresh cracked black pepper
1. Bring the pasta to a boil, cook until al dente and strain.  Meanwhile…
2. In a bowl, whisk together the eggs and cheese.  Set aside.
3. In a large skillet, sauté the bacon until done.  Set the bacon aside, but reserve about 3 tbsp of the drippings in the pan.
4. Sauté the onion and garlic until fragrant and translucent.
5. Add the wine and cooked bacon, and cook for about 2 minutes.
6. Add the cooked pasta and toss to mix in the bacon, onion and garlic.
7. Add the eggs and cheese.  Immediately remove from the heat and vigorously toss for several minutes.  (The heat from the pasta and residual heat from the pan melt the cheese and cook the raw eggs.)
8. Add plenty of fresh cracked black pepper and serve.
Enjoy!
When we made this dish recently, we used Tinkada GF brown rice spaghetti, though you could substitute your favorite store-bought GF pasta or make your own from scratch at home.
– Pete