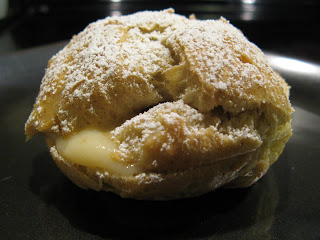 Today's Friday Foto comes 100% courtesy of Kelli. She had a major craving for cream puffs, and conveniently enough, was able to repurpose and modify components of our Chocolate Eclair Cake to make it happen. I had the distinct pleasure of being able to sit back and simply enjoy the sweet fruits of her labor! Here's how she did it:
1. Make one batch of the eclair pastry dough as per the directions.
2. Preheat your oven to 375 degrees F.
3. Drop large spoonfulls of dough, evenly spaced, onto a sheet pan. (You should get about 12 cream puffs or so.)
4. Bake until they're very golden brown, then remove from the oven and let cool completely. (As their name implies, the cream puffs will puff up with air while baking. Some will collapse or shrink as they cool. Don't worry. The big pocket inside created by the air will still be there!)
5. Make one batch of the vanilla cream filling, but increase the quantity of cornstarch to 1/3 cup. Chill.
6. Slice the cream puffs in half horizontally (across the equator) and fill with the vanilla cream filling.
7. Dust with powdered sugar and enjoy!
– Pete