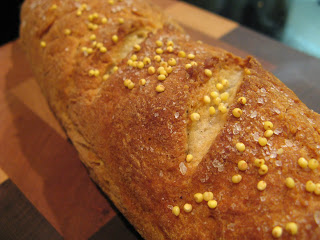 First, apologies that today's Friday Foto is a day late. Between being out of town for two days on a story assignment, and getting sick yesterday with a 103-degree fever (plus other symptoms…blech), I just couldn't pull it together. None the less, excuses aside, here we are.
Today's recipe is a companion to last week's Mussels in a White Wine Broth. One of the best things about that dish – besides the mussels themselves – is the broth. And there's no better way to enjoy it than by sopping it up with some tasty, crusty bread. And therein lay the rub…we needed a GF baguette.
I'm happy to report a success. Here's how we made it: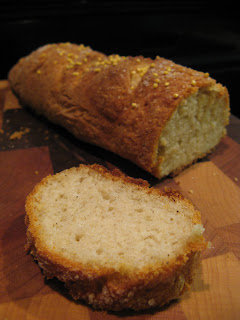 1 1/4 cups warm water
3 tbsp sugar
2 tbsp active dry yeast
4 tbsp olive oil
2 tbsp apple cider vinegar
2 egg whites
2 1/2 cups + extra Artisan GF Flour Blend
1 tsp xanthan gum
1/2 tsp each sea salt and crushed black pepper
De-hulled millet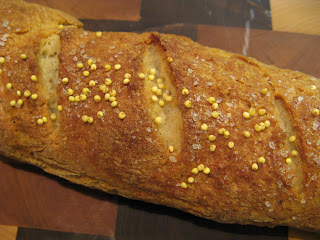 1. Combine the water, sugar and yeast in a bowl.
2. Once the yeast is active, add the olive oil, vinegar, and egg whites. Mix.
3. Add the flour, xanthan gum, salt and pepper. Stir until well mixed. You will have a very wet dough.
4. Add additional flour, 1 tbsp at a time, just until the dough is workable by hand. It should still be soft, elastic, and doughy, but should not be so wet as to stick to your hands or your work surface.
5. Roll the dough into two logs, each 15 inches long.
6. Place the logs onto a greased baking sheet, cover with plastic wrap, and let rise for 20 minutes.
7. Meanwhile, preheat your oven to 400 degrees Fahrenheit.
8. After 20 minutes, remove the plastic wrap and use a sharp knife to score the top of the logs on a diagonal.
9. Brush the loaves with olive oil, and sprinkle with sea salt and the millet.
10. Bake for 15 minutes at 400 degrees. Then, reduce the temperature to 350 degrees and bake for an additional 30 minutes.
Enjoy!
– Pete