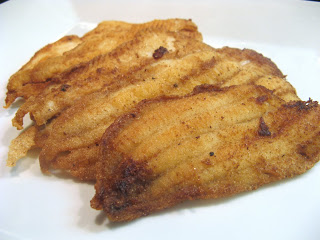 It's Friday, which means it's time for a Friday Foto. And today's recipe for pan-fried Dover sole fillet is particularly apropos. You see, we're a few short weeks away from Easter, and that means that it's the season of Lent. In the Christian tradition, Lent is the (approximately) 40-day period leading up to Easter.
As a child, I was raised Roman Catholic, and the Catholics have some very specific requirements about penance and abstinence during the season. For example – and to the point of today's post – you are required to abstain from eating meat on Fridays during Lent. Not that big a deal. The hardest part about it (for me) was simply remembering that it was a Friday, especially if I was out for lunch with friends from school and I errantly ordered some ham or turkey or chicken or beef. Sometimes I strayed and absentmindedly ate some meat, but it was an honest mistake.
Dinners were always on the straight and narrow, however. I fondly remember family dinners on Friday nights during Lent. We usually ate by candlelight, and it became tradition in our family to always have fish for dinner instead of meat. I don't remember so much the kind of fish we ate, or even how it was prepared, but my gut tells me that a dish pretty similar to this pan-fried Dover sole fillet was probably on the menu at least once during my childhood.
When Kelli and I made this dish last week, we were both craving a white fish, and our original intention was to pair it with a pan sauce that could be drizzled over the fish. But after two failed attempts to create a new sauce, we scrapped that idea and simply ate the fillets. We were both pleasantly surprised at how tasty they were on their own, and Marin agreed…she finished her own fillet! The fish was tender and moist, with a delicate flavor that was complemented by the light breading.
Here's how we made it:
8 Dover sole fillets
1/2 cup Artisan Gluten-Free Flour blend
Salt and pepper
3 tbsp butter
2 tbsp olive oil
1. Rinse and pat dry the fillets.
2. Season the flour with a generous dash each of salt and pepper.
3. Melt the butter in the olive oil in a non-stick skillet over medium-high heat.
4. Dredge the fillets in the seasoned flour and cook them, in batches, in the skillet. About 4 minutes per side, depending on how thick the fillets are, and how brown you want them.
5. Drain on paper towels and serve.
Enjoy!
– Pete