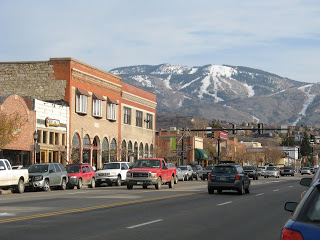 Steamboat Springs is one of our favorite mountain towns in Colorado. A quaint downtown. A laid back, relaxed atmosphere. Great skiing. Tons of outdoor recreation opportunities in the nearby national forest. And an impressive array of gluten-free eats for the community's relative small size. Here's the 411:
Supermarkets
Safeway (www.safeway.com) – has only a very limited selection of GF specialty foods
City Market (www.citymarket.com) – has a better selection
Bamboo Market (www.bamboomkt.com) – has the best selection of specialty GF foods in town
Healthy Solutions (www.healthysolutions.org) – also has a wide selection of GF specialty products
Restaurants
Restaurants within Steamboat or the immediate vicinity:
Mahogany Ridge Bar & Grill (exploresteamboat.com) – upscale pub food, known for its "dipping menu" (pair delicious entrees with a wide selection of signature sauces), great food in a great atmosphere, has dedicated GF menu (read our review here)
BeauJo's Pizza (www.beaujos.com/) – Colorado-style pizza, excellent GF menu (read our review here)
Rio Grande Mexican Restaurant (www.riograndemexican.com) – can accomodate GF needs, talk with your server
Cafe Diva (www.cafediva.com) – on the mountain at the base of the resort, can accomodate special dietary needs
Big House Burgers Bottlecap Bar (www.bighouseburgers.com) – offers burgers on a GF bun
Rex's American Grill & Bar (www.rexsgrill.com) – offers GF pizza
Mazzola's Majestic Italian Diner (www.mazzolas.com) – offers GF pizza
* Big House, Rex's, and Mazzola's are all run by the local, family-owned Steamboat Restaurant Group, so there's good sharing of GF information (and food) across the three restaurants.
– Pete