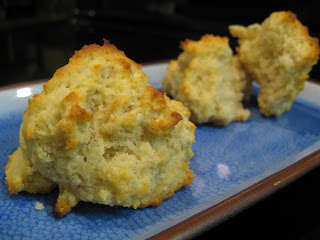 One phrase comes to mind this morning: TGIF. Despite the fact that it's been a short work week (thank you, Memorial Day) the last four days have been uber busy. Magazine article deadlines, new book projects in the works, and I'm 36 hours away from leaving on a 4-day ski mountaineering traverse of Colorado's Sawatch mountain range on assignment. Inevitably, such trips have me thinking about durable eats…the kind of gluten-free foods that not only taste great, but that travel well, too. Biscuits fit the bill, and these delectable goodies are great on their own, with butter, honey, jam or however you like to serve up your biscuits.
2 cups GF flour
1 tablespoon GF baking powder
2 teaspoons sugar
½ teaspoon salt
6 tablespoons cold butter
1 cup milk
1. Preheat the oven to 450°F and grease a baking sheet.
2. Mix together the flour, baking powder, sugar and salt. Cut the butter into the dry ingredients using a pastry blender or your hands, until the mixture looks like coarse crumbles.
3. Stir in the milk to form a batter.
4. Drop rounded (heaping) tablespoons of dough onto the prepared baking sheet. Bake for 10 – 12 minutes, until the biscuits are golden.
5. Serve warm.
Enjoy, and see you next week post-traverse!
– Pete