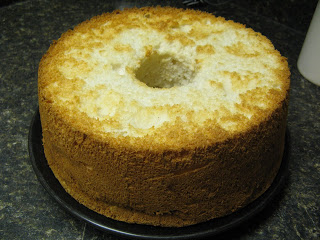 With the four day ski mountaineering traverse behind me (it was epic…there'll be a post about that coming soon), life is settling back into its usual rhythm. It's interesting the things your body craves when working hard in the backcountry for days on end. For both me and my trip partner, Josh, the penultimate craving was for a beef hamburger with a hefty side of fries (craving satisfied). Only now, two days after the trip concluded, are sweets starting to take on their usual appeal. And now that the appeal is back…angel food cake anyone?
1 ½ cups egg whites at room temperature (about 10 – 12 eggs)
1 ½ teaspoons cream of tartar
¼ teaspoon salt
2 teaspoons GF vanilla extract
½ teaspoon GF almond extract
½ cup granulated sugar
1 ½ cups sifted powder sugar
1 cup sifted GF flour
1 ½ teaspoons xanthan gum
1. Preheat the oven to 350°F.
2. Whip the egg whites, cream of tartar, salt, vanilla and almond extract in a mixer using the whisk attachment until soft peaks form.
3. Add the granulated sugar a little at a time, beating until stiff peaks form. Do not under mix (make sure your peaks are stiff!).
4. Sift the powder sugar, GF flour and xanthan gum together.
5. Carefully fold the flour mixture into the egg whites just until all the flour is mixed in.
6. Pour the batter into a 10-inch angle food cake pan. Bake for 40 – 45 minutes on the lowest rack in the oven. When the cake is removed from the oven after baking, immediately invert it to cool thoroughly upside down.
7. Once cooled, loosen the cake from the sides and bottom of the pan, remove and serve with fresh strawberries and whipped cream.
– Pete