Kelli and I have been in the kitchen quite a bit lately, doing a fair bit of recipe development and recipe testing. One of our recent projects was making gluten-free gnocchi, a pasta-potato hybrid that's popular in Italy and South America (especially Argentina). Think of gnocchi this way: if a mashed potato dumpling and a fresh pasta noodle had a love child, gnocchi would be it.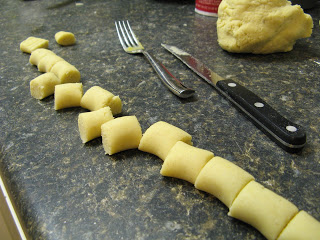 Almost every gnocchi recipe you see has more or less just four ingredients: flour, potato, egg, and salt. Ours is no different, using GF flour in the place of regular flour. Kelli worked the ingredients into a dough, then rolled the dough into a long, slender "tube," and lastly cut the tube into short segments. Then she rolled each segment across the tines of a fork, which gives a nice cosmetic touch, and helps to "grab" whatever sauce you put on your gnocchi.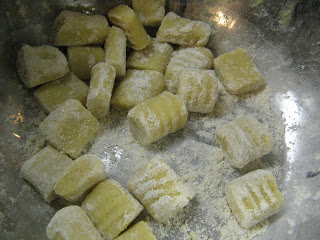 As she made more and more gnocchi, the finished ones went into a bowl with a little flour, to prevent them from sticking together. Meanwhile, we boiled a pot of salted water.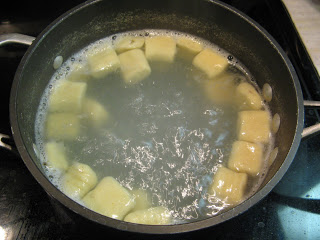 We boiled the gnocchi in batches. When you first drop them into the water, they sink. After a few minutes, they'll rise to the surface. At this point, we gave them an extra 2-3 minutes of boiling time, then removed them from the water with a slotted spoon before starting the next batch.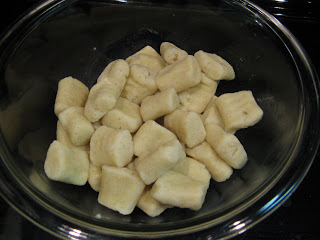 This is what the finished gnocchi looked like. They're tender, and quite tasty…but they could use some window dressing (aka tasty sauce).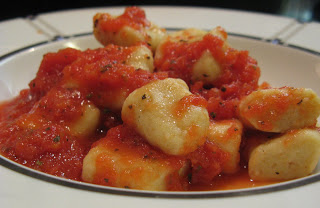 I made a quick and easy marinara sauce with tomato, basil, garlic and salt, and voila! Gnocchi for dinner.
– Pete