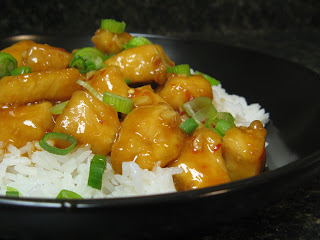 It's the first Friday of April, the farmer's market opens tomorrow, spring is in the air (if you don't count the one to two feet of snow the mountains are expecting tomorrow), and we thought it only fitting to unveil a new feature for the NGNP blog: the Friday Foto. Each Friday we'll go light on the words and heavy on the visuals, posting a (hopefully) inspiring food pic that motivates you to make something tasty over the weekend.
For the inaugural photo, we're showcasing our General Chang's Chicken. The name for the dish is a hybrid of Chang's Spicy Chicken and General Tso's Chicken. Chang's Spicy Chicken, many of you will know, is a popular dish available gluten-free at P.F. Chang's China Bistro, and it's the proximate inspiration for our dish. But Chang's Spicy Chicken in truth is just one version of a dish more widely known as General Tso's Chicken, the broader inspiration for our dish. General Tso's combines a little sweet and a fair bit of heat in a heavily Americanized version of Hunan-style Chinese cuisine that grew out of New York City in the 1970s.
True to the "heat plus sweet" rule for General Tso's Chicken, our General Chang's Chicken uses a blend of juices and brown sugar to supply the sweet, and a blend of soy sauce, rice vinegar, and most importantly, fresh red chili paste, to supply the heat. But that's enough with the words… the Friday Foto is supposed to be about visuals. Make something yummy this weekend, and let us know about it. Heck, even take a photo and share!
– Pete