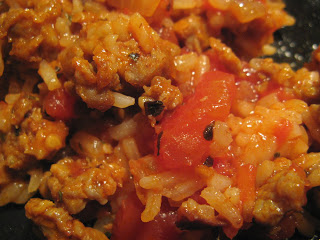 Don't you love it when inspiration strikes in the kitchen? You think up new recipes, and new combinations of flavors, and the result is fun and exciting. Or, maybe it just means that things didn't go exactly according to plan. The latter was our experience this week!
During our weekly shop, we had picked up a beautiful red bell pepper, and a package of chorizo, with the idea of making stuffed peppers for dinner one night this week. Then our plans took a turn. Earlier this week, we made tacos for dinner, with fresh corn tortillas made from scratch. But rather than use our usual ground turkey for the meat, we made a blend of about two thirds ground turkey, and one third chorizo. On top of that, we made an executive decision to sacrifice most of the red pepper for the sake of making peppers and onions to put on our tacos.
Last night, when it was time for dinner, our decision earlier in the week left us with some chorizo, and almost no pepper to speak of! It was stuffed pepper night, and there wasn't a pepper in the house. Undeterred, Kelli worked her magic in the kitchen. She cooked up some jasmine rice, chorizo, tomatoes (no salt added, diced, peeled), chopped onion, and a blend of herbs and spices. The result was delicious, and the picture above doesn't nearly do the flavor and texture of the dish justice. Stuffed in a pepper and baked in the oven, it's even better – the top gets a nice crunchy texture, while the inside stays nice and moist. Next time…
This weekend, we're off to Steamboat Springs for our fifth anniversary. Have a wonderful weekend! We'll see you next week!
– Pete