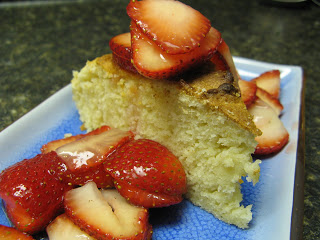 If there's one thing we've learned over time, it's that gluten-free desserts can be just a delicious as their gluten-filled counterparts. And this strawberry shortcake recipe is the perfect example. Ours is based off the Better Homes & Gardens version, which we've modified to make GF.
Ingredients
2 cups GF flour
1/4 cup sugar
2 tsp baking powder
1/2 cup butter
1 beaten egg
2/3 cup milk
Steps
In a bowl, stir together sugar, flour and baking powder.
Cut in the butter until mixture resembles coarse crumbs.
Combine the egg and milk, and add it to the dry ingredients.
Stir just enough to fully moisten dough.
Spread batter into a greased eight-inch round baking pan.
Bake in preheated 450-degree oven for 18 minutes. (Check to make sure it's done by inserting a wooden toothpick. It should come out clean.)
To top off the dessert, slice strawberries and mix them in a bowl with a liberal sprinkling of sugar. Let them set for a bit before putting them over the top of a slice of shortcake. For an added bonus, make some fresh whipped cream for the ultimate dessert! Enjoy!
– Pete