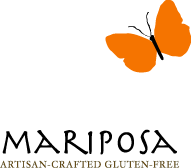 After reading our review of Shabtai Gourmet, one of our readers suggested we review the Mariposa Baking Company, in Oakland, California. Following up on that lead, I contacted Mariposa and requested samples. The founder, Patti, happily obliged.
Mariposa came into existence in 2004, shortly after founder Patti Furey Crane was diagnosed with a gluten allergy. Adhering to the GF diet fixed the problem, and also eliminated many of her multiple sclerosis symptoms. But it didn't fix her sweet tooth, so she set out to develop gluten-free bakery items that fit the bill.
Patti surrounded herself with a small team of folks that assisted with recipe development, focusing first on brownies and biscotti. Since then, Mariposa has expanded to include squares, bagels, pizza crust, breads, croutons and coffee cake. The bakery has also literally expanded, into a building in the Temescal neighborhood of Oakland, where Mariposa features a storefront bakery for customers, and a cafe that features pizzas and breads.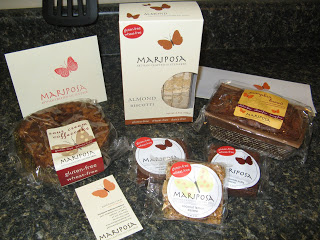 We received six products from Patti: the almond biscotti, sour cream coffee cake, coconut lemon square, mocha truffle brownie, triple chocoloate truffle brownie, and pumpkin bread. Right off the bat, I looked at the ingredients list and noticed two things. 1) Mariposa uses butter in its recipes, not margarine or other forms of shortening that contain trans fat. 2) Mariposa's lists of ingredients were deliciously simple to read – they contained familiar ingredients, most of which I might expect to find in any baker's well-stocked pantry at home. These were both comforting facts. But how did everything taste?
Almond Biscotti
The almond biscotti had great flavor – a definite almond presence, without it being too overpowering. The twice-baked recipe resulted in a perfect texture. The biscotti were crunchy and airy, and when paired with a cup of coffee or other drink, they're perfect.
Sour Cream Coffee Cake
The sour cream coffee cake was moist, with wonderful "nuggets" of cinnamon sugar and nuts throughout. It's not crumbly at all, and holds together well. The texture is excellent – you'd never know this was gluten-free.
Coconut Lemon Square
The coconut lemon square had a sweet lemon flavor. The coconut flavor was much more subtle, with the shaved coconut providing an added textural element, along with the pecans.
Mocha Truffle Brownie
The mocha truffle brownie had a rich, chocolate flavor. The texture was nice – moist in the middle, with a harder, drier "crust." We still love our own homemade brownies, but this is excellent.
Triple Chocolate Truffle Brownie
The triple chocolate truffle brownie was good. Not quite as good as the mocha truffle brownie. But still very good. The chocolate flavor was more straightforward, and the triple chocolate truffle brownie had a thicker "crust" on top.
Pumpkin Bread
From the moment we open the package, the pumpkin bread smelled strongly of pumpkin spice – specifically, cinnamon and cloves. It is beautifully rich and moist, and raisins added a nice touch to the pumpkin flavor. It tasted homemade in the best sense of the phrase. In a word, this was delicious.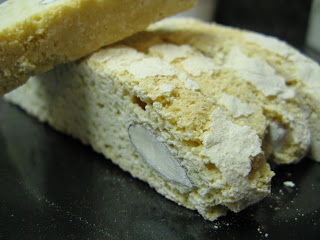 If you've read some of our other reviews, you know that we can be tough critics, hard to please, and that we're not afraid to point out when something doesn't live up to our expectations or standards. But to be completely honest, Kelli and I can find no such criticisms with Mariposa Baking Co. Our review of their foods is universally positive. Do yourself a favor, and place an order.
As a final parting word, I'll reminisce. As a native of Long Island, I grew up eating and loving bagels. In fact, I'll come right out and call myself a bagel snob. I know what a great one tastes like – they have to be made right, and the kind you buy in the grocery store just don't cut it. Alas, I haven't had a bagel in years, good or bad, thanks to my GF diet. But I can't help noticing that Mariposa makes a bagel. You can be sure I'm placing an order. My standards will be high, but if anyone can meet them, I'm guessing it will be Mariposa.
– Pete