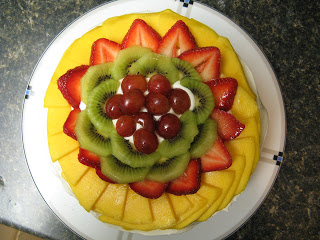 This recipe for zucchini cake was inspired by a deli in Denver's Larimer Square called The Market. They make a zucchini cake with fresh fruit and a cream cheese frosting that they call the Spring Fling, and by Kelli's taste buds, it's one of the best cakes she's ever had. Needless to say, we set out to develop our own gluten-free version, and after several iterations playing with ratios, we're pretty pleased with the result. We hope you are, too!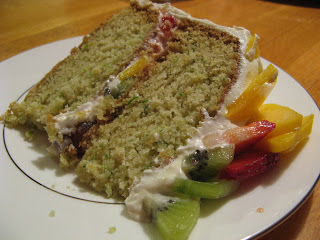 Ingredients:
3 eggs
1 cup vegetable oil
3 tsp vanilla extract
2 cups white sugar
2 cups unpeeled shredded zucchini
2 1/2 cups GF flour
2 tsp baking soda
1 tsp salt
2 tsp baking powder
Steps:
Combine the eggs, oil, vanilla, sugar and zucchini.
Add the flour, baking soda, salt, and baking powder.
Beat well in a mixer.
Pour batter equally into two greased and GF-floured 8-inch round pans
Bake at 350 degrees for about 45 minutes.
Let the cakes cool on a rack until room temperature. This is a good time to make the cream cheese frosting.
In a mixer, cream together 8 oz cream cheese and 1/2 cup room temperature butter.
Gradually work in 2 cups powdered sugar, and 1 tsp vanilla extract.
Mix until light and fluffy.
To construct the cake, place the first cake layer on the serving plate or cake tray, spread the top with cream cheese frosting, and layer with fresh fruit (sliced red grapes, mango, strawberries, kiwi).
Place the second cake layer over the first, and spread cream cheese frosting over the entire cake (sides and top). Finish with a layer of well-arranged fruit on top.
Enjoy!
– Pete