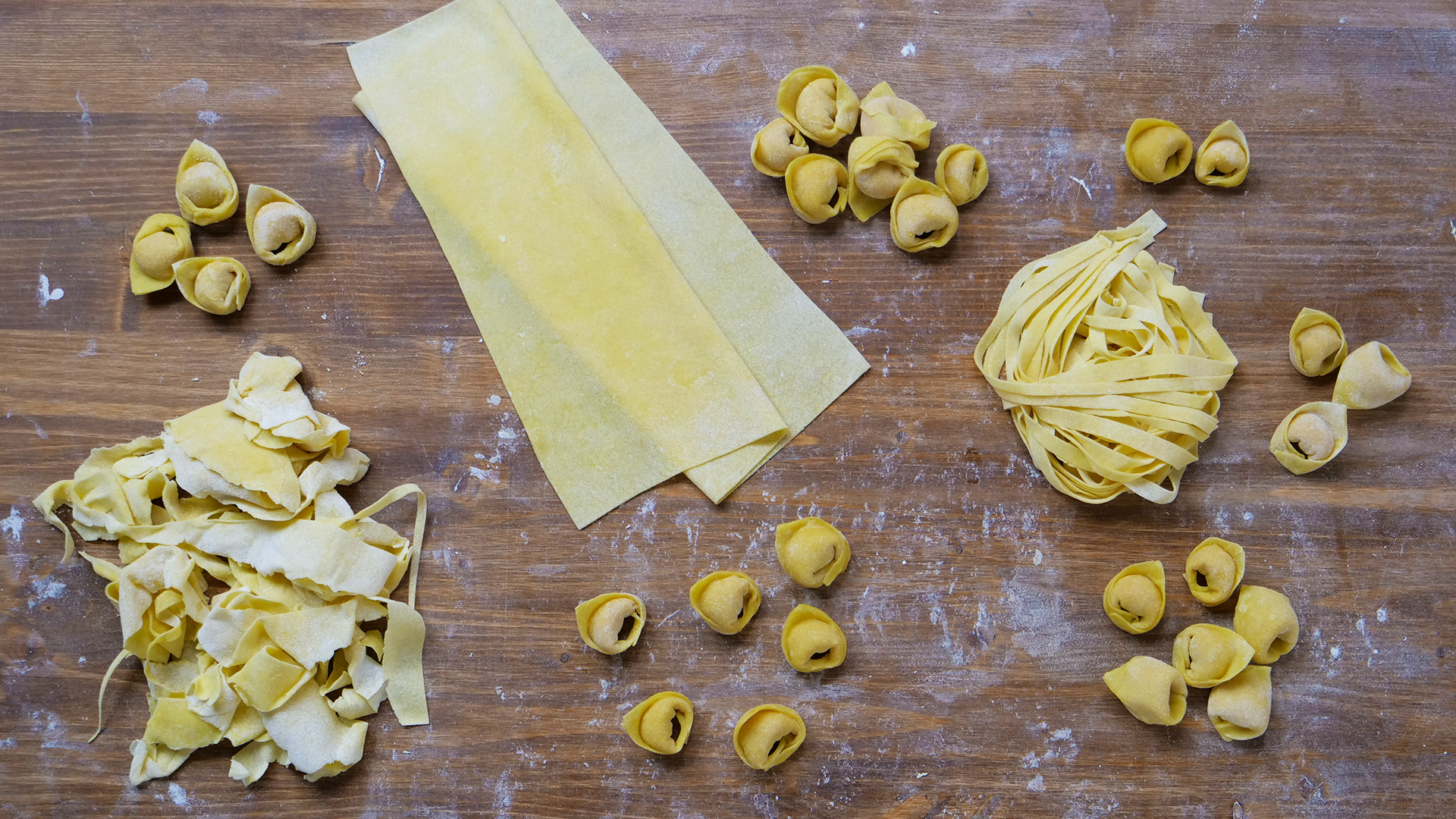 It's hard to believe, but we published our first recipe for handmade gluten-free pasta on this website in 2008, more than 13 years ago! More recently (but not that recent), an improved version of the recipe found its way into the second edition of our cookbook Artisanal Gluten-Free Cooking. And that was still nearly a decade ago!
Since then, a number of very good dried and fresh gluten-free pastas have come to market. Even so, there's nothing quite like making your own pasta dough from scratch at home. Our old pasta recipes were good. But we've wanted them to be great. Hence, we've been working on this new-and-improved recipe off and on for several years. Finally in 2021, we've cracked the code.
This recipe has all the qualities you want in a great pasta, gluten-free or not:
It's pretty easy to work with. It has great flavor. It becomes melt-in-your-mouth tender once cooked. It can be rolled super thin for making delicate, elegant pasta dishes.
And it's versatile. Use it to make filled pastas such as tortellini or ravioli. Keep it in larger sheets for dishes such as lasagna or rolled into big tubes for manicotti. Or cut it into strips for tagliatelle, pappardelle, fettuccine, or linguine.
This updated pasta dough recipe has quickly become a huge favorite in our household. When we do our weekly dinner menu planning, it's common for at least one of the kids to enthusiastically lobby for "tortellini!!"
We hope it brings all the joy and flavors of classic Italian pastas into your kitchen, as it has into ours.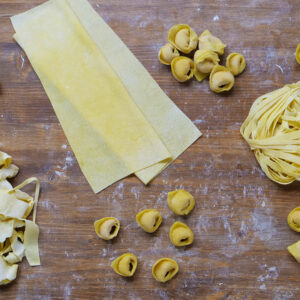 Pasta Dough (Updated)
This recipe results in a beautiful, supple gluten-free pasta dough that's incredibly versatile. Standard portion sizes estimate 90 g (3 oz) per person for fresh pasta, so this recipe can serve 5–6 people. But if you're making filled pastas, it will definitely go further and serve more people.
Ingredients
126

grams

tapioca starch

63

grams

sweet rice flour (AKA glutinous rice flour)

(plus extra for dusting the work surface and the dough)

32

grams

millet flour

32

grams

quinoa flour

1

tablespoon

xanthan gum

1

teaspoon

salt

6

egg yolks

(save the whites for another recipe, such as angel food cake)

2

whole eggs

2

tablespoons

water
Instructions
Combine the tapioca starch, sweet rice flour, millet flour, quinoa flour, xanthan gum, and salt in a large bowl. Whisk to combine. Then make a well in the center of the flour mixture.

Add the yolks, eggs, and water. Stir with a spoon to mix and incorporate all of the flour. Switch to using your hands and mix/knead until the dough is a uniform, mostly-smooth texture. (The dough doesn't have to be perfectly smooth on the outside. That will happen naturally when you roll the dough.)

Divide the dough into eight pieces. Work with one piece at a time. Keep the remaining pieces of dough in an airtight container or ziptop bag to keep them from drying out until you're ready to work with each one.

Dust your work surface lightly with sweet rice flour. Roll the first piece of dough into a ball between the palms of your hand. Then use a rolling pin to roll the dough out on the prepared surface to about 8 to 10 inches square, until the dough is very thin.

(The edges of your rolled-out sheet of pasta dough may be jagged. Use a knife or pizza cutter to trim them clean, if desired. Rotate and/or flip the dough a few times while rolling, and dust lightly with additional sweet rice flour if needed, to prevent sticking. Once rolled out, the dough should be thin enough to see the work surface underneath, about 1/16 inch or less than the thickness of a dime.)

Cut the dough into the desired shape (e.g., strips for fettuccine, 2-inch squores for tortellini).

Cook the pasta in salted, boiling water for about 4–5 minutes. (For filled pastas, once they have begun to float, cook for 4 more minutes.)