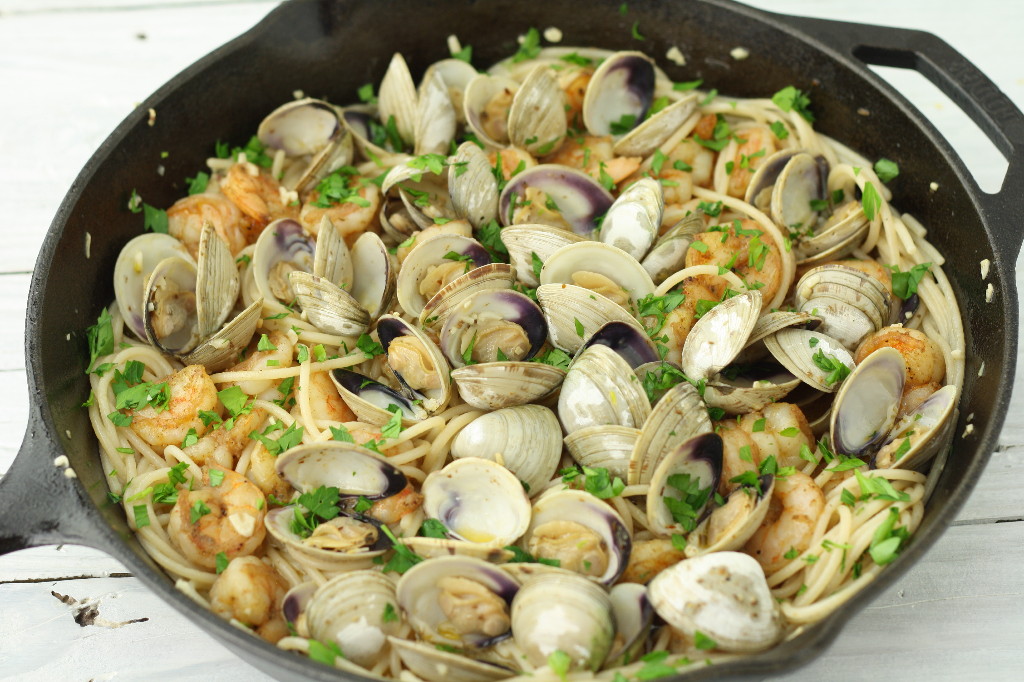 Our family's annual summer trip to New York is already nearly two months behind us. In many ways it feels like a dream. In other ways, we're still dreaming of the fresh seafood we indulged in many nights. The clams, especially, were a real treat.
One sunny day we went out on one of the family boats onto the waters of Long Island's shallow, sandy-bottomed Great South Bay. The water was as warm as I've felt it in my lifetime. The color was darker, but the temperature felt downright Caribbean.
We anchored the boat, hopped off in two or three feet of water, and spread out through the flats, harvesting a batch of clams for that night's feast.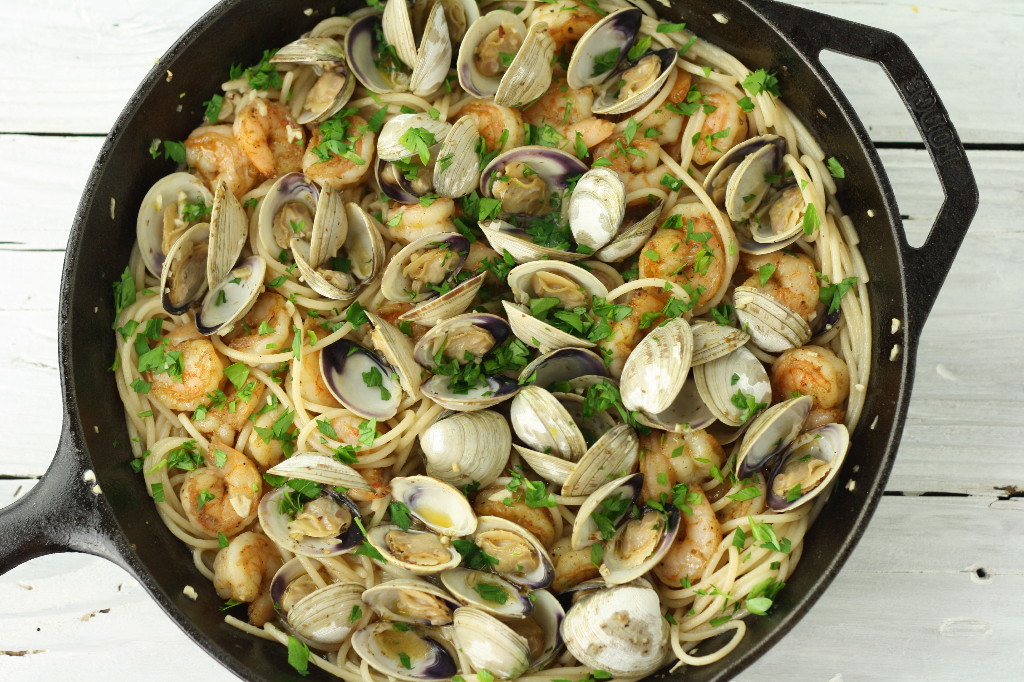 It's the smaller little neck that I enjoy the most. Their tender meat and delicate flavor is especially well suited to dishes such as baked clams oreganata. Cherry stone clams can do in a pinch. And top necks and quahogs go straight into chowder.
But there's another size of clam—smaller than the little neck—that's really special: pasta neck clams, also sometimes called spaghetti clams. They're petite (about 20 per pound), too small to legally harvest from the wild along Long Island's South Shore.
Our fish monger here in Colorado, though, often has them… flown in from clam farmers in Massachusetts. It's these clams that we served Charlotte for her birthday, at her request, served over spaghetti. There are other ingredients in the dish, of course. And I suppose I should write about them. But it's the clams that really make the meal. Aside from Marin, who isn't so much into clams of late (fortunately for her, she loves the shrimp and pasta), it's a battle among the rest of us to make sure we each feel like we got our appropriate portion of clams!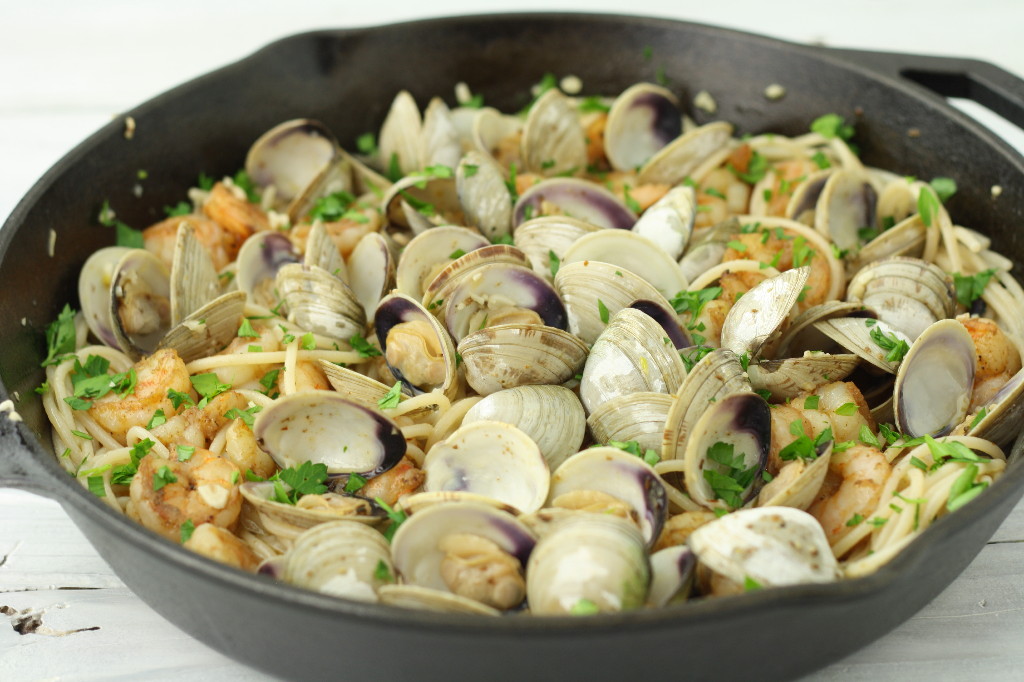 Spaghetti del Mare
Ingredients
1 pound shrimp, peeled and deveined
6 tbsp olive oil, divided
1/8 tsp salt
1/8 tsp ground pepper
1 tsp garlic powder
1/2 tsp paprika
6–8 garlic cloves, minced
1/4 tsp red pepper flakes
10–12 ounces GF spaghetti
1 1/2 pounds pastaneck clams
3/4 cup dry white wine
2 tbsp chopped Italian flat-leaf parsley
Instructions
Add the shrimp, salt, pepper, garlic powder, paprika, and 2 tbsp olive oil to a bowl. Toss to coat.
Add the minced garlic, red pepper flakes, and 2 tbsp olive oil to a separate small bowl. Set aside.
Bring a large pot of salted water to a boil. Meanwhile, heat a large skillet over high heat.
Add the spaghetti to the pot of boiling water and cook until just al dente, about 12 minutes depending on the brand of pasta. Check your package.
Add the remaining 2 tbsp olive oil to the skillet. Then add the shrimp and cook in a single layer, about one minute per side, until just done. Remove and set aside.
Add the minced garlic to the skillet and saute until fragrant, about 30–60 seconds.
Add the clams to the skillet, then the white wine and immediately cover. Cook for 7 minutes.
Remove the clams from the skillet, discarding any that remained closed. Retain the oil and cooking juices/wine in the skillet!
Reserve 1/2 cup pasta water and add to the skillet. Strain the pasta when it is al dente. It will finish cooking in the skillet.
Reduce the heat to medium, add the pasta to the skillet, and toss occasionally while it finishes cooking and soaks up the sauce, about 5 minutes.
Add the clams and shrimp to the skillet and toss. Garnish with the chopped parsley.