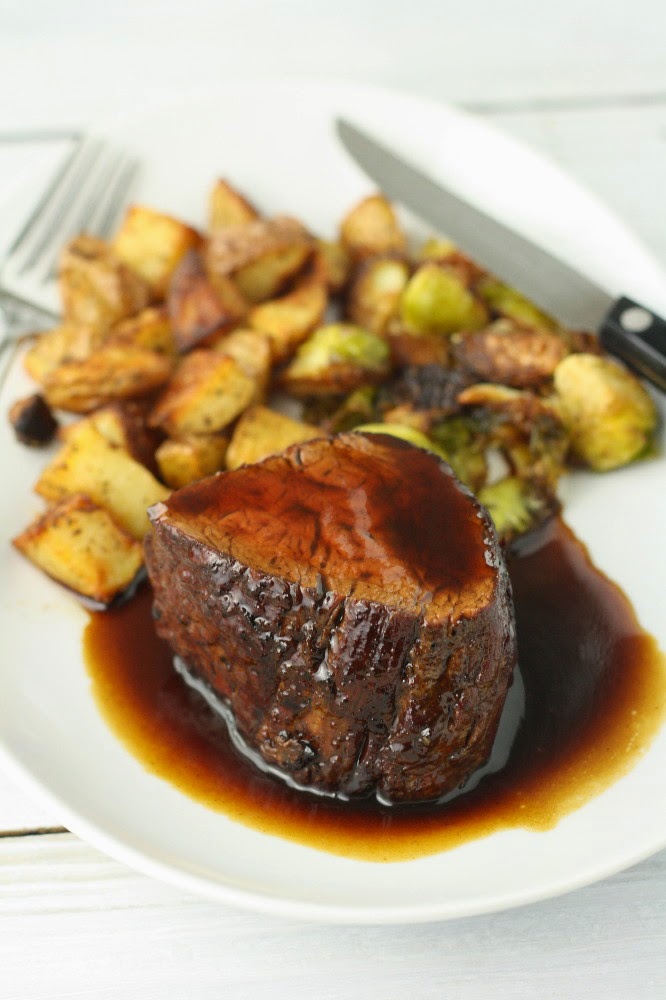 From filet mignon with a red wine demi glace to pork tenderloin with an apple cider bacon demi glace to today's recipe for bourbon peppercorn beef, we've got a thing for entrees where restaurant-quality sauces are the star of the dish. I suspect some of you might be thinking, You're posting a recipe for a sauce? Seriously? Oh yes, I'm quite serious, and here are a couple reasons why:
First, how many times have you been out to a restaurant and your safe, gluten-free menu options consist of a side salad (no croutons), a baked potato, and a plain grilled protein—whether a basic piece of beef, pork chop, or chicken breast? I don't know about you, but that gets pretty old pretty quickly. When I'm cooking dinner at home, I want dishes with bold, rich, complex flavors.
Second, when you're again out to a restaurant, how many times are you told that the amazing-sounding demi glace or other sauce that should accompany your meal isn't gluten-free because the sauce is either thickened with a bit of flour or built on a base of veal or beef bouillon that similarly contains wheat? There's no reason why a good demi glace can't (and shouldn't) be thickened by reduction with inherently gluten-free ingredients.
The bourbon peppercorn demi glace that's the star of this dish is a case in point. Plus, it's a "fancy" enough flavor for adults, while pleasing kid tastes, too—our girls devour their steak and mashed potatoes when we make this sauce.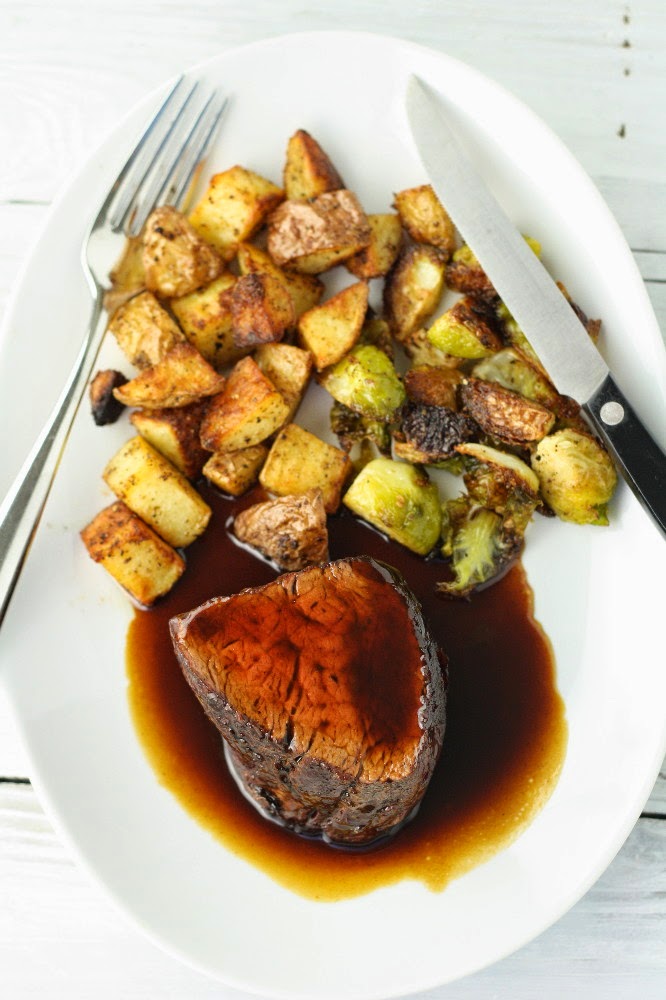 Bourbon Peppercorn Beef

Ingredients
6 strips bacon, diced large
1/2 white onion or 1 large shallot, diced
1 1/2 cups GF beef broth
1/2 cup bourbon
2 heaping tbsp whole black peppercorns
2 tbsp GF Worcestershire sauce
1 tbsp brown sugar
1 tbsp unsulphured blackstrap molasses
1 1/4 pounds filet mignon (or beef cut of your choice)
Steps
1. Cook the bacon in a small to medium pot until all the pieces are crispy. Remove the bacon and set aside. Spoon off and discard half the rendered bacon fat.
2. In the remaining bacon fat, cook the onion until very soft and translucent.
3. Place the peppercorns in a small zip top bag and use a meat mallet or bottom of a pot to roughly crush them.
4. Add the reserved bacon, crushed peppercorns, beef broth, and bourbon to the onions. Bring up to a simmer and cook for 15 minutes.
5. Strain the mixture through a fine-mesh strainer. You should have about 1 cup of liquid. Return that liquid to the pot.
6. Add the Worcestershire sauce, brown sugar, and molasses, bring up to a simmer again, and let cook until reduced by 75%, to about 1/4 cup volume.
7. At this point, watch your sauce carefully—there's a fine line between leaving it too runny and concentrating it too much. As the sauce reduces further, you'll notice a rather sudden change in consistency where it goes from "loose" bubbles to "thick" bubbles and the viscosity changes from being more like a liquid to more like a syrup. Pull the pot off the heat just after this transition takes place.
Enjoy!
–Pete and Kelli